Michèle Lamy Would Like a New Scissor Lift for Christmas
The force behind Rick Owens' new furniture exhibition at MOCA Los Angeles shares her culture diet.
---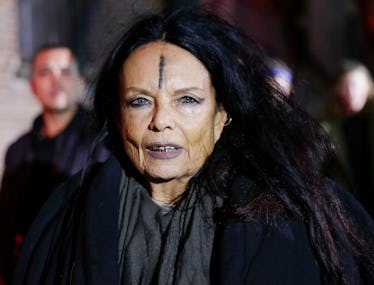 Rick Owens's name may be the one stamped on the designer's current exhibition of furniture at the Museum of Contemporary Art in Los Angeles, but it's his longtime wife and business partner, Michèle Lamy, who's to credit for his stepping into design in the first place—and she still is responsible for the prototyping of his work and overseeing day-to-day production in the outskirts of Paris. While their joint venture has led to a few minor points of contention over the years—the pair doesn't always agree on, say, rock-crystal toilets—it's also been very fruitful, making for the Brutalist spread of camel-fur seats and troglodytic blocks now on view at MOCA, which Lamy was heading up installation of on a recent afternoon. She took a break from moving two-ton stone slabs around a gallery to share her culture diet, featuring everything from her pal A$AP Rocky to the scissor lift she's had her eye on, here.
First thing you read in the morning: Emails.
Books on your bedside table right now: The Apparently Marginal Activities of Marcel Duchamp by Elena Filipovic.
The TV show keeping you up at night: I Am Cait.
Last movie you saw in theaters: It was a couple of years ago… Jean-Luc Godard's Goodbye to Languages.
Last thing you saw at the theater: Bob Wilson's The Threepenny Opera, a play by Bertolt Brecht with music by Kurt Weill.
Last piece of art you bought, or ogled: A Huma Bhabha sculpture titled "Friend."
Last museum exhibition that you loved: Wael Shawky at Castello di Rivoli [in Turin, Italy.]
Favorite place to see art in L.A.: Hauser Wirth & Schimmel.
Favorite place to shop in L.A.: Maxfield.
Release you're most eagerly anticipating: The Venice Biennale.
Last song you had on repeat: "L$D" by A$AP Rocky.
Last concert you saw live: FKA Twigs in New York.
How you get your news: The New Yorker.
Favorite Instagram accounts to follow: @adrianjoffe.
Heavy machinery on your wish list: A Skyjack.
Last thing you do before you go to bed: Dance.
See W's most popular videos: