Michelle Fantaci
Hidden Gems: Bold and fresh, these designers are poised to break out.
---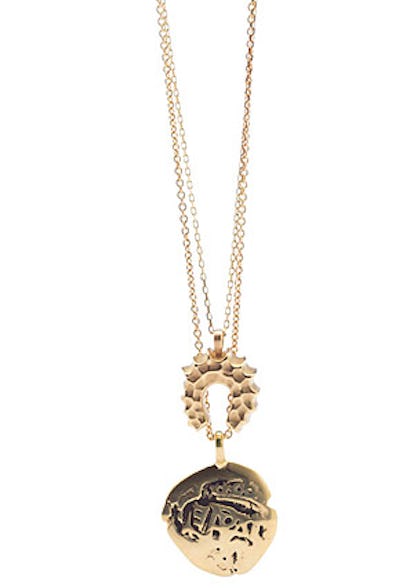 Michelle Fantaci's new collection incorporates a mélange of cultural iconography culled from her extensive travels. Arabic intaglios, Spanish coins and her own imaginative good-luck charms such as "sea horseshoes" decorate gold pendants and rings. Fantaci, a Brooklynite who studied metalsmithing in Florence, Italy, is now clearly passionate about jewelry, but it was a career diversion that prompted her to create her first collection. "I was studying to get my master's in interior design at Pratt, and I missed the jewelry-making process," she says. "That was the motivation."
Read about other designers poised to break out: Arman Nicole Landaw Margaret LFrank by Liseanne Frankfurt M.C.L Design Sanalitro Kazanjian by Patrick M
Michelle Fantaci's 14k yellow gold pendants, $745, at Matter, New York, 877.862.8837, and $1,298, at Butter, Brooklyn, 718.260.9033.