LFrank by Liseanne Frankfurt
Hidden Gems: Bold and fresh, these designers are poised to break out.
---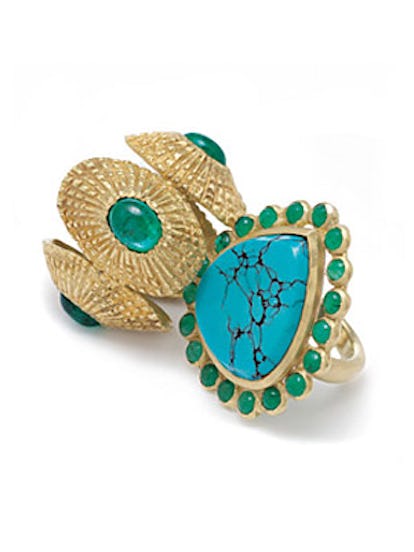 There's a new jewelry boutique in Venice, California: LFrank. Designer Liseanne Frankfurt, known for bold, earthy designs such as a teardrop-shaped turquoise ring surrounded by emerald cabochons, expects the shop's location to impact her work. "I have wanderlust. I find art, architecture and people incredibly inspirational in a restorative way," she says. "Some­thing as simple as the arch of a doorway could become a motif." Soon, the store will house Frankfurt's new line featuring rose-cut sapphires. But she's not limiting herself to jewelry; collections of rugs and dinner­ware are also on her agenda. "I'm really prolific," she muses.
Read about other designers poised to break out: Arman Nicole Landaw Margaret Michelle Fantaci M.C.L Design Sanalitro Kazanjian by Patrick M
LFrank by Liseanne Frankfurt's 18k yellow gold and emerald ring, $6,600, and 18k yellow gold, turquoise and emerald ring, $4,100, at LFrank, Venice, California, lfrankjewelry.com.