Walking the Line
"Lilliput," is a charming group exhibition of small public sculptures stealthily tucked into unusual spots along the High Line trail.
---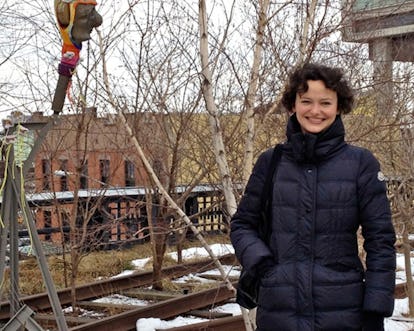 During these blustery first days of March, a leisurely stroll along an elevated freight-railway line near the Hudson River might not strike you as the ideal way to pass an afternoon. But when that freight-railway line happens to be the wondrous urban park in Chelsea known as the High Line, you might want to hightail it there—at once. Especially when awaiting you is "Lilliput," a charming group exhibition of small public sculptures that are stealthily tucked into unusual spots along the trail. On a recent morning, I was lucky enough to travel its winding, snow-blown mile-long path with Cecilia Alemani, the engaging curator and director of the High Line's Art Program, who pointed out such near-hidden delights as Frances Upritchard's monkeys frolicking on a bench and Tomoaki Suzuki's, "Carson," a Ken-doll sized hipster in painted bronze, with bleached hair, leather jacket, and skinny jeans. Someone had knit a tiny beanie for him, Alemani noted with a laugh, happy to see so much interaction between passers-by and the artworks. Which, of course, is the whole point of her program. "There's this assumption that public art is large," she said of the show, (on view through April 1) "so we invited artists to consider the notion of public art on a Lilliputian scale. You can see these works—or totally miss them. It's about creating intimate encounters with art." Camouflaged into the landscape, for example, was Allyson Viera's pyramid of paper cups in bronze, on this day filled with melting snow and the remnants of leaves, and over there, by the magnolia bushes, just under the raised pathway on West 25th Street, was Erika Verzutti's family of dinosaurs.
Though not part of Alemani's 'Lilliput' treasure hunt, other High Line sculptures you won't want to miss are Thomas Houseago's Lying Figure, "the park's Gulliver," she said of the huge bronze sculpture lying in between landscaped tracks. And in a clever use of Edison ParkFast Stacked Parking at West 20th St, Virginia Overton's transformed old pick-up truck is stacked among the other vehicles in the lot, only hers is loaded with bricks. At least they look like bricks: Onlookers, says Alemani, who is also curator of the upcoming Frieze New York art fair, have been tossing pennies into it to see if they bounce off.
Of course, residents with views overlooking the High Line are apt to make their own artworks, too. Alemani directs my attention to what looks like a naked man waving from a window nearby. It turns out that it's a painting someone made as a kind of comment, perhaps, on the voyeurism all around.
The High Line plans to complete its third leg next year, when it will eventually wrap around the future Hudson Yards development and end at West 34th Street. It's also building its Renzo Piano-designed headquarters on Gansevoort St., and in 2014 will open a restaurant there, too. In the meantime, to fully appreciate how the seasons and the city act as a changing backdrop to its commissioned art, take a look at "Broken Bridge II," the mesmerizing, 157-foot-wide mural by the Nigerian artist El Anatsui that covers an entire side of a building between West 21st and 22nd Streets. Made of pressed tin and mirrors, it reflects the sky and disappears into it; at one point when I was looking at it, the building appeared to be sliced in half. "That's the thing about outdoor sculpture," Alemani said. "You can never predict what will happen to it." Or to you.
Lilliput is on view through April 14, 2013, along the High Line from Gansevoort St. to West 30th and 10th Avenue.
Photos: Diane Solway