Scarlett Johansson Has the Top Spot on the List of 2018's Highest-Paid Actresses
And she didn't even crack the top 10 last year.
---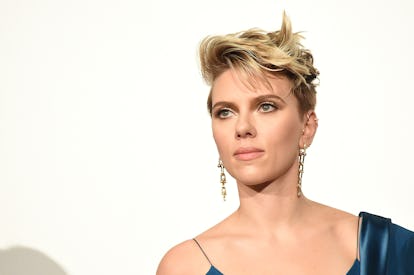 (Photo by Jun Sato/Getty Images for Paramount Pictures)
This past year has shined a light on the gender pay gap, thanks largely to the Time's Up movement. But there is still a long way to go: Scarlett Johansson is case in point of that, as she is the top-paid actress of 2018, but her salary still pales in comparison to her male counterpart.
Johansson, who was in this year's Avengers: Infinity War and Isle of Dogs, raked in $40.5 million according to Forbes, placing her ahead of Angelina Jolie, the second-top paid actress of the 2018 with $28 million. Meanwhile, Mark Wahlberg, who topped the list of men, earned $68 million. To put Johansson's placement into more perspective, she made less than Tom Cruise, who placed seventh on the list of top-earning actors with $43 million.
As for the third top-paid actress — Jennifer Aniston, with $19.5 million — her salary compares to the 20th top-paid male actor, Jeremy Renner, who made $19 million. After Aniston are more familiar faces like Jennifer Lawrence ($18 million), Reese Witherspoon ($16.5 million), Mila Kunis ($16 million), Julia Roberts ($13 million), Cate Blanchett ($12.5 million), Melissa McCarthy ($12 million), and Gal Gadot ($10 million).
What's also disappointing about the list is that it is completely white, echoing a recent study on diversity in Hollywood which found that people of color accounted for 13.9 percent of film leads, 12.6 percent of directors, 8.1 percent of film writers in 2016. That goes against profitability, too. "Films with casts that were from 21 to 30 percent minority had the highest median global box office receipts and the highest median return on investment, while films with the most racially and ethnically homogenous casts were the poorest performers," the UCLA study revealed.
Another surprising aspect of this year's top-paid actresses roundup is that Johansson, wasn't even on last year's list. Last year Emma Stone was number one, bringing home $26 million, thanks to La La Land, but she didn't make the cut this year. Hopefully next year there will be even more new faces, and diverse ones at that.