Hillary Clinton and Chimamanda Ngozi Adichie Are Unexpected Beauty Icons
Plus, Cristobal Balenciaga gets an all-black everything retrospective at Paris's Musée Bourdelle.
---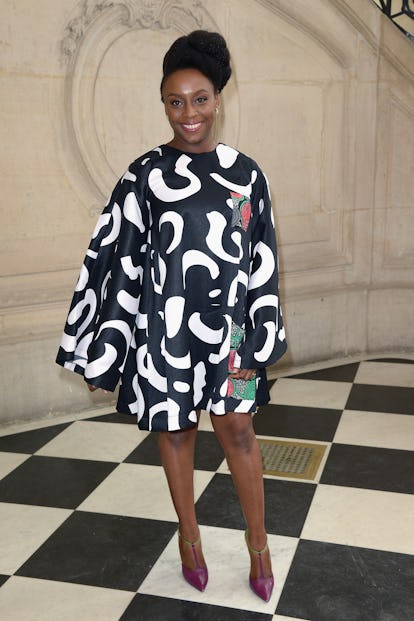 WireImage
Adichie, Chimamanda Ngozi The Nigerian writer appeared front-row at Maria Grazia Chiuri's debut at Dior, where a t-shirt emblazoned with Adichie's expression "We should all be feminists" walked the runway. An unlikely fashion plate and beauty icon, she talks embracing makeup and fashion as anthropology in this charming speed-read, with a healthy dose of humor. ("I'm always up for free things," the writer says of her decision to sign on as the new face of Boots No7 — the brand, of course, promising her plenty of free beauty products.)
Balenciaga, Cristobal The legendary Spanish designer, whose eponymous house is now helmed by Vetements' Demna Gvasalia, is getting another European retrospective: Paris's Musée Bourdelle will host an exhibition entitled "Balenciaga: Working In Black."
Clinton, Hillary The former Secretary of State, former senator, former First Lady, and former Democratic presidential candidate is currently a hiking aficionado. She's wearing a lot less makeup, spending a lot less time on her hair. And what you intuit from that data set, well, it says a lot more about you than about her.
Corré, Joe The founder of Agent Provocateur and son of Vivienne Westwood and Sex Pistols manager Malcolm McLaren; set fire to more than $6 million in punk memorabilia because punk is dead. So how punk is it, really?
Delevingne, Cara What was once planned to be an intimate Maldives getaway with one-time girlfriend St. Vincent has become a blowout island party with sister Poppy Delevingne, actress Sienna Miller, musicians like Rihanna and Taylor Swift, and more. A rebound, of sorts?
Nyong'o, Lupita There's nothing she can't do. Really.
Trump, Donald Former reality television star, business mogul, inhabitant of Trump Tower, president-elect; here's how far Trump is willing to displace New Yorkers in order to maintain residence at Trump Tower, as he plans to split his time between Washington, D.C., New York, and Florida's Mar-a-Lago resort.
See W's most popular videos: