Hillary Clinton Blasts Trump's "Cruel" Treatment of LGBT Rights
At the Center's annual fundraising dinner, the former Secretary of State and presidential hopeful delivers a rousing speech in support of LGBTQ rights and cautions against complacency in the Trump era.
---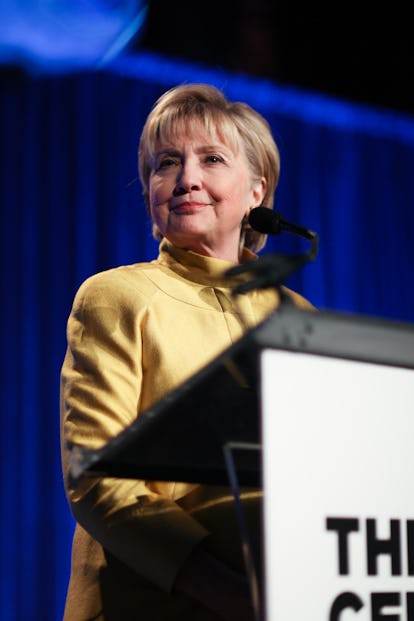 Samantha Nandez/BFA.com
On Thursday night in Manhattan's Financial District, The Center—a community center for LGBTQ-identifying individuals—held its annual fundraising gala at Cipriani Wall Street. It is, of course, a worthwhile cause to support every year, but this year, along with the usual husband-hunting that happens at these events, there was an extra reason to attend: Hillary Clinton.
The former presidential contender, alongside designer Marc Jacobs, was being honored, and the crowd of well-manicured and suit-clad Wall Street types began to eagerly filter in as soon as doors opened at 6:30 p.m., all hoping to catch a glimpse of their martyred heroine. Clinton compatriots Robby Mook—her presidential campaign manager—and Huma Abedin also put in appearances.
At the center of the dining room, former mayoral candidate Christine Quinn held court; Edie Windsor, the woman whose lawsuit resulted in the Supreme Court striking down the Defense of Marriage Act, wandered through the crowd, herself a celebrity amid this crowd, which would burst into applause at the mere mention of her name. In another corner, a man tugged at his lapels, telling friends in a semi-hushed tone, "It's Dolce & Gabbana"—all this to say, the audience blended political consciousness with a bit of peacocking, a sensible climate for an event celebrating both a politician and a designer. (Jan Siegmund, the chief financial officer of the management company ADP, was also honored with the Corporate Impact Award.)
"In New York City, you can pee in peace," said Carmelyn P. Malalis, the chair and commissioner of the New York City Commission on Human Rights, who was honored with the Community Impact Award. "No birth certificate; no ID—you can just go ahead and pee." (Cipriani's restrooms, usually designated men's and women's, had been established as all-gender for the night, but guests still largely self-sorted according to their preferred gender identity.)
The director and transgender activist Lana Wachowski offered a funny, poignant reflection on Jacobs, the designer who has become a friend since she wore one of his designs on the same red carpet for Cloud Atlas where she made her debut as a woman. (At this mention of her coming out, the crowd cheered; "I already did it," Wachowski responded dryly.) In advance of the premiere, she searched high and low for a suitable dress; she was ready to give up when she slipped into a dress she immediately realized she never wanted to take off—a Jacobs design, naturally. Last year, Jacobs returned the favor, showing babydoll dresses with yarn dreadlocks inspired by Wachowski's signature look.
"I have, as my wife likes to point out, the fashion instincts of a 6-year-old," Wachowski said. Of Jacobs, she didn't know much—"I knew there was some grunge controversy," she added, alluding to the Perry Ellis collection that got Jacobs fired and proving she might have a bit more savvy than she gave herself credit for. By the time Wachowski had finished her remarks and welcomed the designer to the stage, Jacobs was reduced to tears.
And then it was time for her. "Hashtag-should be president," Wachowski said midway through her remarks and adding a brief sidebar about the gendered connotations of "suit" versus "pantsuit"—the former Secretary of State, of course, being the foremost pantsuit connoisseur even in the heart of Wall Street. Arianna Huffington introduced Clinton as waiters floated out bearing plates of Baked Alaska; she thanked the catering for offering a vanilla, rather than chocolate, dessert.
"On the long list of things Donald Trump has ruined, we now have to add chocolate cake," Huffington said before pointing out that the former Secretary of State was not only the first woman to be nominated for president from a major party, but that she was also the first woman to win the popular vote. And to top it all off, she's also "the most famous grandma."
Clinton stepped onto the stage in a chartreuse topper as Kelly Clarkson's "Stronger" blasted over the stereo—you couldn't help wonder, as she waved her signature two handed wave, beaming broadly while Clarkson sang, "What doesn't kill you makes you stronger, stand a little taller," if she'd been able to pick her own walk-on music. It was fitting that Clinton's speech immediately followed Jacobs's; the designer had been putting Clinton's face on t-shirts for years and was integral in mobilizing the fashion community in her support.
There was a somber undertone to the night, acknowledging that the Center had seen a 30 percent spike in demand for its services since November and, in the immediate aftermath, the Trans Lifeline and Trevor Project had been overloaded with calls, yet Clinton put on a brave face, playfully acknowledging that her walks in the woods of Chappaqua had made her something of a meme. But, while she largely avoided naming him, Clinton also referenced the recent efforts the Trump administration has made towards denying rights for LGBTQ individuals, "sometimes in particularly cruel ways like replacing the first openly gay Secretary of the Army with someone who called being transgender a disease."
"The progress that we've fought for — that many of you were on the front lines of and that we've celebrated and maybe even taken for granted — may not be as secure as we once expected," she said.
Audience members sprang to their feet when she stepped on stage and leapt up again at least four more times as she delivered her remarks. "It is not just here in our country that we're seeing clouds gathering on the horizon," she said, citing recent incidents in Chechnya. "This government should demand an end to the persecution of innocent people across the world."
"We have to face the fact that we may not ever be able to count on this administration to lead on LGBT issues," she added. At this, one man hopefully cried "2020!" "Let's not forget 2018," Clinton responded, referencing the importance of midterm elections and community organizing in the face of an administration that seeks to roll back the very rights that people like Edie Windsor had strived so long for.
"I know the election hit a lot of us hard," she said with a knowing smile. "This is a little bit like preaching to the choir, but that's okay—I love standing ovations." Those long walks in the woods had yielded a new mantra: "We need to resist, insist, persist, and enlist," she announced, her voice swelling to a rallying cry as she drew the evening to an end.
And it was by no means an afterthought that, by 10:15 p.m., the Center had raised $1.75 million from the dinner.
Related: "Women's Rights Are Human Rights": 62 Fashion Insiders Speak Out in a Powerful Video for International Women's Day
Happy Birthday, Hillary! A Tribute to Hillary Clinton's Style Evolution, from Skirt Suit to Pantsuit
At the top of her class at Wellesley College, Hillary organized a two-day strike after the assassination of Dr. Martin Luther King Jr. and became the first student to give her university's commencement speech. Here she's pictured as the collegiate hipster wearing 70's styled glasses, a white button-up blouse and high-waist stripped trousers.

The LIFE Picture Collection/Getty Images
While supporting the presidential campaign of Bill in 1992, the Democratic presidential candidate, Hillary was pictured here at his rally wearing a purple skirt suit that will soon become her staple look during her husband's presidency.

WireImage
At the Arkansas Inaugural Ball following the inauguration of President Bill Clinton, the first lady looked stunning as she danced with her husband wearing a purple embellished Sarah Phillips gown.

AFP/Getty Images
Boston Globe via Getty Images
The LIFE Images Collection/Getty Images
Princess Diana and Hillary Clinton
The first lady wore a blush pink skirt suit at the opening ceremonies of an exhibit of the 20th century art at the White House. Her Jackie O-inspired look featured gold buttons, a gold chain belt, gold stud earring, a pearl choker and bracelet.

AFP/Getty Images
The first lady paid her respects to the late Princess Diana in attending her funeral at Westminster Abbey. Although the devastating occasion calls for an all black ensemble, Hillary opted for a very chic skirt suit look that she paired with a black velvet hat, black gloves and a pearl necklace and matching earrings.

Tim Graham/Getty Images
At the 1997 Grammy Awards, where Hillary accepted her Grammy for Best Spoken Word Album, she posed on the red carpet in a long sleeved gold Oscar de la Renta gown. The shiny gold lace sleeved top and taffeta skirt made Hillary look elegant and chic.

The LIFE Picture Collection/Getty Images
For the 200th Anniversary White House Dinner, the first lady wore a very regal gold long-sleeved gown. She kept the focus on her gown by keeping her accessories very minimal and just wearing Diamond earring and a thin bracelet.

AFP/Getty Images
Senator Clinton, now the first First Lady to ever become elected to a public seat, wore a teal silk Oscar de la Renta to the 21st Annual CFDA Awards with the designer. The statement sleeves featured on her gown have become a trend that we continuously see on the runway.

WireImage
Stepping into a bolder direction, Clinton took the 2008 Democratic National convention in a controversial orange pantsuit. The media notably referenced this look as "the world's famous pantsuit" because of it's similar color association with inmate prison uniforms.

AFP/Getty Images
Hillary looked stunning as she posed on the red carpet of the 19th Annual GLAMOUR Women o f The Year Awards. She opted for a glamourous brown silk mid-sleeved gown that featured a color and cinched waist – completing her look with a wide crystal necklace, diamond bracelets and a gold shiny clutch box.

Getty Images
At the NY400 week kickoff, the Secretary of State welcomed Dutch royals in a very elegant black suit with white trimming. She completed her look with crystal necklace, earrings and a power red lip.

WireImage
Clinton looked chic in an all blue pantsuit with white buttons as she arrived in Entebbe for her seven-nation Africa tour. The tour focused on Obama's administration's new Africa strategy of promoting development by stimulating economic growth while advancing peace and security and strengthening democracy.

AFP/Getty Images
While attending the CFDA Fashion Awards in 2013 with dear friend Oscar de la Renta, Clinton wore a navy blue jacket and pant look from the designer. She took the stage with Mr. De la Renta as he accepted his Founder's Award that evening.

Getty Images
Anna Wintour and Hillary Clinton in Michael Kors.

Getty Images for Michael Kors
In 2015 Clinton spent a couple of days in Iowa participating in small business roundtable discussion with members of the small business community. While she discussed how to make the economy work for everyday Americans she still looked chic dressed in a hunter green monochromatic pantsuit.

AFP/Getty Images
Hillary went bold and bright for her look at the first U.S. presidential debate. Wearing a red custom Ralph Lauren pant suit she took the stage with opponent Donald Trump and not only looked powerful, but commanded the stage in the same manner.

Getty Images
For the second presidential debate, Hillary opted for a timeless Ralph Lauren navy and cream shawl-collar pant suit. This chic interpretation of her iconic pantsuit looks balances the idea of femininity and power.

Getty Images
Wearing yet another custom Ralph Lauren suit, Hillary gravitated towards a collarless white crisp look for the final presidential debate – similar to the one she wore to accept the nomination for the Democratic party.

Getty Images