Kim Kardashian's Powerful Selfie
In case you missed them, here are the top style news stories of the week.
---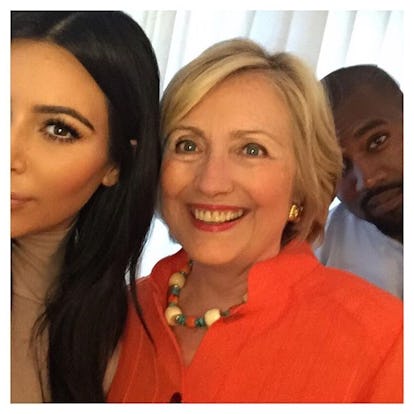 Aaliyah Is the cosmetics brand running out of living collaborators? A MAC makeup collection inspired by the late singer may be released by popular demand.
Aniston, Jennifer Secretly married Justin Theroux. Congrats, Jennitin.
Beyoncé Designing a collection of flash tattoos. Rihanna is so jealous.
Brady, Tom Leaked emails reveal that the football player loves Tom Ford. Well, who doesn't?
Browne, Thom The fashion designer is no longer working with Brooks Brothers. Concentrating on RTW men's wear skirts instead.
Clinton, Hillary Took a selfie with Kim Kardashian. Doubled her social media following.
Delevingne, Cara Dyed her hair pink, went to Canada. No, one did not lead to the other.
Goreski, Brad Named the creative director of C. Wonder. This means war, Tory Burch.
Hadid, Gigi W's September issue cover star stars in new Calvin Harris music video.
Kinski-Jones, Kenya Quincy Jones's daughter is launching a modeling career. Because her half-sister Rashida already did the acting thing.
Kravitz, Lenny Wore leather pants on stage. Ripped leather pants. Exposed his genital piercing.
Marques'Almeida The LVMH Prize winners are personalizing their ad campaigns for individual customers. Sounds time consuming, but effective.
Mitchell, Shay The Pretty Little Liars star launches an athleisure collection for Kohl's. And that's the truth.
Rihanna Went over the top at Carnival. Because… Rihanna.
Murphy, Carolyn The model recommends wearing Uggs with Oscar de la Renta. Also, burlap sacks to the supermarket.
Scaasi, Arnold The American fashion designer died at age 85.
Scott, Jeremy Being sued by graffiti artist Joseph Tierny for ripping off his work. Don't worry, Katy Perry has his back.
Stefani, Gwen Filed for divorce from Gavin Rossdale. Another one bites the dust.
Theron, Charlize Adopted a baby girl, sans Sean Penn.
Zendaya The style star is launching a footwear collection. We can't wait.