Hillary Clinton Models Sensible Lucite Heels on Katy Perry's Instagram
Of course she wears "The Hillary."
---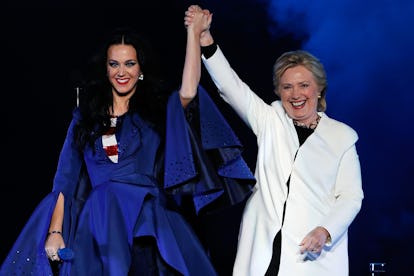 Taylor Hill/WireImage/Getty Images
They made it Instagram official. Former Secretary of State and Democratic presidential nominee Hillary Clinton and pop darling and fashion entrepreneur Katy Perry recently reminded the world they have each other's back even post-election, via a fashion connection.
Late Monday night, April 10, Perry let her Instagram followers know that they could snag her spring 2017 collection at 25 percent off for a few more hours—including the shoe she designed and named in honor of Clinton, "The Hillary." And Perry featured a photo of none other than Clinton herself modeling her namesake shoe to drive it home.
The Hillary is a suede pump with a 3.5-inch (practical!) Lucite heel that is inlaid with sparkling stars and moons. They're a far cry from the more traditional footwear Clinton is usually spotted in.
"Step in and reach for the stars in this dreamy" shoe, the product description on The Katy Perry Collection website notes—in what is perhaps the most efficient and optimistic means of describing one woman's repeated attempt to break the ultimate glass ceiling.
The shoe spot isn't the first time Clinton has appeared on Perry's Instagram feed. Perry shared an image of the two together after Clinton presented Perry with the Audrey Hepburn Humanitarian Award at the UNICEF Snowflake Ball last November, shortly following Clinton's electoral college loss.
The singer also campaigned for Clinton, and regularly posted pictures from the trail and showing her support for Clinton's candidacy.
Clinton has also been taking several fashion risks of late, debuting a new bangs haircut in March and, most recently, showing off a leather blazer. Lucite heels seemed inevitable.
Modeling also seems to run in the family. Clinton's nephew, Tyler, just signed with IMG Models. Perhaps the whole family will emerge in Perry's next ad campaign?
Related: Hillary Clinton: "Oscar de la Renta Was an Immigrant and Aren't We Proud"
Katy Perry: America's Biggest Export Goes Glam:
Happy Birthday, Hillary! A Tribute to Hillary Clinton's Style Evolution, from Skirt Suit to Pantsuit
At the top of her class at Wellesley College, Hillary organized a two-day strike after the assassination of Dr. Martin Luther King Jr. and became the first student to give her university's commencement speech. Here she's pictured as the collegiate hipster wearing 70's styled glasses, a white button-up blouse and high-waist stripped trousers.

The LIFE Picture Collection/Getty Images
While supporting the presidential campaign of Bill in 1992, the Democratic presidential candidate, Hillary was pictured here at his rally wearing a purple skirt suit that will soon become her staple look during her husband's presidency.

WireImage
At the Arkansas Inaugural Ball following the inauguration of President Bill Clinton, the first lady looked stunning as she danced with her husband wearing a purple embellished Sarah Phillips gown.

AFP/Getty Images
Boston Globe via Getty Images
The LIFE Images Collection/Getty Images
Princess Diana and Hillary Clinton
The first lady wore a blush pink skirt suit at the opening ceremonies of an exhibit of the 20th century art at the White House. Her Jackie O-inspired look featured gold buttons, a gold chain belt, gold stud earring, a pearl choker and bracelet.

AFP/Getty Images
The first lady paid her respects to the late Princess Diana in attending her funeral at Westminster Abbey. Although the devastating occasion calls for an all black ensemble, Hillary opted for a very chic skirt suit look that she paired with a black velvet hat, black gloves and a pearl necklace and matching earrings.

Tim Graham/Getty Images
At the 1997 Grammy Awards, where Hillary accepted her Grammy for Best Spoken Word Album, she posed on the red carpet in a long sleeved gold Oscar de la Renta gown. The shiny gold lace sleeved top and taffeta skirt made Hillary look elegant and chic.

The LIFE Picture Collection/Getty Images
For the 200th Anniversary White House Dinner, the first lady wore a very regal gold long-sleeved gown. She kept the focus on her gown by keeping her accessories very minimal and just wearing Diamond earring and a thin bracelet.

AFP/Getty Images
Senator Clinton, now the first First Lady to ever become elected to a public seat, wore a teal silk Oscar de la Renta to the 21st Annual CFDA Awards with the designer. The statement sleeves featured on her gown have become a trend that we continuously see on the runway.

WireImage
Stepping into a bolder direction, Clinton took the 2008 Democratic National convention in a controversial orange pantsuit. The media notably referenced this look as "the world's famous pantsuit" because of it's similar color association with inmate prison uniforms.

AFP/Getty Images
Hillary looked stunning as she posed on the red carpet of the 19th Annual GLAMOUR Women o f The Year Awards. She opted for a glamourous brown silk mid-sleeved gown that featured a color and cinched waist – completing her look with a wide crystal necklace, diamond bracelets and a gold shiny clutch box.

Getty Images
At the NY400 week kickoff, the Secretary of State welcomed Dutch royals in a very elegant black suit with white trimming. She completed her look with crystal necklace, earrings and a power red lip.

WireImage
Clinton looked chic in an all blue pantsuit with white buttons as she arrived in Entebbe for her seven-nation Africa tour. The tour focused on Obama's administration's new Africa strategy of promoting development by stimulating economic growth while advancing peace and security and strengthening democracy.

AFP/Getty Images
While attending the CFDA Fashion Awards in 2013 with dear friend Oscar de la Renta, Clinton wore a navy blue jacket and pant look from the designer. She took the stage with Mr. De la Renta as he accepted his Founder's Award that evening.

Getty Images
Anna Wintour and Hillary Clinton in Michael Kors.

Getty Images for Michael Kors
In 2015 Clinton spent a couple of days in Iowa participating in small business roundtable discussion with members of the small business community. While she discussed how to make the economy work for everyday Americans she still looked chic dressed in a hunter green monochromatic pantsuit.

AFP/Getty Images
Hillary went bold and bright for her look at the first U.S. presidential debate. Wearing a red custom Ralph Lauren pant suit she took the stage with opponent Donald Trump and not only looked powerful, but commanded the stage in the same manner.

Getty Images
For the second presidential debate, Hillary opted for a timeless Ralph Lauren navy and cream shawl-collar pant suit. This chic interpretation of her iconic pantsuit looks balances the idea of femininity and power.

Getty Images
Wearing yet another custom Ralph Lauren suit, Hillary gravitated towards a collarless white crisp look for the final presidential debate – similar to the one she wore to accept the nomination for the Democratic party.

Getty Images