Hillary Clinton's New Career Moves Seem Very "Brooklyn Creative"
Freed from electoral politics, Hillary Clinton is starting a podcast and going on the road to SXSW, in Austin, Texas, this year.
---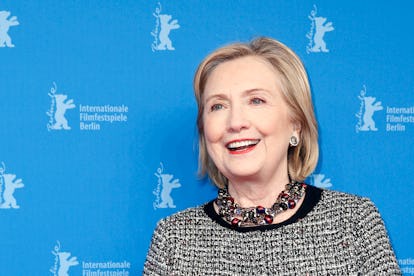 By all accounts, Hillary Clinton will not be making a surprise last-minute parachute dive into the messy Democratic presidential primary (even if, quite suddenly, there's room). No. Clinton seems to have fully moved on from electoral politics. Her next career moves? Well, they kind of seem like any other person from a well-off family without much pressing direction in their life. Although those people are usually of the "young," "live in Brooklyn," and "dabbling in various comedy and creative pursuits and have a lot of followers on Twitter" variety.
Hillary Clinton is starting a podcast. She's heading to SXSW. And she's booked a guest slot on Watch What Happens Live! How long until she starts a Substack newsletter or attempts some front-facing comedy video bits? Those memes and Twitter zingers certainly seem to have been a harbinger of things to come.
The fact that she recently showed up at the Venice Biennale to do some performance art doesn't seem that strange in the grand scheme of things after all.
According to The Verge, Clinton recently guested on Conan O'Brien's podcast and was inspired to start her own (as any frequent podcast guest tends to do). She's partnered with IHeartMedia for the series, and the show will likely feature discussion with newsmakers. Perhaps her new friend Meghan Markle might make an appearance? Or maybe, in the mode of Lorne Michaels, she'll be bolder and send an invite to Bernie Sanders?
Most startup podcasts do usually pull from the hosts' circle of friends for guests, and even if Clinton follows that route, she's certainly maintained an interesting web of contacts. Perhaps we'll hear figures like Alan Greenspan or the former Health and Human Services Secretary Donna Shalala described simply as "friends of the pod."
Though, before all of that, Clinton will stop by Andy Cohen's Watch What Happens Live! this Thursday for her first appearance. True, most young Brooklyn creatives who wind up on WWHL! usually do so as guest bartenders, but Clinton does have a head start.
Keeping with the theme, Clinton will also be heading to SXSW, in Austin, Texas, for the first time this year. She'll headline two days of political talks during the ever-expansive event, and will be interviewed onstage by MSNBC's Joy Reid.
Clinton is doing this all a bit out of order. A young Brooklynite might be ramping up their career via podcast and festival appearances in hopes of one day nabbing their own Hulu original, but Clinton already has that. Her documentary, Hillary, premieres on the streaming service this Friday.
Related: Hillary Clinton Gives a Dramatic Reading of the Mueller Report