Hillbilly Elegy Trailer: Glenn Close Debuts One of Her Most Dramatic Transformations Yet
Glenn Close and Amy Adams might be entering the Oscar race yet again with their Netflix film, Hillbilly Elegy, based on J.D. Vance's memoir.
---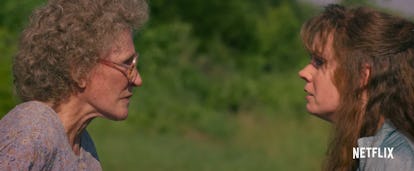 Courtesy of Netflix.
As the year winds down, it appears that the streaming platforms have found that now is the perfect time to start releasing their awards season hopefuls, especially now that theaters remain closed for the time being. Netflix has finally released the trailer for one of its 2021 awards season contender, Hillbilly Elegy.
The film is based on J.D. Vance's bestselling memoir about his family's life in southern Ohio, and how their Kentucky origins and Appalachian values intersected with living and working in one of the larger cities in the Cincinnati area.
Vance goes on to become a Yale-educated lawyer, while his family continue to reckon with the social issues in his hometown as white working class Midwesterners. The book was a big hit in 2016, right around the time of the Presidential Election. It was controversial, though, as some critics pointed out that Vance uses his family as an example to make sweeping generalizations about impoverished communities, arguing that they perpetuate the cycles of their own poverty.
The film, however, focuses mostly on Vance's personal history, or at least it appears to based solely on the trailer. The older version of Vance is played by Gabriel Basso, and the story is partially told in flashbacks (where a younger version of Vance is played by Owen Asztalos). Glenn Close stars as his savvy grandmother Mamaw and Amy Adams plays his troubled mother Bev.
Close has been nominated for seven Oscars, and Adams has been nominated for six. Neither of them have ever won, much to the chagrin of their longstanding fans. Could Hillbilly Elegy be the film that both performers go on to be nominated for, and possibly even win? It's hard to say at this point—as no one has seen or reviewed the film yet—but Netflix seems to be pushing it as an awards season contender, especially due to its connection to Oscar-winning director Ron Howard.
What's for sure, however, is that this film marks one of Close's most dramatic transformations yet, as Vance's wisecracking, Terminator-loving Mamaw, which you can see in the trailer for the film below. Hillbilly Elegy will be released on Netflix on November 24.