21st-century Teahouse
Artist Hiroshi Sugimoto has erected a rotating repository for his eclectic collection of millennia-spanning ephemera. Diane Solway visits a Manhattan aerie unlike any other.
---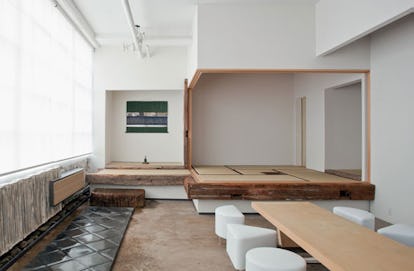 Renowned for the conceptual and philosophical messages underlying his photographs, the ­Tokyo-born artist Hiroshi Sugimoto has spent years amassing a curio cabinet of artifacts—from mummified cats and 18th-century prints of a hermaphrodite's sexual organs to space-age debris, including a fragment of the parachute worn by the first female cosmonaut. He'd long wanted a place to display these for visitors and to contemplate them himself. "I'm often invited to see the homes of famous collectors," Sugimoto told me, "and you'll have a gorgeous Fifth Avenue apartment with huge space, but it's usually full of so much art crammed on the walls, even on the staircases—and to me this is very uncomfortable. The artworks are killing each other. I always thought, Well, this is the American way of showing. It's very bad taste."
A teahouse, he decided, would make the perfect setting for his own collection, a place where he could switch out the work on view depending on the guest—­a variation on a Japanese tea-ceremony ­tradition, which calls for the decor to be planned specifically for each visitor, much in the way a menu might be. "By doing so, you pay more attention to your guest," he said. "I think that's a more sophisticated way of presenting art."
In 2009, the demise of a Chelsea gallery gave Sugimoto his chance. After acquiring the space, which sits atop his studio, he spent a year designing it, obsessing over such materials as bamboo and tree bark. He stripped 20 layers of paint from the concrete walls, whose unfinished patina now reminds him of both a ninth-century Japanese temple and the work of Gerhard Richter. He also created a tiled walkway banked by mosses to evoke a Japanese garden.
In his photographs, Sugimoto doesn't capture specific moments, preferring to see time as more fluid. In an iconic series showing the interiors of American movie palaces, for example, the film is exposed for the duration of the movie being shown. Time's passing is also recorded in his by-invitation-only teahouse. He pointed out a Duchampian ready-made clock he assembled from bits of glass and metal­—"Duchamp is my trauma. He's always in my head," he said—as well as fossils he had placed, just so, in a hole in the entryway ceiling.
Of course, it's precisely this fusion of past and present that the 63-year-old Sugimoto savors: Not only will he show, say, a meteorite next to the Rembrandt print he remounted on a Japanese scroll, but his close friend, the Kyoto tea master Sen ­So-oku, 35—a direct descendant of the founder of the 16th-century Japanese tea ceremony—will preside over the inaugural ceremonies on October 29. The opening will coincide with ­Sugimoto's latest exhibition of crystal pagodas and aluminum sculptures at the Pace Gallery in Chelsea.
"It's like a place to escape," he said. He was looking out the window of his teahouse, which is notable for both its surreal tranquility amid the urbanity outside and the views it affords of the Hudson River, two enormous water towers, and the rising One World Trade Center. For those who are able to kneel with their back straight, there is a room of tatami mats, but Sugimoto has also designed a table for 10 out of thousand-year-old Canadian cedar, the base of which is made of the optical glass used in camera lenses. Still, for all of Sugi­moto's attention to tradition, tea is not the only tonic to be served in the house. "We can definitely have champagne parties here," he said cheerfully. "Of course, if I take all my time to do this, then I will have no time to make art."
© Hiroshi Sugimoto, Courtesy of The Pace Gallery