Hitchcock
Director Sacha Gervasi takes us inside his dramatic behind-the-scenes retelling of Alfred Hitchcock's Psycho.
---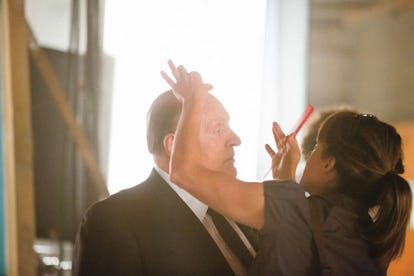 Alfred Hitchcock's carefully honed persona—an eerie patrician clad in a dark suit, with an even darker sense of humor—was as distinctive as his silhouette, and yet just as unrevealing. In the new drama Hitchcock, which plumbs the personal and professional machinations behind the scenes of Psycho, British director Sacha Gervasi illuminates the man in the shadows by focusing on Hitchcock's close relationship with Alma, his wife of nearly 54 years. "What drew me to the project," Gervasi says, "was the notion of telling an emotional story about a man we know nothing about on an emotional level."
When Hitchcock (played by Anthony Hopkins) began to adapt the sensational story of Wisconsin murderer Ed Gein for the screen in 1959, he was at the height of his career, having just come off both Vertigo and North by Northwest. But with a new generation of filmmakers nipping at his heels—by then, he'd already made 47 movies—the old master was looking to shake things up. "Hitchcock wanted something that would, in making the film, scare him as much as it would scare the audience," Gervasi says. Featuring a cross-dressing psychopath with a split personality who kills the film's star, Janet Leigh, halfway into the film, Psycho delivered a kind of seismic shock. Few, though, had felt the director could pull it off: Even Paramount, Hitchcock's longtime studio, at first didn't want to make the picture, considering it distasteful, even horrific.
Alma (played in Hitchcock by Helen Mirren), however, stood by her husband. The larger-than-life auteur held the opinion of very few above that of his wife—he referred to her as the Duchess, and she was in many ways one of his closest collaborators. "She was inextricably linked to his process," Gervasi says. "In some ways, this film is also about the woman behind the man."
"In this scene, as the opening-night audience reacts to a screening of Psycho, Hitchcock "conducts" them out in the lobby. A moment of Genius from Anthony Hopkins."

Photographer: Lauren Greenfield
"The first time I encountered Tony in full Hitchcock makeup , he crept up behind me and said, in character, 'Good evening.' I must've jumped five feet in the air. He never tired of doing that to visitors on set."

Photographer: Lauren Greenfield
"Scarlett Johansson plays Janet Leigh, who, was Marion Crane, is a real risk taker. I think the role suited Scarlett beautifully. She's like an old-fashioned movie star."

Photographer: Suzanne Tenner
"A complicated scene during which Hitch crosses the stage in a fit of rage, bumping into everyone and everything."

Photographer: Lauren Greenfield
"Toni Collette as Hitch's ever trusty secretary, Peggy Robertson. Impeccable in every regard."

Photographer: Lauren Greenfield
"Working with Helen Mirren—who plays Hitch's wife, Alma—was a dream. Here we're discussing the quality of the craft-services lunch."

Photographer: Lauren Greenfield
"It was important to us that everything feel authentic. The research started months before filming and continued throughout the shoot."

Photographer: Lauren Greenfield
"The beautiful Jessica Biel, who portrays Janet Leigh's character's sister Lila Crane in the original film. Jessica tried to borrow the getaway car."

Photographer: Lauren Greenfield
"Our staging of the famous shower scene. I remember being unable to sleep the night I first watched the original. So when we built the stall on the soundstage, I took a nap in it."

Photographer: Lauren Greenfield