Hollywood Has a Plan to Get Us More Timothée Chalamet Films Soon
The Timmée drought is near its end.
---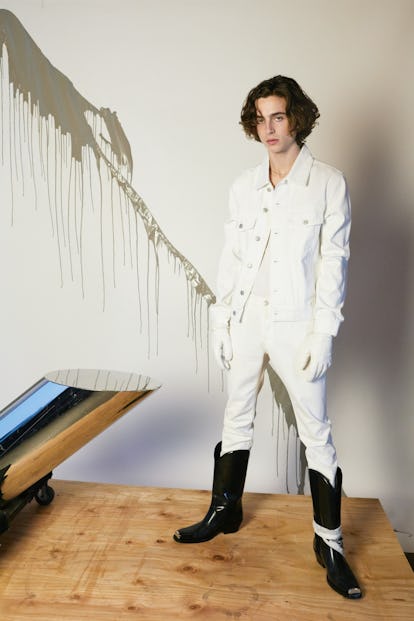 Juergen Teller
Twenty-twenty has not been kind to Timothée Chalamet. Or, more specifically, his fans. Just as the young actor was about to reach new levels of his career, his entire upcoming filmography was thrown into question. The release of his first collaboration with Wes Anderson, The French Dispatch, was one of the first major victims of lockdown, and, Dune, his first time carrying a blockbuster-sized film, soon followed.
Fret not. Hope is on the horizon. In fact, the news may be worth the wait.
In an industry-shaking announcement yesterday, Warner Brothers Studio announced that their entire slate of films for 2021 will be available on streaming service HBO Max the same day they're released in theaters. That includes Chalamet's Dune (in which he'll star with Zendaya, Oscar Isaac, and Charlotte Rampling, among others). The film is still set for an October 1st release (about a year after it was supposed to arrive). Undoubtedly, it's the kind of epic space opera that many will want to see on actual big screen, and we're all very hopeful that vaccines mean we'll be living something close to a normal life by next fall. Still, the plan guarantees that we'll get to see the film one way or another on a definitive date. The move also means anyone who sees it on the big screen can immediately go home and just sort of rewatch and linger over any of their favorite Chalamet scenes. That's between them and their laptops.
Films like The Matrix 4, the Angelina Jolie-starring Those Who Wish Me Dead, The Suicide Squad (the sequel to the movie simply known as Suicide Squad), and Into The Heights will also be released in the same fashion.
As for The French Dispatch, the buzz still seems to be that the film will premiere at the Cannes Film Festival early next summer (assuming it occurs in some fashion) before a summer release.
Meanwhile, while Chalamet is not the star of the expansive ensemble cast, his next film Don't Look Up is currently filming. Co-stars Jennifer Lawrence and Leonardo DiCaprio have been spotted on set this week. A Netflix production, that film will also likely premiere on streaming sometime next year.
Interestingly, in a cover story in Document Journal, Chalamet himself was waxing deep about the changing media landscape, albeit not specifically about his films. "Modes of communication and media are just different now," he said. "Many judgments are contextual to the past. The times are a-changin'."
Related: The French Dispatch Trailer: Gasp! Timothée Is Naked!