Highland Fling
A new wave of shops, galleries, and hip eateries is turning a once forsaken hollywood strip into a full-on block party.
---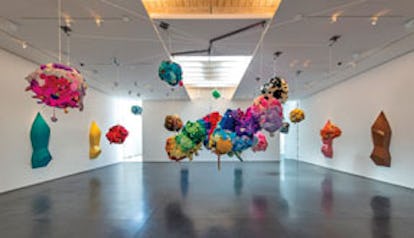 With its Commune-designed interior and market-driven cuisine, the restaurant Ammo has been luring art world power players and tastemakers to a semi-desolate stretch of Highland Avenue in Los Angeles for more than a decade. The eclectic interior-design studio Blackman Cruz, down the street, boasts a similar following. Still, until recently, one was more likely to encounter a pack of streetwalkers than a group of art lovers roaming this dubious Hollywood artery. Things are changing fast, however. The area's many studios and film- storage facilities, rendered obsolete by the rise of digital media, have provided ample space for new inhabitants—like Shaun Caley Regen, who in the fall took over a 20,000-square-foot film-postproduction lab for her gallery, Regen Projects. In the past year, a flurry of galleries, restaurants, and boutiques have sprung up within a few blocks of one another. Just last month, Jon Shook and Vinny Dotolo (the pair behind "dude food" Los Angeles restaurants Animal and Son of a Gun) and pop-up prince Ludo Lefebvre launched a new venue in a former pizza joint. Word on the street is that more such ventures are on the horizon—in the meantime, here are a few of our current favorites.
1. Perry Rubenstein Gallery 1215 North Highland Avenue 323.464.1097 When West Chelsea pioneer Perry Rubenstein decided to relocate to Los Angeles in 2011, he teamed up with Why Architecture's Kulapat Yantrasast to carve two galleries from a former film- stock warehouse. This month, Rubenstein is featuring Iwan Baan, the photographer whose post-Sandy aerial shot of Manhattan went viral.
2. Michael Kohn Gallery 1227 North Highland Avenue 323.658.8088 In a nod to his new surroundings, L.A. native Michael Kohn commissioned Lester Tobias to design both a "malleable" space for art and an illuminated edifice visible to passing cars. "There's a synergy between urban life and art-making," says Kohn, whose gallery will open this summer, with a roster that includes artist Ryan McGinness and the archives of Wallace Berman.
3. Free City Supershop Supermat 1139 North Highland Avenue 323.461.2226 In 2010, in search of that elusive neighborhood feel, style-setter Nina Garduno moved Free City from a Malibu storefront to this 3,000-square-foot emporium emblazoned with can't-miss multicolored stripes. Inside are Garduno's cult-favorite printed sweatshirts and sweatpants, ornate bikes and motorcycles, jewelry, and art books.
4. J.F. Chen 941 North Highland Avenue 323.466.9700 J.F. Chen, the premier L.A. antique-furniture dealer, has been making a mark on the contemporary art world lately. The Museum of Contemporary Art, Los Angeles, built a mini Chateau Marmont—with a pool—inside Chen's 40,000- square-foot warehouse for James Franco's "Rebel" show in May. A recent exhibition featured animal-inspired seating by Tijuana-born textile artist Tanya Aguiñiga.
5. Greg Lauren 730 North Highland Avenue, greglauren.com Contemporary-artist-turned-clothing-designer Greg Lauren (nephew of Ralph) has worked for years out of several studios on North Highland; in August he opened the Space, an atelier and by-appointment-only boutique. Like Lauren's one-of-a-kind pieces, sold at Barneys New York and worn by the likes of Brad Pitt, the Space's industrial-chic vibe is as unassuming as its unmarked door.