Hollywood's Blockbuster Pandemic Push Isn't All Bad
You'll have to wait until next year to see that blockbuster you wanted to check out, but there are a few silver linings to Hollywood's semi-shutdown.
---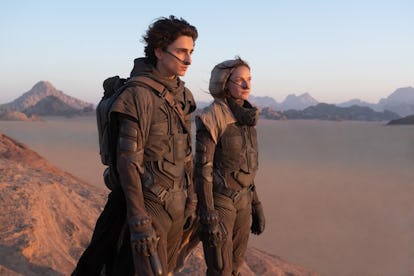 Courtesy of Warner Bros
The state of Hollywood in the coronavirus pandemic is pretty dark—literally, as movie theater chains, like Regal Cinemas are shutting down all of their properties for the time being, since hardly any new films are being widely released in cinemas, and it wouldn't be worth the operating costs of keeping them open at reduced capacity.
So, what does this mean for all of those big movies you were excited to see this fall? Well, just forget about Tenet for now—yes, Christopher Nolan managed to release the film in AMC theaters and at select drive-ins, but there was enough up-and-down drama surrounding that release schedule that it shouldn't be considered the standard for new films coming out in the time of the coronavirus. But there have been a handful of other big budget films that have been pushed until next year, or even later.
Wes Anderson's The French Dispatch, which was initially scheduled to be released this month, won't come out until next year (and might debut at the 2021 Festival de Cannes). It's a rough year for Timothée Chalamet, who also stars in Denis Villeneuve's sci-fi epic remake of Dune, which is moving to October 2021. This also forced Matt Reeves's The Batman to move until 2022, so as to not compete that month with Dune. Wonder Woman: 1984 won't see a theater until Christmas Day now, instead of its intended October date (and before that, it was scheduled to be in theaters this past June). No Time to Die, the 25th James Bond film, was scheduled to come out this past April, then was pushed to November, and has settled for an April 2021 release date. And then we have The Matrix 4, which had an April 2021 release date, but also, so as to not compete with Bond, will now be released in May 2022.
Hollywood may be shelving movies left and right, but there will at least be a big blockbuster out in the early days of 2021: the elusive spy thriller 355, which finally debuted a trailer, and stars Jessica Chastain, Lupita Nyong'o, Fan Bingbing, Penélope Cruz, and Diane Kruger as a multinational crew of spies, will be out on January 15 of next year—for now.
And there's another silver lining to all of the blockbusters being pushed into next year and beyond. Many awards ceremonies have been pushed to later dates—the Oscars will be held next April, and the SAG Awards and BAFTAs are shifting their schedules as well. This means that this upcoming awards season, independent films and movies that weren't slated to be big blockbuster releases might be at an advantage.
There is no telling when the public will get a chance to see an acclaimed fall festival film like Chloé Zhao's Nomadland, but Kornél Mundruczó's Pieces of a Woman, which will likely be at the forefront of the minds of the voters this awards season, has been acquired by Netflix, and Regina King's One Night in Miami and Eugene Ashe's Sylvie's Love will be available on Amazon. When streamers or video on demand platforms like Netflix or Amazon snatch up the rights to distribute smaller films, there's more of a chance that people who might not have seen the films in theaters (during normal times, anyway) will actually get to see them. It's not really the worst thing for a big budget superhero movie to get pushed back so that smaller budget, more independent films from first time directors get their due.