Must-see TV
With brands like Bobbi Brown and Dior, QVC and HSN have transformed their ultra-profitable channels from dowdy to—dare we say it?—chic.
---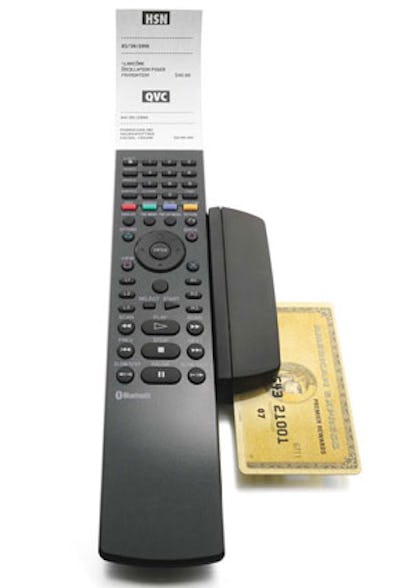 Last summer at Super Saturday, the massive annual Hamptons yard sale that benefits the Ovarian Cancer Research Fund, Kelly Ripa, Kerry Washington, Barbara Walters and Rachel Zoe shopped alongside the East End's poshest residents for Louis Vuitton handbags and Donna Karan dresses. Prada and Dior also had booths at the event, as did Judith Leiber, Calvin Klein and Emilio Pucci—though no company had as big a presence as QVC, the plucky purveyor of Quacker Factory sweaters and flameless candles. The tony resort enclave and a TV channel that's shorthand for Quality, Value and Convenience may seem like strange bedfellows, but QVC has been front and center at the high-end philanthropic event for three years running, sponsoring Super Saturday, broadcasting live from the event and donating more than $2 million to the charity.
What few people realize is that QVC and its chief competitor, Home Shopping Network (HSN), have spent the past few years trying to shake off their bargain-basement images. They can now boast of carrying some of the biggest names in the beauty industry—like Bobbi Brown, Clinique and Lancôme—and the strategy is paying off, with increasingly upscale consumers who extend far beyond middle-American hausfraus and insomniacs.
"People seem to think it's really downmarket," says Terry Darland, president of Parfums Christian Dior North America, who partnered with Sephora to offer Dior best-sellers like DiorShow mascara on HSN and who previously brought Prescriptives to QVC. "What I learned is that it's every [income] level across the U.S. that shops on television—including myself, I have to say."
That wasn't always the case. Once upon a time, peddling skin cream and lipstick on TV was verboten for a respectable line with coveted department-store space and a sophisticated clientele. Now petite and powerhouse brands alike want to get in on the action. Because, for one thing, the numbers don't lie. "A one-hour show does more volume for our brand than a U.S. department store in a year," says Maureen Case, president of Bobbi Brown, who adds that it's not unusual for Brown herself to do $20,000 a minute in sales when down at "the Q" in West Chester, Pennsylvania. Initially it took Brown a year to convince her team that they should sell on TV, but it's a risk that has proved worthwhile. "We were one of the first luxury brands to sell there," says Brown, who first went live on QVC in 2007. She refuses to do what's called "the hard sell," an aggressive sales tactic that bullies viewers into picking up the phone ("Only 125 bronzers left! Act now!") and that is still employed on the channels, though much less frequently than it used to be. Instead, she prefers to focus on sharing personal stories and makeup tips. "It's really changed," she says of on-air business strategies.
Tuning in to beauty segments these days is like taking a virtual stroll through, say, Bergdorf's cosmetics department. Industry bigwigs like Brown and Bare Escentuals' Leslie Blodgett and cult favorites such as Beverly Hills facialist Kate Somerville, makeup expert Trish McEvoy and skincare entrepreneur Peter Thomas Roth appear regularly on QVC, as do brands like Kiehl's, Laura Mercier, Nars, Shu Uemura and Clinique. "It's a great medium to convey the voice of the brand," says Lynne Greene, global president of Clinique, Origins and Ojon. Over at HSN, the smaller but arguably hipper of the two channels ($2 billion in revenue in 2008 versus QVC's $7.3 billion), major brands such as Lancôme, Benefit, Make Up For Ever and Stila are interspersed with known personalities like supermodel Lauren Hutton, who sells a natural beauty line; cooler-than-thou hairdresser Sally Hershberger, who has a line of styling products; Lisa Price of the bath-and-body brand Carol's Daughter; and Jennifer Flavin-Stallone, whose Serious Skin Care brand has grossed more than $1 billion in sales since it went on the air 15 years ago. The distant third-place player—though it's gaining traction—is ShopNBC, the 19-year-old channel that did $565 million in revenue in 2008 and has been recruiting former execs from QVC and HSN while simultaneously featuring a slate of independent brands like Ted Gibson hair products, Butter London nail polish and Intelligent Nutrients body and skincare. Sales at all three channels have also been boosted by high-tech advances: Each has its own iPhone application, and HSN recently struck a partnership with Comcast that allows customers to shop using their remote controls.
The style of the three channels has been updated, with custom-built sets that look more like shop-in-shops at Bloomingdale's than the clearance aisle at the local drugstore. The programming has diversified too; HSN's skincare-heavy lineup, for example, has shifted to also highlight hair care, beauty tools, fragrance and makeup. "HSN has become a true luxury environment," says Serge Jureidini, president of Lancôme USA. "It has allowed us to take innovative products and explain them in depth to the viewer. The live demonstration is very valuable." Those freakishly enthusiastic hosts are still there, but more and more airtime has been given over to the creators of top brands, who let viewers in on exactly how they dreamed up that multipurpose moisturizer firsthand. "The viewers have a connection with that person," says Mindy Grossman, chief executive officer of HSN, who came to the company from Nike in 2006 with a mission to change the 33-year-old St. Petersburg, Florida, outfit from a transparent selling platform to a lifestyle channel that happens to sell things. "They look at someone like Jennifer Flavin-Stallone as their friend. As much as she has this aspirational lifestyle, she's one of the most down-to-earth moms you will ever meet."
For her part, Flavin-Stallone insists that talking directly to the customer is far more effective than letting her line sit on the shelves at Sephora. "It would just get lost in the crowd," she says. The anecdotes she shares on air about her Hollywood life lend a patina of glamour that counter dwellers would be hard-pressed to replicate. "I talk about Sly [husband Sylvester Stallone] and what he's working on, and my girls," she says. "Now most people I know say, 'Well, Sly does very well in his business, but Jennifer does just as well in hers.' It's kind of ridiculous, but I get a different kind of respect now."
Over the past few years, QVC and HSN have been able to lure not just bona fide VIPs in the fields of fashion and beauty but also actresses, rock stars and moguls to promote their own products on air. Sean "Diddy" Combs was so adept during his HSN debut in November that he sold 6,000 $60 cologne gift sets in 16 minutes. Hawking fragrance on TV, it should be noted, is typically a difficult thing to pull off, considering that Smell-o-vision has yet to be invented. But a video of a tux-clad Diddy in a helicopter and strutting in the ocean surf conveyed the notion that, if nothing else, your life will become infinitely more formal upon wearing his cologne. "So much of fragrance is storytelling," explains Grossman.
For beauty industry stars, TV can be an opportunity to show off their skills. Hershberger, infamous for charging $800 per haircut, says that the sales numbers for her products on HSN spike when she does on-air demonstrations. "When I use my Genius Spray Wax," she says, "they fuh-reak out."
At QVC the hair lineup includes Orlando Pita, Frédéric Fekkai, WEN by Chaz Dean, and Oscar Blandi. "If we can get these people to be the geniuses that they are, then it's not about trickery or a low price or anything like that," says Allen Burke, director of beauty merchandising at QVC. "Ultimately, a true beauty consumer doesn't want 10 percent off; they want a better way to use a product, a better way to understand it."
Despite the lingering suspicion that wares sold on TV are overstock with slashed price tags, the reality is that not only do companies debut products on these channels, but they do so at prices that are hardly discounted. In fact, they can be shockingly high. Dermatologist Nicholas Perricone says that his $280 Perricone MD Neuropeptide Firming Moisturizer sells out every time it's on the air. "There's less interest in the lower price point—it's the $795 products that sell out," QVC's Burke says. "It's like we're giving them away."
The long-held stereotype that home shopping serves only those without easy access to high-end brick-and-mortar shops is also a myth. "Our three biggest markets are New York City, Chicago and Los Angeles," says Grossman. "90210, 10021," she adds, citing two of the country's wealthiest areas, "are very good zip codes for us."
There's another reason for beauty brands to make the move to shopping networks: The appearances don't just translate into real-time TV sales but to upticks in purchases at places like Nordstrom and Bloomingdale's as well. After Lancôme blew through 8,000 of its Oscillation Power Foundation in October on HSN, sales associates at department stores reported a surge in traffic and sales. Facialist Somerville says that long lines of QVC fans now await her at the personal appearances she does for Neiman Marcus. "The Neiman Marcus customer," she says matter-of-factly, "is the QVC customer."
Prop stylist: Ali Gallagher