Hood By Air Cancels Paris Fashion Week Show Unexpectedly
Hood By Air's Paris show has been grounded—but a collection is still very much in the works.
---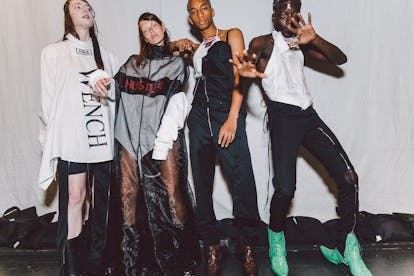 Photo by Driely S.
Hood By Air has grounded their planned presentation during Paris Fashion Week. The cult favorite streetwear label skipped its hometown shows this past New York Fashion Week and had instead set its sights on the city of lights. The brand has previously shown men's collections in Paris, most notably last summer in a buzzed-about show held at an underground sex club. This, however, would have been the first time the Shayne Oliver-led collective was to bring its womenswear to the French capital.
Alas, it won't be happening. The brand confirmed today that they will not be showing.
"Due to unforeseen circumstances, we inform you that the fall-winter 2017 Hood By Air show scheduled on Sunday, 5 March 2017 is canceled," read a statement released to WWD. "We will get back to you shortly regarding the collection."
The good news seems to be that there will still be a collection, it just won't show up on any runway during the major fashion weeks. The label's Sunday night closing spot will now be occupied by John Galliano.
Hood By Air usually has staged highly anticipated and much talked about shows in New York. Last season's show, for example, featured models of all ages, sexually suggestive hair styling, and a capsule collection in association with PornHub. Oliver and company have a tendency to make some noise whenever they travel as well. There was that Paris sex club show; a party and presentation during this past Art Basel Miami Beach featured the debut of a collaboration with photographer Pieter Hugo that took place literally in and around a hotel pool. A special presentation over the summer in Los Angeles featured a dune of sand dumped in the middle of a show space.
The world now will never know what they had in store for Paris. This time, at least.
HBA was not the only New York-based brand with Paris in their sights. Rodarte likewise decided to ditch NYFW this season for Paris, and that show will still happen as planned. Meanwhile, Proenza Schouler held their last show in New York earlier this month and, for a while at least, while begin showing in Paris during Couture week.
Defiant Hood By Air Show Casts "Real People" Models Like Wolfgang Tillmans
Watch a pre-HBA Shayne Oliver vogue: