Hood By Air Is Taking a Fashion "Hiatus," Effective Immediately
Co-founders Shayne Oliver and Leilah Weinraub are taking a break to pursue other creative projects.
---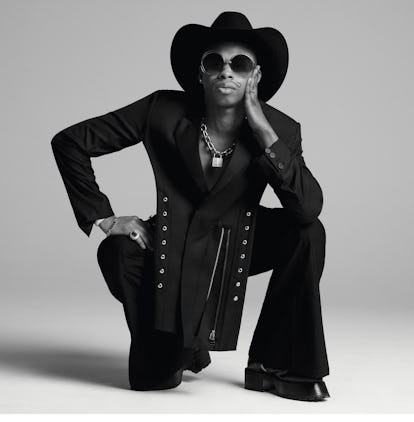 On Thursday afternoon it was announced that Hood by Air, the cult favorite fashion brand co-founded in 2006 by designer Shayne Oliver and CEO Leilah Weinraub, would be on a fashion hiatus effective immediately.
Oliver and Weinraub will be "focusing on their current projects," read the press release issued by the brand. Weinraub is delving into film, making her directorial debut with Shakedown, a documentary about black lesbian strip club in Los Angeles. Meanwhile, Oliver, as it was recently announced as well, will be heading over to Helmut Lang for a "special collection" including men's, women's and accessories, which will show in some form this September.
The news doesn't come as much surprise for those following the fashion news cycle, seeing that its been somewhat of a tumultuous time for Hood by Air. This past fashion week, the brand made headlines when it announced the decision to show in Paris for the first time, rather than New York where it was born and bred. (Hood by Air men's previously showed at an underground Paris sex club, but never women's.) Alas, the day never came and they ended up cancelling the Fall 2017 show altogether. In January, the brand also hosted its most exhaustive sample sale to date, which can perhaps now be seen as a ceremonious cleaning of house.
There will certainly be a Hood by Air-sized hole in the New York Fashion Week calendar next season—pun intended, as the brand has made a name for itself with its provocative shows. (Spring 2017, for example, was sponsored by PornHub.) However, the press release concluded: "HBA will continue to fulfill its creative vision in the near future."
So, Hood by Air is just going to keep us guessing, which in fact, is not news at all.
Related: Remembering a Young, Pre-Hood by Air Shayne Oliver
Hood by Air's 5 Most Memorable Moments
A$AP Rocky made an appearance on the Fall 2013 runway.
A pantless female model showed off her emoji-esque tattoos for Spring 2014.
Photo by Getty Images.
A voguing performance finished off the Fall 2014 show.
Photo by Getty Images.
Shayne Oliver redefined what it means to walk the runway for Spring 2015.
Photo by Getty Images.
Spring 2016 left everyone speechless, literally.
Photo by Getty Images.
Watch Shayne Oliver talk about his inspirations, below.