The 4 Types of Hoop Earrings to Buy This Spring
It's not your imagination: hoops are everywhere right now.
---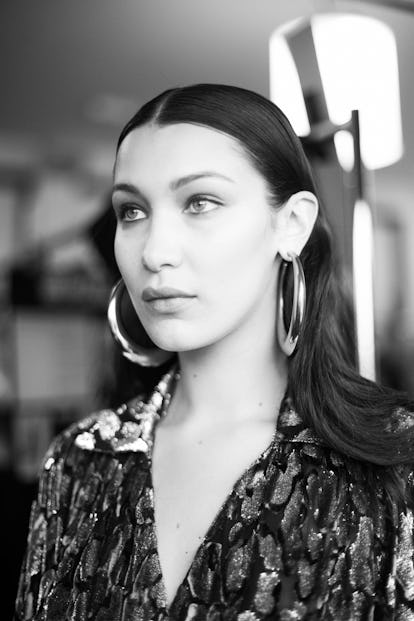 It's not your imagination: hoops are everywhere right now.
Selena Gomez wore them on the cover of Vogue's April issue; Joan Smalls donned a pair to go shopping in India; K-Pop stars love them Seoul Fashion Week; Hailey Baldwin is an addict. So what gives?
As with any style obsession, the fashion pendulum has swung back firmly in the statement earring court. But while mismatched pairs and ear jackets have had their moment to shine, it's all about the hoop once again.
This season's most popular iterations go beyond the classic, J.Lo-approved big gold hoop. From the pair you almost definitely have in your jewelry box already, to the new styles worth investing in now, here a guide to the hoops to wear this season.
Oversized hoops:
If there is one version that rules them all, it's the oversized hoop, from super-thin to shoulder-grazing styles. The one pair you need to buy from this category? Jennifer Fisher's Samira hoops, available in 14k Yellow Gold Plated Brass or Silver Plated Brass with Rhodium Finish, which you've already seen on everybody from Alicia Keys to Gigi Hadid.
Classic, medium-sized hoops:
Or, the ones you wore in middle school. These are the earrings that Gretchen Weiners' parents gave her for Hannakuh, only to be forbidden by Regina George. Truly universal, the earrings are best at their simplest: not too big, not too small. Thanks to their classic nature, the medium-sized hoop in silver or gold pairs well with formal attire, as they will never overshadow the ensemble. While you probably bought your original pair from Macy's–and be honest, still have them–Shinola has made a perfect crescent-shaped version should you be looking for an upgrade.
Huggies, with a twist:
For the woman who isn't sure she can pull of hoops (impossible!), look no further than this tiny, barely there earrings. While huggies–named for the way they hug the earlobe–have been a popular look for several seasons, for spring, several designers, including new designers Laura Klassen and Pascale Monvoison, have added tiny charms to dangle off the dainty base, creating a look that is equal parts subtle and whimsical.
From Madonna to Selena Gomez, Celebrities Have Always Loved Hoop Earrings
Madonna performs for a sold out crowd at the 1985 Live Aid concert in Philadelphia wearing piles of gold jewelry.

Getty
Sarah Jessica Parker sports a relatively toned down look in all-black with silver earrings.

Getty
Christina Aguilera takes to the stage in a high pony and thin, silver hoops.

Getty
Post-Posh, Victoria Beckham keeps it casual in a white tank, jeans, and major hoops.

Getty
Gwen Stefani matches a wild leopard print top with with pink cornrows.

Getty
Claire Danes attends a party for MTV at the 2003 Cannes Film Festival in a quirky hairstyle popular of the era.

Getty
At the 2002 premiere of her movie Crossroads, Britney Spears matched her baby-pink ensemble with silver jewelry.

Getty
Gold hoops pair perfectly with a gold tank–and matching tan–for Paris Hilton.

Getty
The reigning queen of the hoop, Jennifer Lopez was at her truest form in a juicy tracksuit and major earring.

Getty
Lindsay Lohan paired her cropped moto jacket with chunky hoops at the 2004 Teen Choice Awards.

Getty
Gwyneth Paltrow attends a Broadway opening night in 2005 wearing gold hoops that blend into her waves.

Getty
Eva Mendes paired a plunging halter top with gold hoops at the 2006 MTV Movie Awards.

Getty
Also rocking the halter and hoop pairing? Cameron Diaz at a premiere for one of the Shrek films.

Getty
Taylor Swift attended the 2009 Brit Awards in a bling-y silver dress and matching earrings.

Getty
At the 2008 SAG Awards, Angelina Jolie kept her look simple, save for a pair of gold earrings.

Getty
There was nothing subtle about the hoops–or ensemble in general–Beyonce wore to the 2010 Grammy Awards.

Getty
Blake Lively wore a pair of shoulder-grazing hoops to a 2010 event in New York.

Getty
Hoops are a winning bet when paired with a sleek ponytail, as evidenced by Julianne Moore.

Getty
The ultimate chic equation? Kirsten Dunst, a sleek-bun, tailored suit, and simple earrings, as evidenced at the 2011 CFDA Awards.

Getty
Kim Kardashian kept the glam sleek and the hoops big at QVC's'Buzz On The Red Carpet' Cocktail Party in 2012.

Getty
Even Meryl Streep is not immune to a good hoop, here at a 2015 film premiere.

Getty
At the 2015 British Fashion Awards, Lady Gaga matched her eye-makeup to her diamante earrings.

Getty
Zendaya arrived at the Children Mending Heart's 7th Annual Empathy Rocks Fundraiser in 2015 wearing a top-knot and major earrings.

Getty
Selena Gomez attended the 2016 Grammy Awards in a sequined Calvin Klein gown and equally sparkly earrings.

Getty
Nicki Minaj sat front row at the H&M Studio show during Paris Fashion Week with pin-straight hair and mega-jewelry.

Getty
Almost never without a major hoop, Hailey Baldwin attended the grand opening of Tao in Los Angeles in all gold.

Getty
Sculptural hoops:
Just because hoop earrings have been around for centuries, doesn't mean they can't be ultra-modern. Case in point: sculptural pieces that go beyond the circle shape, adding in plenty of new angles and add-ons. Charlotte Chesnais, for example, plays with interlocking loops in differing metals, while Double Disco piles on shape upon shape for a shoulder-grazing moment that will turn heads.
Related: The 29 Pairs of Hoop Earrings to Buy This Spring
29 Pairs of Hoop Earrings to Buy This Spring
Butterflies of Paris: How Street Style Stars Do Paris Fashion Week