Hotelier Carlos Couturier's Insider Guide to Mexico City
The globetrotting hotelier's favorite spots when he's home in the Mexican capital.
---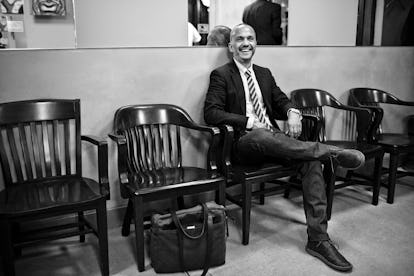 The hotelier Carlos Couturier, who operates a slew of sleekly designed properties in Mexico (as well as the Hotel Americano in New York, and another hotel opening soon in Chicago), is a man constantly on the move. But if he does have roots anywhere, it's Mexico City. Here, the design aficionado reveals his favorite spots in the busy Mexican capital.
Describe in three words the style of your home there. Modernist, purist, discreet.
Tell me about your neighborhood. Lomas de Chapultepec is the Beverly Hills of Mexico City. Large homes with big, lush gardens. Not really pedestrian friendly, but quiet and elegant.
What's the up and coming neighborhood to watch out for? I really like San Miguel Chapultepec. Most of the interesting art galleries are based there. It's centrally located, near a park, bike friendly and smart.
Local spots so good they make the traffic in the city worth it. Contramar is still the best place for lunch. For contemporary mexican cuisine, Amaya, by chef Jair Tellez, is the new "it" place. Havre 77 has a great atmosphere and the food is creative. For the vibe and authenticity, Restaurant Covadonga, and for late night, the one and only M.N. Roy (Frank Lloyd Wright meets the aztecs).
Where do you shop? Best shopping is at the Downtown shops inside my Downtown Hotel. Mexican craft, fashion and design with a twist.
Local delicacy you can't live without. Tacos at Califa any time of the day.
Favorite breakfast. On the patio at Condesa DF.
Best spot for coffee. Panaderia Rosetta. Great coffee but also the best pastries in town.
Favorite bar. Bosforo Mezcaleria in Centro Historico.
One insider tip for visitors to Mexico City. Definitely a tour (appointment only ) of the Casa Estudio Luis Barragan. And also biking around Polanco, Condesa, and Colonia Roma.
Zika pro tip? Zika is not really a problem in Mexico but better to take precautions. I take lots of Vitamin B12, a natural mosquito repellent.
What's your date night restaurant? Bakea. Probably the best food in Mexico City; it's near my house. Still a best kept secret after so many years of savoir faire.
When in the mood to get dressed up for drinks, you head to … Maison Artemisa.
When you need to escape the city, where do you go nearby? I go to Puebla. An old colonial city with great architecture.
What are your favorite galleries to patronize in the city? Kurimanzutto. And Bikini Wax for emerging artists.
Favorite museums? MAM, the museum of modern art.
Local motto/philosophy that you live by. Straight or on the rocks ?