Being Donatella
Gina Gershon celebrated her role in the new film House of Versace with an Italian-inspired party, of course.
---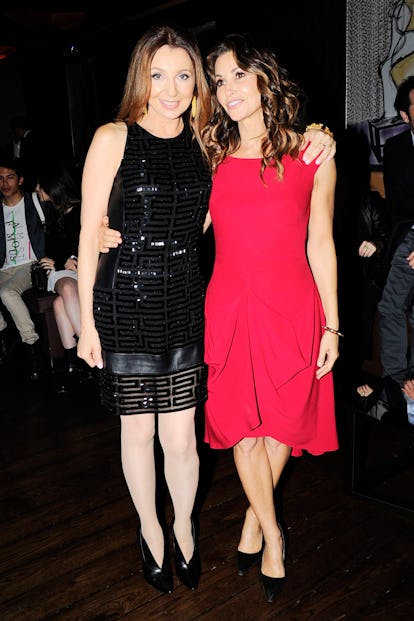 What: A Cinema Society screening of MarVista Enteratinment & Lifetime's movie House of Versace
Where: After watching the film at MoMA, guests continued the evening with a party at B & Co.
When: Thursday, October 3
Who: Gina Gershon, who plays Donatella Versace, was joined by Helena Christensen, Gerard Butler, Michael Stipe, Katie Cassidy and more. But, the most important person present was Ryan—her hair stylist. "One of the things I learned about Donatella," Gershon said before the screening, "is that she always has her hair person with her. Everyone thinks it's kind of a diva thing, but I think it's just smart."
Why: Although Gershon explained that she has never met Ms. Versace—and considering the Italian fashion house's response to the film, hopefully never will—she continued to channel her for the rest of the evening. "I really do have so much respect for her," Gershon said, "I hope she doesn't hate me. She seems really cool; I'd like to hang out with her." Alas, the designer was not available to comment.
Donna Murphy and Gina Gershon
Photo: Patrick McMullan
Anne V
Photo: Patrick McMullan
Helena Christensen, Sarah Sofie, Michael Stipe, and Gina Gershon
Photo: Patrick McMullan
Alan Cumming
Photo: Patrick McMullan
Katie Cassidy
Photo: Patrick McMullan
Sante D'Orazio and Helena Christensen
Photo: Patrick McMullan