Houston, We Have Liftoff
Most people associate Houston with Enron, NASA, and big hair. But, as Michael Slenske reports, a growing number of creative types are striving To make H-Town the cultural hub it was when Philip Johnson and the de Menils first injected it with modernity.
---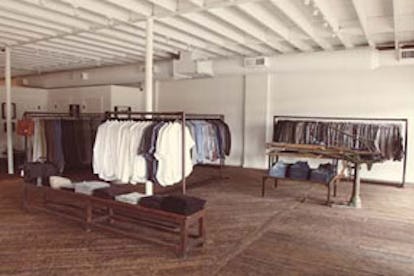 MORTAR Last year Iris Siff and Sacha Nelson opened Mortar, a men's wear boutique stocked with such indie faves as Zero + Maria Cornejo, Kansas City, Missouri's Baldwin Denim, and Brooklyn's Hollander & Lexer. In February the pair inaugurated a back-room "meeting place" in their new space with Randy Twaddle's "Transformer" series of minimalist charcoal prints (on gouache and T-shirts) of the city's ubiquitous electric boxes. Says Siff, "It's taking what's terrible and ugly about Houston and making it modern, contemporary, and beautiful" (shopmortar.com).
PHILIPPE RESTAURANT and LOUNGE Philippe Schmit earned his stripes in kitchens that matter (New York's Le Bernardin, Houston's Bistro Moderne), so when it came time to open his namesake restaurant in January, he felt it was okay to show off just a tiny bit. "I have a camera in the kitchen so guests can see the food being made," says Schmit, who's mixing local ingredients, French techniques, and cowboy faves in dishes like a BBQ Caesar salad or seared scallops in a pomegranate sauce with Houston's Saint Arnold beer (philippehouston.com).
HAMILTON SHIRTS For 128 years Hamilton Shirts has been dressing spiffy Texans in bespoke Egyptian and Sea Island cotton button-downs. In February Kelly and David Hamilton debuted a new ready-to-wear collection with the same rich fabrics and plush placket and collar linings. The brother-sister duo is also planning a women's line for next year (hamiltonshirts.com).
LA COLOMBE D'OR Modeled—and named—after the French inn where Picasso and Matisse traded art for food, this small hotel on Montrose Boulevard has just reopened its restaurant as Cinq (for the mansion's five guest rooms, which got a Tex-boho facelift). New owners Dan and Mark Zimmerman tapped 27-year-old Mansion on Turtle Creek alum Jeramie Robison to tackle the locavore menu comprising both classic fare (herb-rubbed Colorado rack of lamb) and modern (roasted rabbit saddle with pear d'Anjou) (lacolombedorhouston.com).
SLOAN/HALL For years Marcus Sloan and Shannon Hall have sold baubles to Houston's social queens. Now they're going edgy, via local designer Jessica Meyer's BulletGirl line of gold-plate bullet shells sourced from her grandfather's Mexican ammo factory. This spring the shop is also introducing a namesake collection of necklaces made from Native American beads and arrowheads—many pavéed with diamonds (sloanhall.com).
FOUND FOR THE HOME At Found, their four-year-old design emporium, Aaron Rambo and Ruth Davis turn industrial scraps into must-have furniture pieces, like a chandelier made by fitting Edison bulbs into an inverted 19th-century bottle-drying rack. "I spent nine days in France last summer," says Rambo, "and brought back a 40-foot container full of stuff." Expect that trove to become the fall 2011 lamp collection (foundforthehome.com).