How Every Rapper and Pop Star Came to Have Their Own Sneaker Line
Kanye West, The Weeknd, and Justin Bieber's signature sneakers didn't come out of thin air.
---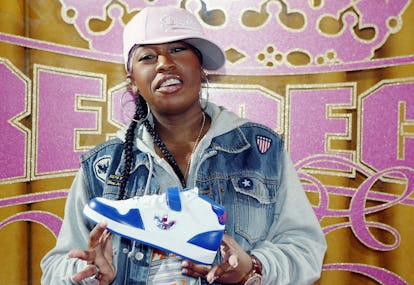 Getty Images
Once upon a time athletic apparel companies only sponsored and collaborated with the world's top athletes. From the Converse Chuck Taylor to the Nike Air Jordan, the honor of having your name stamped on a sneaker was reserved almost solely for people who needed sneakers to do their job (and even then usually just for the people who did that job particularly well).
Today, brands like Adidas and Puma are not only affiliated with pop and hip-hop at artists at rapid-fire pace but are actually throwing full-fledged fashion shows with them at international fashion weeks. It seems like every other week a new collection is born out of the union of a musician and an athletic apparel brand. In fact, just yesterday The Weeknd announced that his brand new Puma line will be launched in 2017.
How did we get from a time when sneaker lines were the sole domain of athletes to the point where a rapper or singer isn't truly a star unless they have their own signature kicks? Well, that story begins in Hollis, Queens.
The earliest group of rappers that broke into the mainstream had a habit of dressing up in costumes not that dissimilar from pop and disco acts at the time. The stage get-ups of Grandmaster Flash and the Furious Five was just a stone's throw from that of the Village People.
Run-D.M.C., however, weren't interested too much in the business of leather harnesses or tight pants, and the group settled on a uniform of track suits and Kangol hats completed with matching pairs of Adidas Superstars always in black and always without laces (a style note taken from men who had spent time in prison, where shoelaces are confiscated). When a would-be rival tried to diss the group by calling their signature footwear "felon shoes," Run-D.M.C. responded with a track "My Adidas," in which they proclaimed "I may wear sneakers but I'm not a sneak."
Eventually, the people at Adidas noticed that the band was essentially doing millions worth of unpaid advertising for them, and the sneaker company signed the rap group as ad campaign faces and rewarded them with a signature edition of the Superstar. In the same year, LL Cool J would also hook up with apparel company TROOP (though the collaboration and indeed the brand's entire North American presence faded when unfounded rumors spread it was secretly owned by the KKK. Yikes).
"My Adidas" may have cemented the sneaker as Hip-Hop's footwear of choice and started the tradition of shouting out favored kicks in songs, but it didn't cement further business relationships between rappers and sneaker companies.
The late '80s and early '90s, however, saw a surge of sneaker companies signing up pop stars, usually those best known for their dancing, to appear in ads. Paula Abdul was in particular hot demand. She originally appeared in ads for Reebok's Dancer sneaker but was stolen away by L.A. Gear to promote their Sunblossom sneaker. At the same time, L.A. Gear also signed the king of pop himself, Michael Jackson. A signature pair of sneakers, designed to resemble Jackson's leather jackets, were produced. Meanwhile, British Knights put MC Hammer in their ads.
Of course, neither British Knights nor L.A. Gear's popularity extended much beyond the earlier '90s. It's not a surprise then that other sneaker companies concluded that perhaps signing celebrities to endorse their sneakers, no matter how athletic the celebs dance moves were, wasn't exactly a formula for success. Thus the earliest collaborations between sneaker companies and celebs came to end.
Such a shame. There would be no Whitney Houston X Aasics line nor Air Biggies. Rappers and pop star would have to wait more than a decade to get that big time shoe money again.
A Brief History of Celebrity Sneakers
It all started because Run DMC didn't want to wear leather pants.
The 35th anniversary of the Run DMC Addidas Superstar.

Getty Images
Paula Abdul Endorsing LA Gear Sportswear in Beverly Hills.

WireImage
Single LA Gear Michael Jackson signature sneaker w. rivets & buckles.

The LIFE Images Collection/Getty Images
Jay-Z during a signing for his S. Carter collection for Reebok.

GETTY Images
50 Cent holding up his G-Unit shoe for Rbk.

Getty Images
Missy Elliott at the launch of her Adidas line in 2004.

Getty Images
Pharrell Williams just enlisted Bathin Ape designer Nigo and started his own shoe company.

Getty Images
The still hyped Nike Air Yeezy 2.

Getty Images
…and then somehow Sneaker Company x Celeb endorsements started to lead to this kind of thing.

Getty Images for Yeezy Season 4
Getty Images for Fenty x Puma
And it's not slowing down anytime soon.

Image via The Weeknd's Twitter
In 1999, the rapper Master P did get his own Converse sneaker, but at the time he was pursuing a basketball career and was briefly signed to an actual NBA team's practice squad. That same year Nike produced a special edition of their Dunks for the Wu-Tang clan, but the lore goes that they were only meant for family and friends of the rap group and just 36 pairs (as in the 36 chambers) were ever produced. Nike apparently didn't realize the potential consumer interest. At the time industry leader Nike wouldn't even dare dream of awarding an actual signature shoe to a non-athlete. On the rare occasion those Wu Dunks makes its way to eBay today they can sell for tens of thousands of dollars, and that money doesn't go to Nike.
Fast forward to the 2003 NBA Draft, which was stacked with future superstars like LeBron James, Carmello Anthony, Chris Bosh and Dwyane Wade.
Reebok came out of the sponsorship bidding war signing exactly zero of those names, so the brand decided to try something else. Instead of a basketball player, they signed Jay-Z. The rapper's multi-year deal was basically structured like he was an actual basketball player. He received his own apparel line and a signature sneaker, the S. Carter. Reebok doubled down on the strategy and signed 50 Cent up with a line as well. Lesser sneaker brands like Fila, Luz and Pony also gave rappers their own signature shoes.
Adidas would get back in the rapper endorsement game in 2004 by awarding a signature line, Respect M.E. to Missy Elliot, the first female rapper to profit from a major athletic apparel endorsement. Pharrell then decided to just go ahead and launch his own sneaker line, Ice Creams, that same year.
The breaking point came in 2009 when industry leader Nike teamed with Kanye West to produce the company's first ever signature shoe for a non-athlete. With Nike in the game, the practice has grown at an exponential rate.
Justin Bieber had a two-year deal with Adidas. Rick Ross has his own signature Reeboks. Vans and Converse produce special editions of the signature shoes with the logos of just about every rock band under the sun attached. Gorillaz, a cartoon rock band, even had their own signature line with Converse.
Brands seemed to be resurrected just so they could align themselves with various rappers and popstars. Tyga had a shoe with L.A. Gear. Nelly at one point just straight up bought the rights to the old TROOP label.
Of course, it was Kanye yet again who took the game to another level. He's got Adidas sponsoring his Yeezy fashion line. Which of course begat Rihanna's deal with Puma and her "Marie Antoinette goes to the gym" presentation at Paris Fashion Week.
Which brings us back to today's news that The Weeknd will, naturally, receive his own Puma line.
As for actual athletes? Don't worry. They still get sneaker deals too. Except sometimes those kicks are roasted on the internet as dad shoes.
Watch Kanye West talk about his goals for fashion, and how his success with sneakers isn't enough: