How Fashion, Hollywood, and Beyond Are Addressing Trump America
While demonstrators take to the streets in peaceful protest against a Trump victory, the fashion world starts to tick on.
---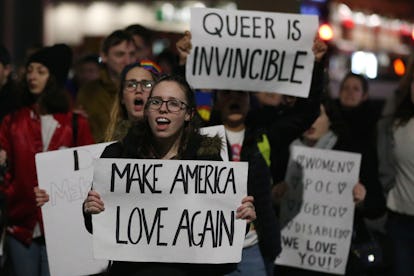 Getty Images
After Donald Trump defied predictions and won the presidential election early Wednesday morning — claiming the electoral college but losing the popular vote — demonstrators flooded the streets in major cities across the country, including New York, San Francisco, Boston, Atlanta, Kansas City, and more. In addition to the physical vigils and protests, Clinton supporters across fashion, music, and film have echoed the sadness and anger felt by many waking up Wednesday morning in a Trump America; designers from at home and abroad including Aurora James and Jonathan Anderson have sounded off on Instagram, while Lady Gaga, Madonna, Chloë Sevigny, and more artists are speaking out on social media. Business of Fashion connected with many of American fashion's biggest names, including Diane Von Furstenberg, Phillip Lim, and Pyer Moss, to gauge their reactions.
But elsewhere, fashion and culture tick on. Here's what's been going on while America is reeling from the aftershock of the election.
Björk IRL vs. VR: Which Björk is the most Björk?
Formichetti, Nicola The Diesel creative director talks reviving "For Successful Living" and rebellions big and small.
Jenner, Kendall Continuing fashion world domination unabated. Next up: a La Perla campaign. We have the exclusive behind-the-scenes shots.
Rihanna The first preview of the singer's upcoming role as an alien cabaret dancer in Valerian has arrived, and despite its brevity, it doesn't disappoint.
Stones, Rolling From glam-rock pioneers to muses of Hedi Slimane and Alexander McQueen, how Mick Jagger, Keith Richards, and co. became fashion icons.