How Instagram Stories is Putting the "See Now" In Fashion Month
The app's new feature was put to the test during New York Fashion Week Spring 2017. Here's how social media influencers like Hari Nef and Irene Kim, plus Instagram's own Eva Chen think it's changing the game.
---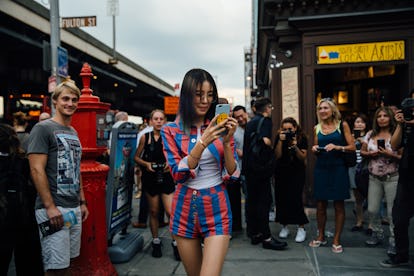 © Emily Malan Photography
At the beginning of August this summer, Instagram launched "Stories," its Snapchat-like feature that allows for live, un-curated, off-the-cuff updates of every moment of users' lives, which disappear after 24-hours and won't appear on their profiles. This gave the fashion crowd one month to get a hang of it before the Spring 2017 shows in September, when it was put to the test by influencers, models, editors, and brands — many of whom aren't on Snapchat or have minimal followings.
The results were overwhelming, but perhaps in a good way. Instagram Stories offered those following along in New York and around the world a 360-degree perspective of New York Fashion Week, from the days leading up to it, to backstage, to the parties after. Not a single moment went un-documented this season, which was great for small, underground brands like Gauntlett Cheng, who made an appearance on Chloe Sevigny's story, and not so great for Bella Hadid, whose tumble on the Michael Kors runway was perhaps missed by those physically in the crowd, but played on repeat via social media.
"If you look at it from the perspective of a 20-year-old student who goes to FIT, who is able to follow along from all these different perspectives — from a casting agent, to a model, to a designer, to a set designer, to PR agencies — you really get to see Fashion Week come to life," said Eva Chen, head of fashion partnerships at Instagram.
Brands like Marc Jacobs and Proenza Schouler provided behind-the-scenes footage on their Instagram Stories, while others like J Mendel and Yigal Azrouel debuted their entire collections on Instagram Stories exclusively. Even designer Tory Burch offered a "day in the life" on show day — a rare glimpse behind-the-scenes of her perfectly-curated feed. Fans could also follow along backstage with models like Karlie Kloss, Hanne Gaby Odiele, and Bella and Gigi Hadid.
Plus, in anticipation of Milan Fashion Week, Gucci's Alessandro Michele has been posting Stories from his "secret" Instagram. "Everyone wants to get into his head right now," said Chen. "He's been posting everything from his accessory game, which is very strong right now — he wears a ring on each finger, it's amazing — and then on Thursday he did a mood board. I don't know if it's for the upcoming season, but that would be crazy exciting."
And then there were bloggers like Irene Kim and Leandra Medine giving their own live-action commentary from the front row with emojis and marker drawings to boot. For Kim, who has over 800,000 followers, she enjoyed not having to toggle between numerous different apps in the heat of the moment. "Using Instagram Stories was a very 'live' experience," she said. "And it allowed for multiple layers because you would get your routine photo, but also much more. I could do photo/video dumps and I was also able to view other peoples' stories and interact with their content through comments."
For the fashion industry in particular, Instagram has become a platform that will make or break you. A well-curated grid can catapult a model or influencer's career, and brands like Gucci are using it to provide eye-catching content for a younger clientele. For this reason though, Instagram Stories is a necessary addition to the app, which was originally conceived to capture all those candid, "in-between moments," as Chen puts it.
"There's always been content that I've wanted to share on Instagram that would be cute if people knew about it but didn't really align with my aesthetic sensibilities," says actress and model Hari Nef. "Like, I don't like posting Getty and BFA photos on Instagram. It's not that I don't love Getty and BFA, I just try to have it all be editorial and iPhone photos. People don't really respond well when it looks like you're just promoting your life. But I've been able to put those photos on Instagram Stories and draw funny things on them and make them a little more me, but also flex and be like, 'Here's a really good picture of me in this dress.'"
Of course, not everyone is a fan of Instagram's new feature. "I don't even have Instagram Stories," said blogger Jayne Min. "I refuse to update because of them!" At this rate though, she might soon cave under the overwhelming pressure of fashion F.O.M.O ("fear of missing out"), which Nef says she's certainly fallen victim to in the past and finds even harder to avoid now.
"It's funny, I actually feel the opposite of F.O.M.O with Instagram stories," said Chen. "This year, my husband's birthday fell on the same night as the Alexander Wang show and party, so I missed it. But I follow 1,200 people and because of the 50 Stories that I watched, I literally felt like I was there. I could taste the McDonalds."
From where I was sitting, this season I felt more involved with New York Fashion Week than ever before, despite having skipped or missed out on a large portion of shows. On Instagram Stories I saw Bruce Pask help a limping Yeezy Season 4 model; I saw Young Thug get up and fix a model's look mid-walk at VFiles; I was introduced to off-the-calendar brands like Bror August through artist Chloe Wise; and I got to party with both Tory Burch and Alexander Wang. These are the moments we talked about the next day, anyway. So who needs a front row ticket?
When I told Chen that I wouldn't be heading off to Europe, she replied: "Don't worry, you're not going to miss anything; you'll see it all on Instagram Stories!"