How One Chinese Artist Pushed the Italian Luxury Brand Max Mara Beyond Its Comfort Zone
Behind the scenes of the Beijing-based artist Liu Wei's collaboration with Max Mara.
---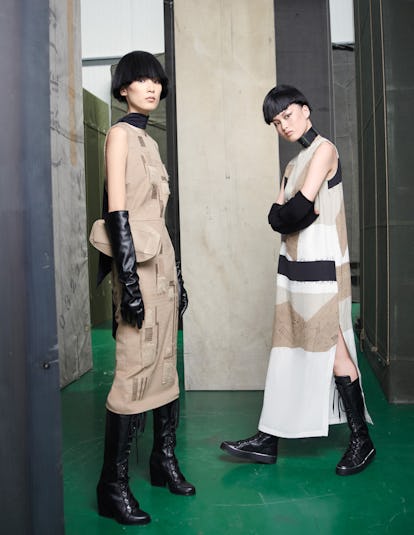 Photographs by Jeff Yiu, Styled by Yoyo Yao; Hair by Chen Feng at the fur studio; Makeup by Christopher Bu.
On a sunny morning in mid-April, a small team from Max Mara is seated around a low table piled with fabric swatches in the library of the PuLi Hotel, in Shanghai. Most of the group is already on a second or third strong coffee, having arrived from Milan the day before, but Ian Griffiths, the creative director of the Italian brand since 2013, is on point. He is about to present his preliminary ideas for the Max Mara pre-fall 2017 collection to the artist Liu Wei. "It's a complete step in the dark," Griffiths says. "Like coming to a college tutorial to see what the master thinks."
As is the case with many Western luxury brands, Max Mara has gone into China in a big way, with 400 stores for all of its various labels (including Sportmax and Max & Co.) across the country, and four for its marquee Max Mara label in Shanghai alone. In December, it will present a runway show here featuring a special capsule collection designed in collaboration with Liu, who has also agreed to create the set. And in what is now becoming a routine practice in the fashion industry, many of those runway looks will be displayed in the store windows around the world—and be available for purchase—the very same day as the show.
"The view out my window looks like one of your works," Griffiths says to Liu, referring to the artist's gridlike paintings, as he pulls up a photo he took through the blinds of his hotel room this morning on his iPhone. An initial meeting took place earlier in the year, in Paris, where Liu had been part of an exhibition of contemporary Chinese art at the Fondation Louis Vuitton. Today, Griffiths begins to unfurl the fabrics his design team has been developing in the interim, mostly the rich alpacas and double-face cashmeres for which Max Mara is known, in urban shades you might call sandstone and concrete.
The Maramotti family, which owns Max Mara, has an impressive modern and contemporary art collection at its headquarters in Reggio Emilia, Italy; Max Mara sponsors an annual prize for women artists and has been a major supporter of the Whitney Museum of American Art since its move to downtown Manhattan in 2015. But unlike many of its competitors, who regularly team up with contemporary artists on everything from accessories to ad campaigns, Max Mara has thus far refrained from splashy collaborations. "It's much easier to be inspired by an artist who is dead," Griffiths says frankly. "You don't know what they're thinking about."
Ironically, that seems to be something of an issue today. Liu is attentive throughout the presentation, nodding encouragingly when he sees something he likes. He is quite open, apparently, to the idea of designing a handbag. Still, it is difficult to know exactly what he is thinking, as he speaks only in Mandarin, communicating through Li Bowen, his longtime studio manager, who is sitting at his side. "Collaborations we see quite often are very conventional," Li says. "He wants to go for something more interesting. Max Mara is known for its elegance, so we propose opposing that with something more brutal or unsettling. Do you like the idea of contrast?" Griffiths concurs: "Total luxury and elegance looks old," he says. The fabrics that Griffiths has brought to Shanghai were largely inspired by Liu's paintings, which he maps out on a computer and then hands over to an army of untrained studio assistants to execute in oil on canvas. "This is the better side," he informs Griffiths through Li, indicating the back of a plush cashmere with a three-dimensional, almost-topographical pattern superimposed on it. "There is strength—­brutal strength." In fact, the artist seems to prefer the backsides of all of the textiles, with their tangles of basting and loose threads, to the more refined fronts.
"Liu Wei feels great about all of it," Li concludes. "But he wants you to take it far. He really likes the unfinished feeling of these. Would you say that is Max Mara's style?"
"We will make it Max Mara style," Griffiths says. "That's my job."
And with that, Li stands up and announces that he and Liu are going outside to smoke.
The art-fashion collaboration has almost become protocol for Western brands arriving in China. In 2008, Dior presented "Dior and the Chinese Artists," an ambitious exhibition at the Ullens Center for Contemporary Art, in Beijing, featuring specially commissioned works by 20 artists, among them Liu, who made a series of abstract sculptures based on a Dior dress pattern from 1948. More recently, Gucci staged "No Longer/Not Yet," an exhibition at Shanghai's Min­sheng Art Museum, featuring the work of the Chinese artists Cao Fei and Li Shurui, along with that of Western ones like Jenny Holzer and Rachel Feinstein. "Art is a Trojan horse these brands are using to introduce themselves to an alien territory," says the curator Francesco ­Bonami, who brokered the union between Liu and Max Mara. "China isn't a country; it's a planet—it's really another place. When you land there you have to reset your way of thinking."
After lunch at Da Dong, a popular restaurant specializing in experimental Chinese cuisine, the group walks a few blocks to the Shanghai Exhibition Center, a grand complex built in 1955 to commemorate the alliance between China and the Soviet Union. While it has become the venue of choice for many fashion brands (Dolce & Gabbana held its extravagant Viva La China party there), it is not by any means a neutral one, either aesthetically or politically. Liu has selected it over more-blank, industrial spaces like the Long Museum, in the city's West Bund district. But as we enter the 40,000-square-foot-long central hall, with its soaring vaulted ceiling and decorative terrazzo floor, he seems overtaken with doubt. At the meeting this morning, he had stated his intent to make the runway set using materials from his recent work, namely sheet metal, mirror, and industrial canvas. Looking up at the wedding-cake ceiling of the domed entryway (mint green with a lacy bas-relief pattern and anchored by a three-tier chandelier), it is not immediately apparent how any runway set could compete.
But while this particular "Oh, shit" moment is clearly unnerving for the Max Mara executives, who have passed the point of no return on this project, for Liu, it is in fact a necessary step in the creative process. In a 2012 interview in Whitewall magazine, the artist was asked what inspires him. "Something that causes problems… the feeling that in creating objects or realizing ideas there is always an element of terror. Some people really enjoy stability in their creation… But I am not well suited to that way of working—I don't find it sufficiently dynamic."
Born in 1972, Liu Wei is part of the Post-Sense generation, so called for the landmark group exhibition "Post-Sense Sensibility: Alien Bodies and Delusion," which he helped organize in the basement of a Beijing residential tower in January 1999. The show was a visceral response to the commercial painting that constituted the contemporary art market in China back then: Some of the work contained animal carcasses and, reportedly, human body parts. It was shut down by authorities a few hours after it opened. "We grew up when things were constantly changing and nothing seemed stable," Liu explained in a conversation with the curator Hans Ulrich Obrist. "There was a turnaround in values every couple of years. Today you'd believe in one thing, and tomorrow you'd believe in something completely different. Because we grew up that way, the art was also like that."
Indeed, Liu, who will open a new solo exhibition on November 2 at the Lehmann Maupin gallery, in Manhattan, is known for working within a variety of mediums—painting, photography, video, sculpture, installation—and experimenting with all manner of materials, letting the concept dictate the form a piece will ultimately take. Outcast I, 2007, was a hangar-size shelter made from the discarded windows and doors of government institutions; Love It Bite It, 2006–2007, was an installation of small-scale models of world parliament buildings rendered in the rawhide used to make dog chews; and "Look! Books," 2014, was a group of sculptures made from thousands of compressed books and other printed matter. "When you go to his studio, you could be in the studio of three different artists—more," Bonami says. "There is no shyness in going in different directions."
In that regard, Liu and Griffiths make something of an odd couple. As a graduate student in fashion at London's Royal College of Art, Griffiths won a competition organized by Max Mara. He joined the company in 1987—and never left. From a professional standpoint, stability is all he has ever known. "I have the shortest CV imaginable," he exclaims. "I've grown up with the company. I can't imagine being anywhere else, really." And stability is a core value of the brand for which he works. "Liu Wei's two- and three-dimensional pieces are based on the city as a disorienting place of constant change," Griffiths observes. "Max Mara offers a sense of reassurance about the city. It's a brand that offers comfort and security in a world that judges women on what they wear."
The next day, we are driving around the outskirts of Beijing in search of Liu's studio. "There is no road here!" Jane Jin, Max Mara's point person in China, declares. "We are off the GPS." The area, a labyrinth of narrow streets and single-story buildings, has been slated for demolition, and a bank of high-rises looms in the distance. Liu has been told he will have to move his operations elsewhere, although the government keeps extending the deadline. After traveling around in circles, we finally arrive at a compound of warehouse-like structures clustered behind a rusty roll gate that, according to Li, once housed a furniture gallery. ("What a furniture gallery was doing out here, I have no idea," he tells me.) The office, furnished with a mishmash of sofas, chairs, desks, and a pool table, is filled with paintings from Liu's various periods: one, of intentionally badly rendered diamonds against a black background from 2005, leans on the wall behind a pseudo-Victorian velvet love seat; a pixelated rendering of a CCTV map of Iraq sits above a printer.
We are offered a tour of the adjoining buildings. The studio is in flux, and it's sometimes difficult to tell what is art, what is art material, and what is simply junk. We pause in front of a couple of pieces from Liu's "Jungle" series, monochrome industrial canvases crisscrossed with thick seams. Suddenly, it becomes clear why the artist was drawn to the backs of the fabrics. He walks through the spaces with us, taking photos of his own work on his iPhone, as if seeing it for the first time. Both he and Griffiths zero in on some scraps of galvanized metal that they say they can imagine framing the runway. A concept for the set begins to unfold, albeit a very abstract one.
"Liu Wei tends not to do sketches, because once you sketch an idea it's out there," Li explains back in the office over coffee, which we drink from Liu Wei–edition Illy cups. "He will think for however long, get into many conversations with us but keeping the idea to himself. Every time he starts a new work, he has to come back to the question 'What is art?' " For Griffiths, the project is beginning to feel like a proper collaboration, not just two things shoved together. "There's a lot we don't know. That's the exciting part," he says. "Why would I fly all the way to Shanghai from New York if I already know what I'm going to see?" But Jin is on edge, obviously concerned about the timeline ("No sketches of the set?"). Even to those of us who don't speak Mandarin, the subsequent back-and-forth between her and Liu doesn't sound particularly reassuring. After a few minutes, Liu pauses and smiles. In perfect English, so that there is no misunderstanding, he says, "Don't worry."
Behind the Scenes of Liu Wei's Max Mara Collaboration
Dresses and clutch from his capsule collection for Max Mara.

Photographs by Jeff Yiu, Styled by Yoyo Yao; Hair by Chen Feng at the fur studio; Makeup by Christopher Bu.
The artist Liu Wei, in his studio in Beijing, with pieces of his set for the Max Mara runway show.

Photographs by Jeff Yiu, Styled by Yoyo Yao
Liu's paintings are conceived digitally.

Photographs by Jeff Yiu, Styled by Yoyo Yao
Liu and Max Mara creative director Ian Griffiths (from left) at Liu's former Beijing studio this past spring.

Courtesy of Max Mara
Liu, his studio manager, Li Bowen, and Griffiths, at the show space in Shanghai.

Courtesy of Max Mara
Liu's set for the Max Mara runway show in December will incorporate the materials he uses in 
his artwork.

Photographs by Jeff Yiu, Styled by Yoyo Yao
Completed paintings in the studio.

Photographs by Jeff Yiu, Styled by Yoyo Yao
A model in Liu Wei's studio, wearing a jacket and skirt from his collection for Max Mara.

Photographs by Jeff Yiu, Styled by Yoyo Yao; Hair by Chen Feng at the fur studio; Makeup by Christopher Bu; Hair by Chen Feng at the fur studio; Makeup by Christopher Bu; Models: Dylan Xue at Huayi Brothers Fashion Group, Xie Xin at SMG model management; On-Set Producer: Sherry Ma; Lighting By Elephoto Studio; Fashion AssiStant: Michelle Zhao; Production assistant: Lv Huanhuan.
Watch W's most popular videos here: