How the Enamel Pin Craze Reached Kim Kardashian Levels
Kim is a fan, Nike has bought in, and musicians like Major Lazer are hooked. Inside the fanatical world of pins and patches, which has graduated from internet cult to full-blown IRL phenomenon.
---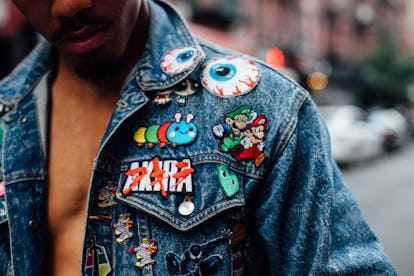 © Emily Malan Photography
By 6 p.m. on Tuesday night in New York City, the line waiting to get into Chinatown Soup gallery was already stretching down the full block of Orchard Street, and it would stay that way for the next two-and-a-half hours. The line itself – a diverse mix including suits, pre-teens, and punks on bikes – was enough of a presence to even draw its own crowd of observers. Some, like a cop and an older man in a cowboy hat, stood sentinel across the street to take it all in, while other passersby shamelessly asked what the fuss was about.
"Pins?" an incredulous white-haired woman said, laughing in my face when I told her.
It was New York's first-ever Pin and Patch Show, and inside, the white walls were studded with pieces so small you had to get up close and squint – a variety of enamel pins and patches from ten New York pin labels, a veritable "pindustry," if you will, that has cropped up in the last two years as part of a growing, mostly online phenomenon. At long last, it was getting a real-life incarnation, and the pinheads – last pun, I promise – were giddy.
Though gallery capacity was around 100, by the end of the night, a total of nearly 2,000 had come through – not a bad turn-out for an event the first of its kind in New York, and especially so for being organized by a group that had only met in person when installing the show the day before. Previously, they'd all been communicating in an Instagram DM thread called "Pin Crew," a space for the 13 New York-based pin-makers, who range in age from late teens to mid-thirties, to put a face to their brands and talk shop.
The Best Street Style from New York's First-Ever Pin and Patch Show
It's thanks to them, and other like-minded designers, that pins have gone from DIY buttons and promo material to miniature works of art and accessories stocked by everyone including Kim Kardashian. "Around 2014 was the early days of what you call the pin revival," said Eduardo Morales, who's better known online as the Pin Lord. "These small artists started doing unique, interesting, artsy sort of pins for the fun of it, and people just started liking it," he said. From there, it took off, thanks mostly to the ease of finding production factories, which are mostly in China, on Google, plus promotion on Instagram without any cost. "Now anyone can do one in a relatively cheap way," Morales added.
That's how Charlie Ambler, the 23-year-old New York pin-maker who spearheaded Tuesday's Pin and Patch Show, first got started. He graduated from New York University's Gallatin School last year, but even with a degree in History and Theory of the Avant-Garde, he's hardly had trouble with post-grad life: Ambler now supports himself fully from Strike Gently Co., the pin brand he started in late August with his experience sourcing merch for a streetwear company; advice of a friend who ran his own pin brand, Inner Decay; and a little Googling to find a manufacturer in Hong Kong.
Most new pins can be divided up into a few easily identified taxonomies: macabre and punk-inspired, artist-produced, and shamelessly internet-y with emojis, Simpsons characters, and pizza. Ambler's fall into the first camp and are sold primarily on his website, though they're also now carried in stores as far as Canada and Japan. It's a one-man operation, so Ambler keeps a low overhead and uses Instagram as a free resource for both promotion and customer analytics: "That's like the best statistic," he said of looking at his followers and those who post his products.
In fact, almost everyone relies almost exclusively on Instagram, which is why there are now people like Morales in the game. Along with @patchgame, @pinlord is one of the original reposters – those who keep track of the endless flow of pin releases and compile more digestible, curated feeds. Clearly, the service is in demand: Since he started a year ago, Morales has amassed himself nearly 70,000 followers, whereas Patch Game, who was in it from the beginning and also posts other merch, is now up to nearly 150,000. Morales, who laughs about it all and is quick to point out that he "just love[s] pins," never expected it to get to this level: "It was like, 'Oh man, let me try it and see what happens, I don't know if it'll work but maybe, maybe I'll get a few pins out of it,'" he recalled. "And then it snowballed like crazy."
At one point, three to six months ago, Morales was getting DMs from a dozen new brands a day – "so it's like hundreds, if not thousands, of individual creators all over the world making pins," he said. While many are from the usual metropolitan cities of New York, L.A., and London, he's seeing more coming from South America, Europe, and Asia, too: "It's starting to reach that other stage where it's not only a small niche thing in the U.S. It's spreading a bit more."
To Morales, that dozen-DM-a-day era was the pin world's peak. "It's still growing, but not as exponentially as before," he said. But he considers the plateauing of the trend to be when it's entering the mainstream. To others like Jordan Roschwalb, 29, that means it's only just beginning. He's the mastermind behind Pintrill, which bills itself as the first brand to do exclusively pins, and unofficially credits itself with starting the first of the craze, even stamping its labels with the phrase "Est. 2014." This year, Roschwalb ramped up his operation and opened what's reportedly the world's first brick and mortar pin store: A pristinely organized Williamsburg location whose white walls are adorned with a mural reading "BUY SELL TRADE" by the artist Baron Von Fancy, and which smelled faintly of incense and weed when a 16-year-old intern wearing Hood By Air let me in one morning last week. The store didn't open for another hour – though you can bet there was customer waiting outside promptly to be let in when it did at noon – and Roschwalb was in the back office area with two of his other employees.
"I challenge someone to come in here and say there's nothing here that they want," he said with a laugh. "We literally have a pin for everyone." A new design comes out every week, and his current crop of 500 in-store includes an array of emojis; faces like Larry David, Pablo Picasso, Grace Jones, Drake; miniature Comme des Garçon sneakers; Kanye West 2020 election merch; several trays of vintage pins; and simpler designs like a unicorn, which recently caught the eye of a pre-teen girl who'd wandered in, asked the price, and come back with a $20 bill the next day. Plus, he does collaborations with musicians like Major Lazer and promos for brands as big as Nike, who seem to think of him as their go-to pin man. (Morales is also working with Brooke Candy on pins to promote her singles like "Paper or Plastic." "I come from a punk rock background so pins and patches have always been a staple," Candy said. "It's important for merch to have a DIY feel; it should feel special and limited and not mass produced.")
Now, Roschwalb's even getting into the luxury game, too: While his pins start at $12 (most in the community retail between $8-12), thanks to new designs with real gold and diamonds, they'll go up to over $1,000.
Clearly, Roschwalb has found his calling. Before Pintrill, he was making "stupid money" as an operations manager at a Mercedes Benz dealership, a creative dead-end. A drawn-out job search was starting to bring him down, "so that's why I had to do the pins, because I really wanted to stay positive," he said. He found a graphic designer and made the Pintrill Instagram in February of 2014, which led to a website launch a few months later and, unexpectedly, a full-time gig.
Now, Roschwalb is planning for global expansion, and seems to consider bringing pins to the masses tantamount to a civic duty: "We have the ability to actually become a global brand because we're so far at the forefront of this – it's like an obligation," he said. "I want to be able to support causes. I want us to be a brand that's big enough to make a change." That way, he said, they could take a stand or put out designs to respond to world events like the Orlando shooting, for which he's holding a "Pins for Peace" auction to benefit the victims of next week. "I'm not going to be the president of the United States, you know what I mean, like we're not gonna be in politics, that's not who we are. But there's got to be a way to help people by doing this."
The issue with more visibility, though, is that the Goliaths can now step in – as seen with the now viral case of L.A.-based illustrator Tuesday Bassen, who filed a lawsuit against Zara for stealing several of her pin designs. Her goal with the case, she said, is "to deter companies from counterfeiting independent designers." Evidently, there's quite the need for that: Over 20 others artists have since come forward about their own designs being copied, compiling dozens of side-by-side comparisons on a new site called Shop Art Theft, which lets visitors buy the originals.
Bassen doesn't just make pins – she started off with illustrations, which is how she ended up with her clothing line and accessories. And while Bassen's turned her art into a full-scale retail operation – she just opened a store in L.A. this month – many artists stick to pins as an affordable way to get their work and their name out there. Some, like Daniel Zender, produce their own, while many do collaborations: Ambler, Roschwalb, and Morales have all teamed up with artists, many of whom they find on Tumblr or Instagram.
That might sound like it would breed competition, but "everyone's doing well enough where they recognize that like they don't need to feel that competitive about it," Ambler said, pointing out that many pin-makers are artists and punks – not exactly the greediest types.
On Tuesday night, for example, they sold their designs side-by-side on the merch table in the back, which seemed to be the event's biggest draw; hung out downstairs drinking the beer; and pitched in with cleaning up. Plus, they're already talking about how to include more artists at their next event.
But just how long will the pin craze last?
"It's definitely currently trending, but I think it's a thing that if people keep being smart about designing, and don't get too trendy with it, they can just kind of stay around with it," Ambler said. "The impulse to customize stuff you already own has always been a thing that people have enjoyed."
Listen In: This Is What Making W's September Issue Sounded Like