Beanie Feldstein and Her British Accent Star in How to Build a Girl
Beanie Feldstein and her British accent star in the trailer for How to Build a Girl, based on Caitlin Moran's semi-autobiographical novel of the same name.
---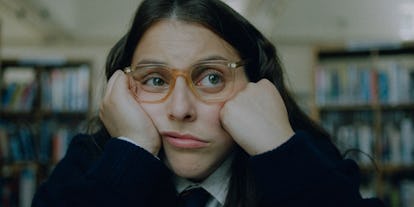 Photo courtesy of IMDb.
If you were wondering what Beanie Feldstein would sound like with an English accent, listen no further: the trailer for How to Build a Girl, her new coming-of-age movie will let you hear just that.
Based on Caitlin Moran's semi-autobiographical 2014 novel of the same name, the film follows the ambitious Johanna Morrigan as she lives with her working class family in Wolverhampton.
Unlike many teenage girls, Johanna has photos of Sigmund Freud and Virginia Woolf plastered all over her bedroom walls instead of the typical celebrities idolized by teens. But like many girls her age, Johanna just wants to figure out a way to reinvent herself as someone who can have adult experiences, so when she signs up for a writing competition and wins, her life is changed forever.
The rambunctious writer eventually aims to be a music critic known under a pseudonym, Dolly Wilde. She becomes a staple of the '90s British rock scene, and a very tough to please critic on all of the musicians she writes about.
Feldstein plays Johanna, the aspiring music writer living in 1990s England. When you think about it, the character is kind of like a predecessor to Feldstein's Molly in Booksmart—ambitious, clever, an A+ student—minus the rural British intonation.
Alfie Allen, Sharon Horgan, Chris O'Dowd, Michael Sheen, and Emma Thompson all make appearances in How to Build a Girl as well. The film premiered at the 2019 Toronto International Film Festival and was slated for a spring 2020 wide release in theaters, but due to the way the coronavirus pandemic has shaken up the industry and shut down cinemas across the world, How to Build a Girl will be available to stream as VOD beginning May 8.
Related: Beanie Feldstein, Billie Lourd, and Kaitlyn Dever Talk First Kisses and Pop Bottles of Champagne