How to Train Like an Olympian Around the World
Get into the spirit of Rio 2016 around the world. Here, six hotels with world-class sports programs fit for the likes of Serena Williams and Michael Phelps.
---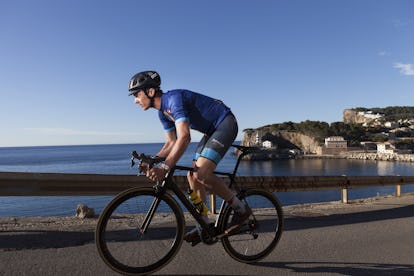 Athletes from around the world have finally arrived in Rio for the 2016 Olympic Games, which officially kick off today. As you watch the stories unfold and medals are won (and, sadly, lost by as little as a millisecond), you might be left feeling inspired to go after gold yourself. If you are able to put the TV remote down and pry yourself away from watching these seemingly super humans battle it out, escape your hotel room to perfect your swing or go for a ride. Here, 6 hotels around the globe with world-class facilities and instructors to help you get poised and ready for victory by 2020.
Tennis
You might not have any Grand Slam or U.S. Open titles to your name just yet, but let's just say you're a total boss on the courts. Then head to the swanky Rancho Valencia Resort & Spa in sunny San Diego to get your Venus and Serena Williams on. The hotel has a renowned tennis facility boasting 18 plexi-pave championship courts and can coordinate matches and trainings at guests' convenience. Their staff of experienced USPTA and USPTR-certified tennis professionals is eager to help players reach their full potential on the court with lessons and programs tailored to every individual. (If you are really looking for the total tennis experience, they have a "Stay and Play" tennis package that combines a one-night stay in the luxurious casitas with $175 tennis credit per person.) Also, if you are just beginning your tennis training but have dreams of being like Serena one day, not to worry—they also expertly cater to beginners.
Golf
Yes, golf is indeed an Olympic sport. It's a special moment for golf, as these games mark the return of the sport to the Olympics after a 112-year absence. If you're feeling inspired by watching top-ranked players like Team U.S.A.'s Bubba Watson, The Ritz-Carlton Golf Resort, Naples has an impressive, 36-hole championship course designed by one of the world's leading golf course design firms, Greg Norman Golf Course Design. (The resort's PGA-level golf course plays host to two major professional golf tournaments each year.) The hotel also has a resident golf psychologist on hand to analyze your game and work with you to think like a great player. At this rate, the 2020 Games could be in your future.
Triathlon
Feeling inspired by Team U.S.A triathlon rock star Gwen Jorgensen? Head to the Hotel de Russie in Rome, a Rocco Forte property, to train with Ironman and triathlon legend Danilo Palmucci. Palmucci, who has served as the hotel's personal trainer for more than a decade, has created custom sightseeing running and biking programs where you can take in some of the Eternal City's most legendary venues all while enjoying the outdoors scenery and getting a workout in.
Cycling
Whether you're a longtime cycling aficionado, or feeling inspired by watching the pros ride at the Games, you'll want to grab your bike and head to the Jumeirah Port Soller in Mallorca for your next getaway. David Millar, the only British rider to have worn all the Tour de France jerseys and one of the seven to have worn the yellow jersey, has teamed up with the hotel on the ultimate cycling weekend experience (October 20-24, 2016). During the three-day ride in Mallorca, you'll be treated like a pro with pre-ride morning briefings led by Millar and route guides (with Maserati support cars and on-site mechanics to provide expert tech assistance throughout the journey). Before the weekend, you'll also get a customized training plan and when you get there, they will have a personalized jersey and kit from Chpt III – Miller's new clothing line in collaboration with Castelli.
Shooting
Learn the art of shooting at The Equinox Golf Resort & Spa in Manchester Village, Vermont. The Luxury Collection property has an Orvis Shooting School, where expert teachers offer detailed feedback and instruction, use of an Orvis shotgun, targets and ammunition, a custom gun fitting and access to professional gunsmithing services, as well as all of the important safety gear, like ear and eye protection. The Orvis Shooting School, a one or two-day program open to both experienced shooters and those who are new to the sport, is available from mid-July to mid-October.
Swimming
Plenty of hotels have luxurious, eye-catching swimming pools, but Olympic-sized ones are few and far between. The Monte-Carlo Beach, however, not only has an Olympic-sized pool, but it also sits right along the stunning seaside. Pause from yachting, gambling, and shopping for a moment to hop in the pool and channel your inner Michael Phelps. The pool also has two diving boards, if that's more your speed.