How I Got (Semi) Washboard Abs
Intent on getting myself in shape in time to sport one of midriff-baring spring 2013 looks to a New York Fashion Week party, I turned to trainer Marc Gordon.
---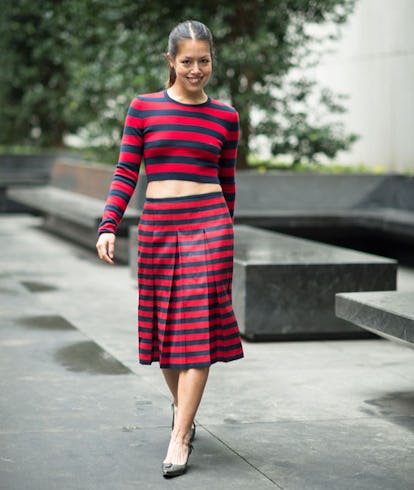 I am not terminally unhappy with my figure. Sure, I have those mornings like anyone else where every body part seems to have bloated out to Michelin man proportions. But my general outlook is one of acceptance and, sometimes, even confidence. Well, enter the spring 2013 collections—with their almost unilateral focus on the bare midriff—and any claims to corporeal contentment evaporated. Whether it was Balenciaga's skirt, jacket and bra combo or the lower rib cage-revealing look at Rochas, these ensembles left no room for error.
Intent on getting myself in shape in time to sport one of these looks to a New York Fashion Week party, I turned to trainer Marc Gordon, whose clients include chiseled models like Joan Smalls. My deadline was two and a half weeks—ridiculous, I admit.
I should preface this by saying that I was no workout neophyte: I run five to six times a week and take at least one Core Fusion class a week at Exhale. But even that regimen does not a perfect abdomen make. As Gordon intoned during almost every one of our fifteen sessions, "You can run a country mile and not have the body you want."
This became very evident as I submitted to his interval and strength training-based program. A cardio junkie—apparently it's a common addiction among women—I had the fitness level to push through the heart-pumping jumping jacks with twelve-pound medicine balls, but I could barely manage three reps of most of his abdominal exercises. Bicycles on a Bosu balance disk? Disastrous. Planks with toe lifts on a Swiss ball? Flat out failure. Walking lunges? I thought I could do them correctly. I thought wrong.
"To change your body, you have to find all the weaknesses and ask them questions," said Gordon, those questions being his excruciating creations. "And part of my system is cutting to the point. Get it done and get out."
Yes, as he made clear, "the gym is the glamorous part." Nutrition is paramount to seeing any results. I kept food sheets for Gordon and consulted nutritionist Ashley Koff RD, who considering my looming deadline, instructed eliminating sugar, processed flour, sodium and alcohol. Immediately. I was also supposed to add a green juice every day, limit dairy and avoid carbs in the evening. Two days prior to my unveiling, she recommended switching to purees and liquids only. That wasn't happening, but I did my best.
As my chosen event—a Marni fragrance launch party—loomed, my resolve began to fail. I was spending five hours a week with Gordon (each session preceded by an extra 30 minutes of cardio), running 9 miles on Sundays and canceling plans with friends left and right because I was too exhausted and I couldn't really drink or eat, anyway. By that final, snow-dappled evening, I was rather shocked by how confident I felt in my striped, cropped Michael Kors sweater and matching pleated skirt: my waist curved in where before it had been straight; I had actual definition, and Gordon had done a number on my previously meek posture.
I enjoyed my newfound core for about two weeks before it disappeared into an oblivion of wine-filled girls' dinners and, yes, a bowl or two of pasta. I didn't mourn its departure. After all, I can still run a country mile or two. And sometimes that's enough.
For those interested in training with Marc Gordon, he can be reached at marcgordonfitness@gmail.com
Photos: Lawrence: Adam Katz Sinding; Ab Fab: Craig McDean.