How Wolfgang Tillmans Made His New Visual Album Starring Hari Nef
The German photographer and his band, Fragile, teamed up with Hari Nef to make a visual album to accompany their EP That's Desire / Here We Are.
---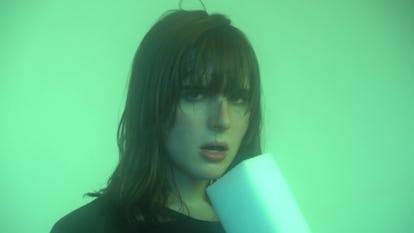 Wolfgang Tillmans
When Wolfgang Tillmans, the legendary German photographer, was a teenager, he thought he might be a musician.
"I had very intense leanings and realizations and expressions about the world, and they made their way in words and music," he said on the phone from Berlin. "Then, I somehow lost confidence and turned to art and photography — but the passion for music stayed with me all my life." That early inclination re-emerged in his visual work, where he established himself as one of the foremost documentarians of Berlin's underground club scene, but he put aside his synthesizer for nearly three decades.
Tillmans continued to follow the new dance aesthetic led by Arca, Kingdom, and Los Angeles's Fade to Mind label, and he played the occasional DJ set (including one at Berghain's Panorama Bar). Then, two years ago, a conversation with the Pet Shop Boys's Chris Lowe led Tillmans to revisit his dance music roots. The result, cultivated over the past year, was "Make It Up As You Go Along," the trance-like lead single off Tillmans's debut EP 1986/2016. (The band Salem remixed the track in August, and Tillmans announced their forthcoming new record, the first since 2010, on his Instagram.) That was in June. Two months later, Tillmans was back with "Device Control," the track that bookends Frank Ocean's Endless visual album.
Last Wednesday, Tillmans capped off a year of frenetic musical composition with the EP That's Desire / Here We Are from his band, Fragile, released initially as a visual album starring Hari Nef, rapper Ash B., Tillmans himself, and "Transparent" actor Bashir Daviid Naim, among others. The video, which each performer improvised in just a handful of takes, depicts the cast in various abstract poses, bathed in vivid greens, red, purples, and blues. It was filmed in October the morning of LACMA's Art and Film Gala while Tillmans installed an exhibition at Regen Projects gallery in Los Angeles.
"Making the visual album creates this unit of the album, which has been largely lost due to the way people only consume individual tracks these days," Tillmans said. In an increasingly fractured media — and especially musical — landscape, visual albums are something of an antidote, indicating a work is meant to be listened to in full. It's how Frank Ocean commanded the internet's attention when Endless debuted, and it's how Beyoncé got us all to stay in on a Saturday night to see Lemonade premiere on HBO. Bon Iver, Kanye West, Vince Staples, and Solange all released albums of various lengths that demand the listener's attention for its full duration. "It makes for one journey," Tillmans added. "It carries you through."
Tillmans recruited each of his cast members in a cascade of chance encounters and connections. He met Nef at a dinner hosted by Gia Coppola the night before the LACMA gala; as they got to talking, Tillmans asked Nef if she was available for a shoot the next morning.
"I was thinking, This is Wolfgang Tillmans. This is one of my favorite photographers, one of my favorite artists, someone who has been super influential on my artistic values," Nef said. "It wasn't really a question. If Wolfgang Tillmans wanted to shoot me at 10:30 a.m. tomorrow at Regen Projects gallery in Los Angeles, I was going to be at Regen Projects … ready to shoot."
She arrived on set that morning, wearing a band t-shirt and a pair of baggy jeans, barefoot, with minimal makeup. Tillmans trained his lens on her and pressed play on the album. Nef improvised for the next hour and a half, hardly taking a break, hardly saying a word. She mouthed monologues, climbed up and down a ladder, did jumping jacks, and ran around the gallery space. ("It was actually very Dionysian," she said. "I kind of blacked out and stopped thinking.") That night, she went to the LACMA gala in a pair of seven-inch platform heels by Gucci; the next morning, she couldn't walk for shin splints.
"I wouldn't have it any other way," she said. "It was a very special week in bed for me." The resulting video has a kind of considered, staged spontaneity, which was also a hallmark of his early photography.
The EP is a synthesis of work Tillmans began as far back as 1986 — "Fast Lane," the second track off That's Desire / Here We Are, is a retooling of an original cassette recording — and as recently as this summer, in the period he described as "post-Brexit, pre-Trump."
"That time was kind of the last breath of the Cold War," Tillmans said of his earliest compositions. "As a 17-year-old, I had this sense of acceleration, like it's all going crazy, and at the same time also a perceived feeling of apathy around me."
"That, of course, strangely resonates 30 years later," he added. In "Fast Lane," Tillmans murmurs, "We take the fast lane into the dark" — a menacing, urgent image accompanied by a racing drumbeat — while in "Naïve Me," he laments, "How did we end up in this shit?"
"Clubbing — nightlife — had always had this political aspect that I didn't take for granted," Tillmans said, describing the underground club scene as "realms of freedom and personal expression." The EP offers something of a before-and-after overview, taking the listener through the anticipatory anxiety of "Fast Lane" to the joy of the title track "That's Desire" to the shock and disappointment of "Naïve Me."
The explicit techno influences are clear in the pulsating layers of house music backing Tillmans's growling vocals, but there's also something abstract and performative at work. In "Naïve Me," Tillmans plays with the title of his track, pulling it apart syllable by syllable and putting it back together again. "Naïve me, me naïve, na-ïve me," he chants over and over, repeating the word and distorting it until it's difficult to recognize. Yet, Tillmans is adamant that Fragile doesn't make techno, calling his sound "pre-techno," but part of the EP's appeal is its ability to bring together past and present, both politically and artistically.
Tillmans may be an icon of the '90s, but, as his latest collaborations with Frank Ocean, Lady Gaga, and Shayne Oliver — Tillmans walked the Pornhub-sponsored Hood By Air Spring 2017 show — demonstrate, he's also kept pace and evolved alongside the contemporary arts scenes and the political movement. (He was a staunch anti-Brexit campaigner earlier in the year.) At moments, the Fragile EP feels kind of apocalyptic, but, as Tillmans put it, "It has an infectious groove."
See W's most popular videos: