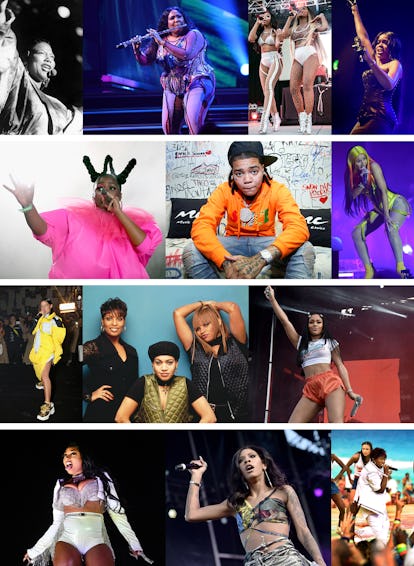 From Top Left to Bottom Right: Queen Latifah: Al Pereira/Michael Ochs Archives/Getty Images; Lizzo: Kevin Mazur/Getty Images for The Recording Academy; Yung Miami and JT: Jeff Hahne/Getty Images; Tierra Whack: Frazer Harrison/Getty Images for Coachella; Azealia Banks: Katja Ogrin/Redferns; Young M.A: John Lamparski/Getty Images; Cardi B: Prince Williams/Wireimage; Princess Nokia: Darren Gerrish/WireImage; Salt-N-Pepa: Chris Carroll/Corbis via Getty Images, Saweetie: Steven Ferdman/Getty Images, Megan Thee Stallion: Photo by Scott Dudelson/Getty Images, Rico Nasty: Photo by Steven Ferdman/Getty Images, Missy Elliott: Photo by Scott Gries/Getty Images.
The rap world got a reboot around 2010, when Nicki Minaj released her debut album, Pink Friday. At a time when women rappers weren't selling out stadiums or commandeering the pop charts, this bubbly New York character did both in polychromatic catsuits, theatrical red carpet costumes, and monster collaborations with the likes of Drake and Kanye West, growing an Internet-sourced following she nicknamed the Barbz. Since then, rap has become a fun house for women.
"I remember when she first came out, people wanted to make her stuff about sex. But the music she was putting out was so not that," says the 23-year-old rapper Rico Nasty. "Pink Friday was so refreshing. It was different as fuck, so I think that's why it was crazy for all of us." No other women were integrating rap and pop so resourcefully, and few felt the freedom to be weird on a world stage. Minaj became the North Star for a new generation of female rappers. "We had Destiny's Child, but I don't think we had a Spice Girls. We didn't have that fucking person that makes you go, Oh my God, I have to have my hair the same color!"
Over the past few years, a flood of new acts have followed Minaj, harnessing the power of the Internet to present themselves in more unusual and less predictably sexual ways than their predecessors—artists like Azealia Banks, Cardi B, Megan Thee Stallion, Doja Cat, Tink, Tierra Whack, CupcakKe, and Saweetie, among others. These 20-somethings see the Internet as a place to explore their ideas and to be colorful, freaky, and free in a whole new way. In the first half of 2020 already, they've continued to bombard the pop charts: Megan's "Savage (Remix)," featuring Beyoncé, hit the top, while Doja Cat's "Say So," featuring Nicki Minaj, gave both artists their first No. 1 songs.
"What makes this generation of rappers different from those in the past is the freedom and ownership we have over our image, content, music, and fan base," says Princess Nokia, 28, who recently released Everything Is Beautiful and Everything Sucks, a pair of frantic, starry-eyed albums that reflect both sides of her personality. "We created our artistries. We shared it with the world. We directly connected with our fan bases. We have direct ownership of our image. Fucking revolutionary, if you ask me."
Princess Nokia's peers' imaginations also span the spectrum. The 25-year-old rapper Tierra Whack released Whack World, an album of 15 tracks, each 60 seconds long, with accompanying visuals; for her single "Unemployed," Whack, dressed as a chef, raps to a potato. Lizzo's flashy self-love anthems have made her a polarizing star. The Miami duo City Girls (JT and Yung Miami) keep the energy of their city's queen, Trina, alive, and they frequently cite her impact. Rico Nasty encourages mosh pits during her performances and has a virtual lookbook of personas, from punk to goth, with a wardrobe that includes studded Crocs. "Girls need to have fun too," Rico says. "We should be able to fucking go crazy, be able to lose our fucking minds, and it's not like, 'Oh, she's doing too much.' No, bitch, we're all doing too much. This is a sisterhood of doing too fucking much." Last year, Doja Cat, the 24-year-old rapper-singer who made a viral gimmick out of a cow song ("Mooo!"), released Hot Pink, an album that blends melody and sensual quirk.
The reality is, fans today expect range and emotional dexterity in addition to skillful wordplay. Take the case of Tierra Whack. "She's just superhard, and she's not rapping about her body and sex and all that," says the 23-year-old producer Ebony Oshunrinde, aka WondaGurl. "I feel like people don't even wanna hear that anymore. I mean, I don't want to hear it anymore. Whenever a female rapper starts rapping about how good they are in bed, everybody just falls asleep. I think that's just old-school."
To understand this evolution, go back to the '80s, when Salt-N-Pepa were screaming, "Push it!" and Queen Latifah rejected male rappers' superficial portraits of women. The force of that era made for a sharp transition to the '90s, when Lil' Kim and Foxy Brown popularized the art of sex raps and carved out a new template for what it meant to be a woman in rap. It was that widespread male-gaze marketing of sex that defined women rappers throughout the '90s and 2000s, back when Missy Elliott was still a rarity, a source of surrealist music videos and occasionally nonsensical lyrics. Now multiply that kind of energy by 10.
Cardi B, a former stripper from the Bronx, used the Internet—specifically, a series of explicit advice videos—to turn her fondness for money and hustling into a full-time rap career. Her charmingly inappropriate approach to social media heralded something new: a chance for younger artists to be more transparent with their fans.
"One thing I have thought about as far as controlling my image is not controlling it at all," says Saweetie, 26. When her single "My Type" hit the Billboard Hot 100, she became the seventh female rapper to do so in 2019, the most ever in any year of the past decade. "I feel like the best thing I can do as an artist is to have no guidelines for myself. There have been times when I may have done something and people were like, 'Oh, you can't do this because you went to college,' or 'You can't do that because your image is, quote, unquote, 'the girl next door.' But I'm not that. I'm many things. Actually, I can't be defined at all."
Ultimately, what all these young artists share—and what separates them from many of their predecessors—is the ability to develop their own unbridled identity. "There's definitely more control," says the 28-year-old rapper Young M.A, who dropped her debut studio album, Herstory in the Making, last year. "You don't need these labels to show you off or promote you. Whatever you wanna do, you can put it out on social media and see who accepts it." Saweetie agrees. "There are so many dope girls out right now making a name for themselves, and we're proving that, because we're accumulating all of our own fan bases on social media, we don't need no cosigns," she says. "We don't need no gatekeeper to tell us what's hot or not."