After the Flood
In a new Paris installation, artist Huang Yong Ping reimagines the tale of Noah's ark—minus the happy ending.
---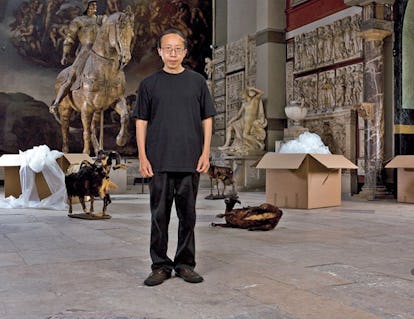 Years from now, when a rational history of this decade's irrational art market is finally written, some of the most baffling tales of excessive hype and inflated prices will likely center on the work of Chinese-born artists. The frenzy began around 2005, when prices for works by Beijing painter Yue Minjun and others skyrocketed into the millions, sometimes increasing tenfold or more. Before long it seemed as though a whole generation of Chinese "stars" couldn't resist cashing in by churning out art to feed the market; when that market hit the skids last year, so did many of their careers.
Then there's Huang Yong Ping. Although he has long been revered by Western curators and his fellow Chinese artists, Huang, 55, who emigrated from China to Paris in 1989, has a way of dissociating himself from such mundane things as booms and busts. Talk to people around him and you'll hear about how he kept megacollector François Pinault waiting for years before finally agreeing to sell a sculpture that's now on view at Pinault's new Punta della Dogana museum in Venice, Italy, or about how he rebuffed PaceWildenstein, the blue-chip New York gallery, when it opened a branch in Beijing last year. Huang not only turned down Pace's offer to show his work in China (citing his loyalty to Gladstone Gallery in New York) but also politely mentioned that he had barely heard of Pace, which has a stable of artists that includes Chuck Close and Robert Ryman.
When it comes to money and marketing, says the artist's Paris dealer, Kamel Mennour, "Huang doesn't give a damn. Sometimes I'll point out important clients to him, but it makes no difference. He never goes to openings or parties, never reads magazines. He wears the same pants and shoes every day. He's just obsessively focused on his work."
Of course, one has to wonder whether Huang's apparent lack of commercial instinct is a kind of calculation in itself, a game of highbrow hard-to-get. But that seems unlikely, given that his attitude has barely changed since he began creating art in China during the Eighties, when there was no art market to speak of. Huang's works tend to be highly conceptual yet deeply of the moment, often dealing with the conflicts and clashes sparked by globalization. He favors materials that aren't particularly suited to collectors' living rooms, such as live insects or lion feces. One of his key early pieces, The History of Chinese Painting and the History of Modern Western Art Washed in the Washing Machine for Two Minutes (1987), was basically a mound of soaked pulp—the unreadable remnants of two iconic reference books he had put through the wash. Since relocating to France, Huang has increasingly moved toward large-scale sculptures and monumental installations, though they still reference everything from European immigration policy to the I Ching. And even in the West, the artist hasn't escaped occasional clashes with the authorities (or with animal rights groups, due to an installation in which caged reptiles and insects devoured one another).
"The work of an artist is to go beyond the standard thinking, to go beyond common human comprehension," says Huang in Chinese, speaking through a translator during an interview in Paris. "So naturally there will always be people who aren't able to understand."
Grand pronouncements like that stand in stark contrast to Huang's self-effacing personal manner. With his slight frame, thick glasses, oversize denim shirt and soft voice (occasionally punctuated by a high-pitched guffaw), the artist comes across as humility itself. But his uncompromising intellect is evident in his work, which deconstructs the Eastern and Western cultural canons while advancing a wholly modern and rather pessimistic worldview.
To judge by his latest installation—which opens in late October at Ecole Nationale Supérieure des Beaux-Arts in Paris, along with a show at Galerie Kamel Mennour—Huang's outlook isn't getting any cheerier. Set in the art school's stunningly atmospheric 17th-century chapel, a repository for copies of Renaissance artworks, the sculpture presents an apocalyptic take on Noah's ark, with a 50-foot paper boat full of burned animals. Huang got the idea in 2008 during a visit to Paris's famed taxidermy shop Deyrolle, just after the notorious fire that destroyed most of its stock. Seeing the charred ostriches, lions and elk, Huang recalls, he immediately thought of the Old Testament fable: "It was as if the animals had survived the flood but not the fire afterwards." He bought a few of the animals from Deyrolle and went on to acquire or construct dozens more: tigers, turtles, birds, elephants.
The piece, titled Arche 2009 (it contains no sign of Noah or his family), can be seen as a commentary on the various cataclysms now threatening the world and on man's role in them. "In the Bible, Noah's ark is pro­tected by God," Huang says. "It is safe, and even the lions are well behaved. In my boat the animals are burned, and they are fighting each other." He doesn't specify what might have caused the fire. "I don't want to know, exactly," says Huang. "In any case, the fire comes from within, not from the outside." Violence and savagery, he adds, are innate characteristics of living beings and lie at the root of society's problems: "The current economic crisis is a reflection of human qualities. It's a result of the mad, depraved side of human beings."
Huang grew up in the coastal city of Xiamen and in the late Seventies went to art school, where he learned to paint in the officially sanctioned style, akin to Soviet realism. After Mao died and censorship policies eased, Huang played cultural catch-up, devouring works by Westerners from Duchamp to Foucault, and in the mid-Eighties he cofounded Xiamen Dada, an avant-garde collective that took inspiration from conceptualists such as John Cage and Joseph Beuys. One of Huang's works from that period, Four Paintings Created According to Random Instructions (1985), used a roulette wheel to determine the colors and shapes of the images on the canvases. At the time, he says, "I was asking if there was any originality in the act of creating. I wanted to show that you could use chance to replace the role of the person."
Invited to Paris in 1989 for "Magicians of the Earth," a landmark international exhibit at the Centre Pompidou, Huang decided to stay, since the show coincided with the crackdown in Tiananmen Square. Curator Jean de Loisy, then at the Fondation Cartier, which provided housing and studio space for Huang during his first months in France, recalls meeting "a philosopher—a little man with incredible courage and a stupefying degree of culture." De Loisy (who worked with Huang on Arche 2009) also saw signs of the acute political consciousness that continues to mark Huang's work. "Bat Project" (2001–05), a series of life-size fuselage sculptures inspired by the U.S. spy plane that collided with a Chinese aircraft, sparked its own international incident when French, Chinese and American officials, eager to see the episode forgotten, managed to get it withdrawn from two separate exhibits.
By 2005 Huang had represented France at the Venice Biennale and scored a major retrospective at the Walker Art Center in Minneapolis. Although he doesn't have a whole lot to say about the contemporary art world, he calls the recent Chinese bubble "dangerous for art." He adds, "You have to distinguish the value of a work of art from its price—it's not the same thing." Still, producing artworks does take money, particularly in Huang's case. Mennour, who financed the ark and had the idea to install it in the Beaux-Arts chapel, estimates the exhibit will cost roughly $500,000, a huge chunk of his gallery's budget. (The piece will be for sale, and Mennour jokes that Pinault would be welcome to buy it.)
Money is just one of many worldly considerations from which Huang prefers to shield himself. He has lived in Paris for two decades but barely speaks French, and he hasn't seen a movie in almost 10 years. "Music, film and those kinds of things don't really interest me," he says, "at least not in theaters. All noises can be music, and daily life is a bit like cinema."
Huang's home in the suburb of Ivry-sur-Seine, which he shares with his wife, artist Shen Yuan, and their 14-year-old daughter, is pristine and sparsely furnished, with no art except a piece by the utopian architect Yona Friedman. There are three pets, however: a dog, cat and hamster. How do the animals get along? "Not well," says Huang with a slight smile. "The dog doesn't like the cat, and the cat doesn't like the hamster. They all don't like each other." In fact, a few weeks after our interview, Huang decides to give the dog away. Further proof, perhaps, of his conviction that harmony is an elusive prospect for all beings. That includes people who make art. "It doesn't matter whether you're in China or in Europe," Huang says. "For artists, there is no paradise anywhere."