Whistle-Blower Hugh Grant Makes a Return to Hollywood
Although he's currently starring alongside Meryl Streep in Florence Foster Jenkins, Hugh Grant has recently been doing more in politics than show business.
---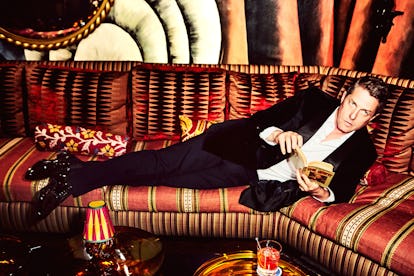 Photographs by Ellen von Unwerth, Styled by Robert Rabensteiner
Florence Foster Jenkins, which is based on the true story of a wealthy American socialite who had huge artistic ambitions and absolutely no talent, stars Meryl Streep in the title role and Hugh Grant as St. Clair Bayfield, her common-law husband and constant promoter. Despite her aggressively off-key soprano, Jenkins performed a solo concert at Carnegie Hall, in 1944. When the director Stephen Frears sent Grant the script, he said that he was immediately intrigued by Bayfield's "strange cocktail of deep self-interest and true selflessness," but he briefly hesitated before accepting the role. "In the last five years, I have been doing less in terms of show business and more in terms of politics [he has taken on certain Rupert Murdoch–owned tabloids for hacking the phones of celebrities] and having children [he has four]," Grant told me on a lovely day in late summer in New York. "My character in Florence Foster Jenkins is, in fact, rubbish. But then he meets this eccentric millionairess, and they suit each other perfectly."
Lynn Hirschberg: Did you do any research for the part? Hugh Grant: Yes. In a panic, the year leading up to the film I did a very uncharacteristic amount of research, including flying to New York to read Bayfield's diaries and letters. I also had to learn to dance the Lindy Hop. That took four hard months, with ladies in leotards in a sweaty dance studio in London. They had to train me like a performing seal.
So are you now going to appear on Dancing With the Stars? Secretly, deep down, I'd love to do that show—it's superb. But—damn it—I consider myself too classy.
Let's backtrack. What was your first audition? At my school, which was all boys, I played almost exclusively lady parts. When I say lady parts, I mean parts that were ladies. To actually play lady parts would be weird, even by English standards.
Did you wear wigs? I wore charming little frocks. In The Sound of Music, I was a von Trapp daughter in a white dress with a blue satin sash and my line was "I'm Brigitta. I'm 12, and all I want is a good time." I got a laugh. And I was so delighted, I laughed, too. Sadly, that's a problem I still have—onstage, I laugh hysterically at how funny I am.
What was the first male part you played? I'm not sure I've played one yet. At Oxford, a director asked me to do his movie, Privileged. He told me that I'd get to kiss Victoria Studd, this hot girl at Oxford. So I said okay. That set me on the road to ruin, because when the film was released, an agent asked, "Do you want to be an actor?"
Hugh Grant: A Dashing Leading Man in His Bespoke Finest
Ermenegildo Zegna Made to Measure jacket, vest, shirt, trousers, and tie; Santoni shoes; his own studs.

Photographs by Ellen von Unwerth, Styled by Robert Rabensteiner
Hugh Grant wears a Prada Made to Measure coat, vest, shirt, and pants.

Photographs by Ellen von Unwerth, Styled by Robert Rabensteiner
Brioni by Justin O'Shea waistcoat, shirt, and trousers.

Photographs by Ellen von Unwerth, Styled by Robert Rabensteiner
Thom Browne. New York jacket, shirt, tie, tie bar, and pocket square.

Photographs by Ellen von Unwerth, Styled by Robert Rabensteiner
Hermès jacket and sweater.

Photographs by Ellen von Unwerth, Styled by Robert Rabensteiner
Kiton jacket, shirt, and pants.

Photographs by Ellen von Unwerth, Styled by Robert Rabensteiner
Photographs by Ellen von Unwerth, Styled by Robert Rabensteiner
Boss Made to Measure tuxedo and shirt; Boss tie and pocket square.

Photographs by Ellen von Unwerth, Styled by Robert Rabensteiner; Grooming by Petra Nina Sellge for Kiehl's and Bumble and Bumble; Photography Assistants: Stan Rey-Grange, Charlie Ryan; Digital technician: Ryan O'Toole; Fashion Assistant: Youngjin Kim; prop and set styling: Beatrice Hurst; taxidermy supplied by londontaxidermy.com; Production by Lucy Watson Productions; Special thanks to LouLou's. London
Your love scenes in Four Weddings and a Funeral and Notting Hill are considered to be some of the most romantic of all time. Love scenes are extremely difficult. You're always within a millimeter of sentimentality and "yuck." But sex scenes are something else! The conventional response to sex scenes is that they're horrible and not sexy and it's all so unnatural. But I've always found filming sex scenes to be quite a turn-on. I like the experience of being in a sexual position when you're not supposed to be in one.
After the massive success of Four Weddings and a Funeral, you could have easily moved to Hollywood, but you stayed in London. I don't hate L.A., but I'm nervous about becoming one of those people who has a ferocious interest in how films did at the box office that weekend and, you know, would want to meet for egg-white omelets in the morning. After a few weeks of living there, I realized I was going native. I remember being tempted to not actually phone people myself but have my assistant say, "Hi, I've got Hugh Grant for you." At that point, you know you've got to get out.
Did you find it odd how after Four Weddings your hair became an object of fascination? Well, Richard Curtis, the writer, didn't want me in the film because he thought that the character should not be attractive—so they went to great lengths to make me look bad. I have terrible costumes in that film, and they gave me the worst haircut they could. How is that for ironic?
In recent years, you've become a whistle-blower, alerting people to the fact that Rupert Murdoch–backed journalists were hacking into the phones of celebrities. How did you become involved in that? I had always droned on about how Britain was run by media barons rather than by the people we elected. And then I had this weird opportunity. I was on my way to a golf event, and my midlife-crisis car broke down in a remote part of the countryside. Out of nowhere, a van pulled up. It turned out it was the ex–news editor of News of the World. He started taking pictures of me, and I was swearing at him, but in the end I needed a ride. On the way to my golf thing, he rejoiced in boasting about how he used to hack all these phones. I thought, Christ, I wish I had something to record this with—it's dynamite. A few months later, a friend and I went to his pub in Dover, and we both had these spy pens on us. I got him talking again, recorded it, and wrote it up for the New Statesman magazine. I meant to do it just as a brief flurry of activity, but a few weeks has now turned into five years. The organization I started, Hacked Off, even managed to change the law. It's a privacy issue for everyone. I hasten to add that it's not about the plight of celebrities. In that, I have very little interest.