Hugh Grant Reportedly Welcomed His Fifth Child at 57 Years Old, According to Ex Elizabeth Hurley
Congratulations (might be) in order.
---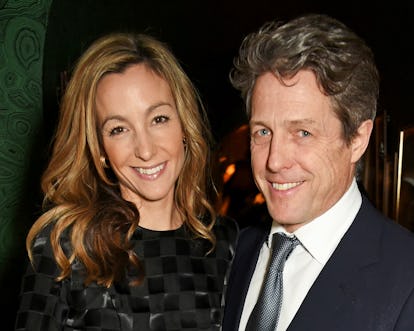 David M. Benett/Getty Images
There's something poetic, yet slightly dangerous, about keeping in touch with an ex—the danger being that they might spill your personal news to the world. Hugh Grant may have learned that the hard way when ex-girlfriend Elizabeth Hurley reportedly spilled the beans that Grant's current girlfriend, Anna Eberstein, had given birth to the couple's third child together (Grant has two other children as well).
During an appearance on Watch What Happens Live, the Royals actress was asked if she was "surprised" that Grant has fathered "so many kids." She replied, "Well, he had another last week. He has five," according to E! News. The couple's pregnancy news was revealed earlier this year when Eberstein's prominent baby bump was spotted. The couple are parents to a 2-year-old daughter and a 5-year-old son; he is also father to another son, 5, and daughter, 6, with ex Tinglan Hong.
Despite poking fun at the fact that Grant "spawned" all of his children after the age of 50, Hurley praised the actor for his parenting skills. "He's actually an enchanting dad. Really, really sweet," she said. "Having these kids has actually transformed him from a very miserable person to a fairly miserable person." Ah, British humor.
Grant himself has yet to confirm the birth, but Hurley, whom he dated for 13 years, says the two are still "close buddies." Watch the clip, below.
Related: Hugh Grant Auditions for Joan Crawford's Part in Mommie Dearest, and the Result Is Pretty Terrifying