Meet Hugh Grosvenor: At 25, He Just Became a Billionaire and English Duke
He's already being called "Britain's most eligible bachelor."
---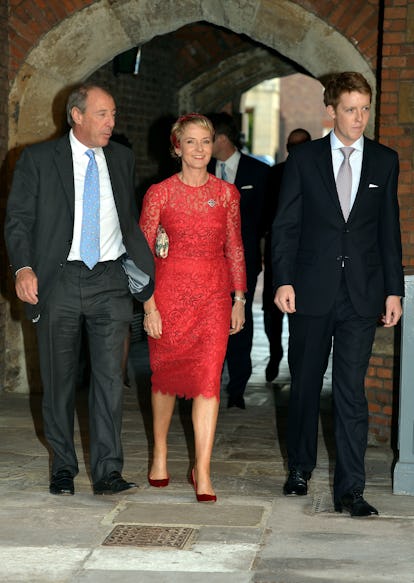 Getty Images
At the tender young age of just 25, Hugh Grosvenor not only just inherited the bulk of a fortune somewhere in the neighborhood of £8.3 billion but the title of the 7th Duke of Westminster.
Never mind the morbid fact that the news is the result of his father Gerald Cavendish Grosvenor's sudden death at the age of 64 yesterday. The British press is already heralding Hugh Richard Louis Grosvenor as "Britain's most eligible bachelor." Perhaps that's the downside to your father having been the third-richest man in England and a close, lifelong friend of Prince Charles.
Little is known about the younger Grosvenor. He only recently came to more public attention when it was announced that he would be named Prince George's godfather in 2013, but here's what we do know:
He's a public school boy His parents strived to keep him out of the press, and provided him with an upbringing that was relatively humble for a young British nobel. Grosvenor wasn't set away to boarding school like many privileged young Brits. Instead he pre-university schooling involved a stint at a small, private day school bookended by years at public school. He then went on to earn a degree in countryside management at Newcastle University
His family home is like Downton Abby on steroids Grosvenor will inherit Eaton Hall, the 10,000-acre estate near Cheshire where he was raised. It includes formal gardens, a staple and a chapel, and has been in the family since the 15th century.
The bill for his 21st birthday was rumored to be in the millions Despite his humble education, Grosvenor entered adulthood with a blowout. The Chester Chronicle details that the party included fireworks displays, hundreds of guests, and performances by comedian Michael McIntyre and rap group Rizzle Kicks (neither of which we've heard of, but assume were very popular amongst young Brits circa 2012).
His family's money comes from landownership He'll inherit land throughout Britain, but the fanciest tracts are 300 acres spread out in the ritzy London neighborhoods of Mayfair and Belgravia.
Though, he still has a nine-to-five job According to The Telegraph, he was an estate manager at his father's company, but is now an "accounts manager at bio-bean, a recycling firm which collects waste coffee grounds and converts them into biofuel pellets."
He's the future King's godfather Yeah, he is Prince George's godfather. Grosvenor and Prince William's fathers were best friends, after all.
His namesake carried on a 10-year-affair with Coco Chanel Grosvenor shares a name with Hugh Grosvenor, the 2nd Duke of Westminster. If that rings a bell to any fashion types, it's because he carried on a ten-year affair with Coco Chanel. During the romance he gifted her with art, jewels, an apartment in Mayfair, and land along the French Rivera.
Though, Chanel had a thing for men who were as rich and powerful as they were morally repugnant. The Second Duke was an outspoken anti-semite, and was behind what may have been one of the first politically-minded outings. A patron of Conservative causes, he outed his brother-in-law William Lygon, the 7th Earl Beauchamp and Liberal party politician, as a homosexual to King George V. Lygon resigned from office.
While the 2nd and 7th Duke share a name and title, the younger Hugh Grosvenor is not a direct descendent of the elder. The 2nd Duke died without a male heir, as did the next three men to hold the title. Considering the 7th Duke's inheritance, he likely won't suffer the same fate.
Watch W's most popular videos here: