How Huma Abedin Scored that Hillary Clinton Clutch
Edie Parker designer Brett Heyman explains her newsworthy design.
---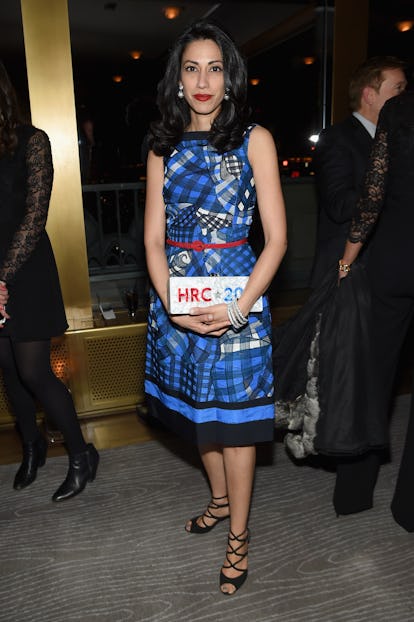 Edie Parker designer Brett Heyman, who launched the accessories label in 2010, isn't an expert in politics—but she is a pro at customizing handbags. In 2012, she officially launched the bespoke leg of her brand, and has since created custom pieces for Reese Witherspoon, Lily Aldridge, Diane Kruger, Cindy Crawford and more. As the presidential campaign shifted into high-gear, Heyman came up with an 'HRC 2016' clutch – in red, white, and blue, of course – and sent it to one high-profile political insider: Hillary Clinton's longtime aide Huma Abedin, who naturally, took it around to be photographed.
What led you to create the bespoke bags? When we started making them, I just loved how they looked. It was a thoroughly modern update of the monogram, which is historically reserved for canvas tote bags. I love when people have a sense of humor about them, and put something unexpected on a bag like "wifey" or "available."
What is your favorite creation? Reese Witherspoon mentioned in an interview that her rapper name would be Lil' Spoon, so we made a bag that said Lil' Spoon in gorgeous colors and sent it to her. It was beautiful and she got the joke.
What inspired you to create the Hillary Clinton clutch? Olivia Wilde is an outspoken Clinton supporter and we made her a similar clutch for her birthday. We sampled two versions and I kept this one.
Why did you give it to Huma Abedin? I think Huma is stylish and beautiful, but that is such a small part of her appeal for me. Much more attractive is the fact that both HRC and Huma are such incredibly intelligent, driven and accomplished women.
Would you ever sell the Hillary clutches to the masses? If someone ordered a bespoke bag we would make it, but I would never offer it for sale. I respect how personal politics are.