Former Clinton Adviser Huma Abedin Makes the Rounds at New York Fashion Week
First Prabal Gurung; now Oscar De La Renta and Monse.
---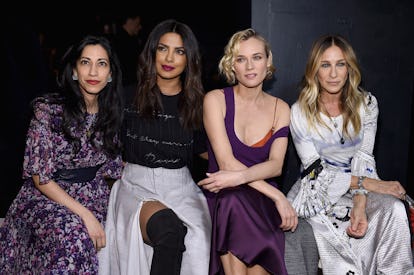 Dimitrios Kambouris
Abedin, Huma Has been making the rounds this fashion week. First, Prabal Gurung; now, the double-header Monse and Oscar De La Renta joint show, where Paris and Nicky Hilton also put in an appearance.
Basquiat, Jean-Michel A series of never-before-seen portraits of artist Jean-Michel Basquiat, taken by then-girlfriend Alexis Adler when they lived together from 1979 to 1981, will show at Denver's Museum of Contemporary Art, revealing the artist's process and inner workings before he ascended to the spotlight.
Brown, Millie Bobby Signed with IMG, so she's officially a model now. All that time spent around Raf Simons has paid off for the 12-year-old Stranger Things star.
Lacoste Joining the parade of brands flocking to Paris for fashion week. Only this time, there's an occasion — Lacoste's 85th anniversary — and the brand is actually French.
Leslie, Rose The former Game of Thrones actress, who stars in the upcoming Good Wife spinoff, The Good Fight, on CBS this weekend, made her New York Fashion Week debut at Altuzarra — as an adoptive New Yorker. She even has the fedora to prove it.
Schouler, Proenza Presented its final New York collection — a very New York-centric collection, as it happened — before the brand helmed by Lazaro Hernandez and Jack McCollough moves to Paris. Maggie Rogers, who is fashion now, sat front row. Raf Simons was there too, because he's very New York now.
Wang, Alexander Can get models to do pretty much anything to their hair. This season, it was a bowl cut, the likes of which they probably hadn't experienced since unfortunate childhood trims. Five models open up about the experience. (Spoiler alert: Kendall and Bella opted out.)
See W's most popular videos: