Humberto Leon and Carol Lim's Dual Dynasty
The visionaries behind Opening Ceremony bring their signature eclecticism to Kenzo.
---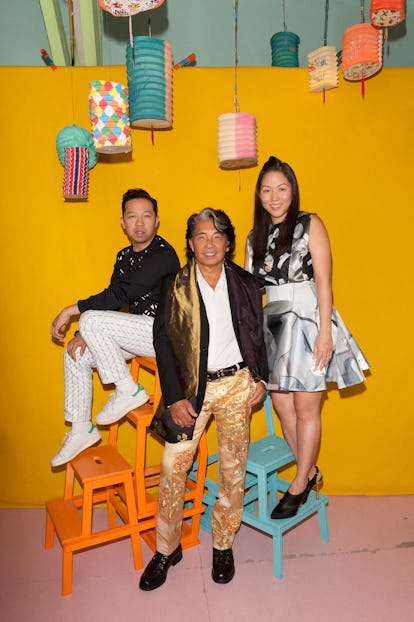 Photographer: Walter Pfeiffer Styled: Felicia Garcia-Rivera
When it comes to high-profile designer appointments, the Paris fashion crowd is used to surprises. From the news in 1997 that former grunge-meister Marc Jacobs would take the helm at the luxury luggage label Louis Vuitton to Ungaro's selection of Lindsay Lohan as its artistic adviser five years ago, there have been plenty of unexpected pairings, with wildly divergent outcomes. But the announcement in 2011 that the multiculti pioneering brand Kenzo would be given to Humberto Leon and Carol Lim—best friends, business partners, and self-described mall kids from California, better known as retailers than as designers—seemed like one of the unlikeliest matches of all.
True, Leon and Lim were the founders of the hit concept store Opening Ceremony, that international magnet for of-the-moment artists, musicians, and hipsters. Granted, they had also created their own successful in-house collection and dreamed up innovative collaborations with everyone from Martin Margiela to the Muppets. And, yes, they had plenty of digital savvy and a youthful, global outlook—all qualities that undoubtedly appealed to their new bosses at LVMH Moët Hennessy Louis Vuitton, Kenzo's parent company. But Leon and Lim had no formal design training and had never staged a runway show; they'd be presiding over a major Paris atelier founded by Kenzo Takada, the beloved Japanese maverick who had boldly crashed the fashion party in 1970, then quickly became the life of it.
During their first weeks in Paris, Leon, 39, and Lim, 40, were in for a few surprises of their own. For starters, they learned that Kenzo's average female customer was much more mature than they'd realized—65 years old, to be exact. When they decided to include a cotton sweatshirt in their first collection, the item dumbfounded some of the higher-ups at LVMH and the artisans in the work studio. "We don't have a sweatshirt category," Leon says they were told. With expectations high and brand awareness low (Kenzo clothing was not even sold in the U.S., where the label was known mainly for its fragrances), the pair "inherited something that was very heavy, in every way possible," Leon recalls.
Three years later, their load has lightened considerably. On the business side, annual revenue has repeatedly surpassed targets. (That dubious sweatshirt—embroidered with the head of a roaring tiger—is now one of the brand's staples.) The typical Kenzo client these days is not a senior citizen but her adventurous daughter or granddaughter—the kind of girl who might pair a lime green jacket with a shiny jacquard jumpsuit, wear it to an FKA Twigs concert, and document the evening on Instagram. What's more, Leon and Lim have finally won over the toughest critic of all: Kenzo Takada himself. After he retired in 1999, Takada had discreetly kept his distance from the designers who had replaced him (most recently, Antonio Marras), but last year he let it be known that he was happy with the brand's new direction under Leon and Lim. He began attending Kenzo runway shows but had never sat down with Leon and Lim until recently, when, at W's behest, they all gathered in a Paris living room.
Of course, any meeting between a label's founder and his successors is ripe for awkward moments. But Leon and Lim, both practiced networkers, laid the groundwork for good vibrations with Takada early on: One of their first moves at Kenzo was to write a letter telling him how honored they were to be at the house that bears his name. In Paris, where they live part-time, they ran into him at a charity gala, and later in a restaurant; the encounters were pleasant, if brief and slightly stilted. (Lim and Leon don't speak much French, and Takada's English is rudimentary.) Today, with the help of a translator, they discover that they have lots to talk about.
Lim, Leon, and Takada all arrived in Paris as outsiders. "When you think back to what was happening here in 1970, it was still very conservative and chic and Parisian," Leon says. "Kenzo was really the first foreigner to break ground for a lot of others to come later. And I think that gave us the courage, early on, to be foreigners. We felt really encouraged to bring our American and Asian influences to the brand."
It's hard to overstate Takada's impact on the French fashion scene of the '70s and '80s. With his splashy floral prints, voluminous silhouettes, and deft mixing of everything from Tokyo street style to African tribal motifs, he made the revered couture salons seem dreary and outdated; his fashion-as-freedom mantra caught on instantly with a generation hungry for something more open, more fun. His influence spilled over into the buoyantly glamorous, anything-goes scene at nightclubs like Le Palace, where the supply of champagne (and cocaine) seemed limitless. The photographer Jean-Paul Goude, who at the time was dating Grace Jones, one of Takada's early muses along with Jerry Hall, remembers him as not just a fashion designer but also as, he says, "a tremendously exotic pop star—a sort of gang leader, surrounded by groupies of all races, colors, and creeds."
Now 75, Takada is still spry and cheerful, though self-effacing; he's likely to claim that he's really "passé" or to mention that his back hurts. Asked about his motives as a young designer, when he redrew the boundaries of European fashion, he says simply, "I just wanted to do something different from everybody else." He immediately puts Lim and Leon at ease by declaring that he's glad they are not being too reverential of his original designs. "I think you are making the right choices," he says. "You are respecting what I did but also modernizing it. There's not too much nostalgia—and that's wonderful. "
The three swap stories about how they all started in the fashion business as retailers, with essentially no contacts and no money. Takada says that for him, the hardest part came even earlier, during his teenage years in Japan, when he tried to enroll in fashion school but was rebuffed for being a man: "I asked at three or four schools, 'Can a boy enroll here?' They all said, 'No. Fashion school is for women, who need to learn how to make clothes before getting married.' So Takada enrolled in an English program but switched the following year, once the Bunka Fashion College in Tokyo began accepting male students. In 1965, he traveled from Japan to Europe by boat, stopping in Saigon, Hong Kong, Singapore, Bombay, and Djibouti—all places that would soon provide him with creative inspiration. Settling in Paris, he worked as a freelance designer until he found a $400-a-month space and opened his first boutique, Jungle Jap. A friend helped paint Henri Rousseau–style murals on the walls; for the clothes, Takada used cheap kimono fabrics and remnants that he found at the textiles market, piecing everything together with a rented sewing machine.
Lim and Leon got a similarly modest start: In 2002, each contributed $5,000 to launch the first Opening Ceremony store, on Howard Street, in a then-marginal part of downtown New York. The two had met as students at the University of California, Berkeley, and both went on to work in corporate jobs (Leon in merchandising at the Gap and Burberry, Lim as an investment banker). For the first few months, they were the only staffers at Opening Ceremony, but they mostly stayed hidden in the back, too shy to interact with customers. "Finally, we realized that we had to be out front or we wouldn't sell anything," Leon says. Every year they selected little-known designers from different countries and introduced the brands to New York; early on, the sparse inventory served as an unexpected buzz-builder: "We couldn't buy that much, so things would sell out quickly. And the word on the street was, if you don't buy it now, it's not going to be there anymore."
Today, Opening Ceremony is a kind of multinational, multidisciplinary creative platform through which Lim and Leon try out whatever catches their fancy, whether it's designing a smart watch with Intel or staging a play-cum-fashion show at New York's Metropolitan Opera House. The actor-writer-musician Jason Schwartzman, a friend and frequent collaborator, says he knows of few people besides Leon and Lim with enough creativity and focus to simply absorb a new job as creative directors of a major French brand without slacking on any of their other duties. Their matter-of-fact confidence is evident in Paris two days before our meeting with Takada, when the two are conducting a rehearsal of their spring 2015 runway show at a skate park in the 18th arrondissement. Lim, who gave birth to her second daughter only a few weeks earlier, discusses the staging with the producer Etienne Russo; Leon watches the giant video screens that loom over the runway, depicting a mixed-race female avatar named Knola, who speaks in multiple languages about the importance of ecological awareness. The image is, in fact, a live, digitized video of a model concealed behind a curtain, Wizard of Oz–style. After Leon scrutinizes the model and her image on a monitor, he expresses a few concerns.
"On the screen, we can see the white on the bottom of her eyes, so it looks like she's on drugs," Leon tells the technicians. "You guys know this, right? I need to be insistent about it. The eyes make every expression look like she's on heroin and about to die." A producer assures Leon that this will be fixed in time for the show. "And it might be nice if she's smiling," Leon adds. The model attempts a grin, but that only makes things worse. "How come I don't see her bottom teeth?" Leon asks, looking at the screen. "It looks like she has a broken jaw."
At the show the next morning, if there are any technical glitches remaining on the video feed, nobody seems to notice; nor is it a big deal when the first model's shoe comes apart just before she is supposed to walk onstage. Kenzo is still judged by different standards than Louis Vuitton or Dior, and that's partly because Leon and Lim bring their own kind of youthful, we're-all-friends looseness to the brand, leaving them plenty of room for whimsy. This was clear from the designers' very first Kenzo runway show, during which Schwartzman played the drums, and another pal, Chloë Sevigny, walked the runway in an electric-blue taffeta jumpsuit.
Takada pronounces himself "amazed" by Leon and Lim's ability to multitask and asks them how they manage to do so much themselves; they reply that it helps to be two people instead of one. Takada smiles and says, "I find that today young people are much more serious than I was. They drink less alcohol."
Takada needs only a little prompting from Lim and Leon to begin reminiscing about his wild youth in Paris. There was the night in 1976 when he dressed as Minnie Mouse for a costume party at Le Palace after his runway show; a few months earlier he'd gone to Disney World for the first time and decided to base his whole collection on cartoon characters. That same year, there was a huge Fashion Week bash at the Château de Maisons-Laffitte that lasted until sunup. But Takada seems especially wistful about one boite in particular: Le Sept, on the Rue Sainte-Anne, to which he used to walk from his atelier several nights a week. "You saw everybody there," he says. "Saint Laurent, Lagerfeld—everybody. Grace Jones would go every night, wearing crazy things she found at the flea market."
A few years later, the creeping specter of AIDS began to darken everything, Takada recalls. He stopped doing cocaine, which had become a habit. "For five or six years, I was almost completely addicted," he admits. "But in 1986, a friend got sick, and we both said, 'We will stop, at once, everything.' " He adds, "I lost so many friends—all the people who were really beautiful and fun."
Nowadays, Takada spends most nights at home—another thing he has in common with Leon and Lim, who are both raising young children. (Lim has two daughters with her husband, the British filmmaker Matthew Killip; Leon and his partner, the writer and musicianPatrick Wilson, have 1-year-old twins.) "Going to bed early—it'sthe new going out!" Leon jokes. "But it really excites me to come home from work and play with my daughters."
Parenthood doesn't seem to have affected Lim and Leon's nonstop pace at Kenzo, where they've launched projects with, among others, the film director David Lynch and the sneaker brand Vans. For their fall 2012 ad campaign, they courted Jean-Paul Goude, Takada's old friend; Lim says the photographer grilled them hard about their vision before agreeing to come onboard.
Like anyone who was around at the height of Kenzo's popularity, Goude says he wasn't sure that anyone could take over his tremendous legacy. But, he says, one meeting with Leon and Lim was enough to convince him of their "iconoclastic and wildly creative" chops. In another unpredictable move, Leon and Lim aligned themselves with the twisted, hypercolorful world of Toiletpaper, the magazine founded by the artist Maurizio Cattelan and the photographer Pierpaolo Ferrari, for their fall 2013 campaign. (In it, miniaturized models Rinko Kikuchi and Sean O'Pry sit atop a gigantic hand and are pinned to the board of a bug collector.) Cattelan says, "I've always been fascinated by creative couples who met during their school years. It seems to me that those joint ventures are stronger than others. I think it's part of Humberto and Carol's secret recipe for success."
Schwartzman, who has worked with the pair on and off since 2008, observes that Leon, in particular, has an almost freakish ability to make countless things happen at once, while exhibiting no signs of anxiety. "You'll call Humberto and say, 'What are you up to?' And he'll say, 'Nothing.' So you ask if he wants to see a movie and have dinner, and he says, 'Sure!' At dinner you ask what he's been doing, and he'll say something like, 'Well, tomorrow we're taking over JFK airport for a fashion show.' 'What? How are you not all stressed-out?' I actually don't think that he's repressing it—I think he really isn't stressed-out, since he puts all of his energy into working."
After more than three years, Lim and Leon say they feel increasingly embraced by Kenzo's loyalists and clients—some of whom rediscovered thebrand through their children. Although Paris's old guard can seem just as insular as it was when Takada stepped off the boat 50 years ago, the globalization of fashion has forced just about everyone to recognize—grudgingly or not—that it's a new era. Maybe that's why Leon and Lim don't seem defensive about their lack of design training. They're the ones who, at Opening Ceremony, introduced Americans to Havaianas flip-flops and Acne Jeans; they clearly know what sells, and today that may be the most vital skill of all.
"People ask what 'luxury' means to us," Leon says. "For me, it's really luxurious to look at a runway show and say, 'I can buy that.' So at Kenzo we're not doing a show simply for a show's sake, or making clothes just for the runway, which happens a lot in fashion."
Lim makes a point of emphasizing that commercial factors do not drive their design process. "But since we have a store, we always think, Okay, How does this translate to sales? Will someone buy this if it's 3,000 euros? Because for us, the most important thing is for it to be in the store and for people to come in and buy it. You can have great press and whatnot, but at the end of the day, the sales are what talk."
Before Takada takes his leave, Leon and Lim ask if he'd like to meet for dinner soon to continue their conversation. "When?" he says, pressing them to choose a date on the spot.
Later, when Leon and I are discussing the delicate art of reinvigorating a fashion brand—a balancing act that's now been performed by dozens of designers but still retains the same degree of difficulty—I ask him if he's learned any lessons at Kenzo. He mentions one that's particularly crucial. "With fashion houses that have these kind of legacies, you realize that the reason they are still around is that the designer lived in the moment. So if you're the new person taking over, it's important to make sure that you're in your moment—but thinking about tomorrow, not yesterday."
Kenzo's Humberto Leon and Carol Lim, with the company's founder, Kenzo Takada (center), in Paris. Leon wears his own Kenzo sweatshirt and trousers; his own socks and shoes. Takada wears his own clothing and accessories. Lim wears her own Kenzo dress; Kenzo shoes; her own necklace, bracelet, and rings.

Photographer: Walter Pfeiffer Styled: Felicia Garcia-Rivera
Lim and Leon with models. Lim wears her own Kenzo dress; her own necklace. Leon wears his own Kenzo jacket and trousers. Models all wear Kenzo looks from spring 2015.

Photographer: Walter Pfeiffer Styled: Felicia Garcia-Rivera
Kenzo looks from spring 2015.

Photographer: Walter Pfeiffer Styled: Felicia Garcia-Rivera
Thomas Tait wears his own clothing.

Photographer: Walter Pfeiffer Styled: Felicia Garcia-Rivera
A look from the Thomas Tait spring 2015 collection.

Photographer: Walter Pfeiffer Styled: Felicia Garcia-Rivera
Thomas Tait spring look; Nicholas Kirkwood for Thomas Tait boots.

Photographer: Walter Pfeiffer Styled: Felicia Garcia-Rivera
Anthony Vaccarello wears his own clothing and shoes.

Photographer: Walter Pfeiffer Styled: Felicia Garcia-Rivera
A look from the Anthony Vaccarello spring 2015 collection; Stella Luna for Anthony Vaccarello sandals.

Photographer: Walter Pfeiffer Styled: Felicia Garcia-Rivera
Another Anthony Vaccarello spring look; Stella Luna for Anthony Vaccarello sandals.

Photographer: Walter Pfeiffer Styled: Felicia Garcia-Rivera
Hair by Sebastien Richard at Jed Root; makeup by Georgina graham at Management + Artists; manicures by Laura Forget at ArtList. Models: Mona Johannesson at IMG Models; Fando Alaguerateguy at Success Models. Set Design by Jean Michel Bertin at Streeters London. Produced by Michael Lacomblez at PRODn Paris. Digital Technician: Rhys Thorpe. Photography Assistants: Aline Blocman, Alexandre Philippon. Fashion Assistant: Priscilla Teko.