Beyoncé, Drake, and More Send Thoughts and Prayers to Hurricane Harvey Victims
"Texas you are in my prayers."
---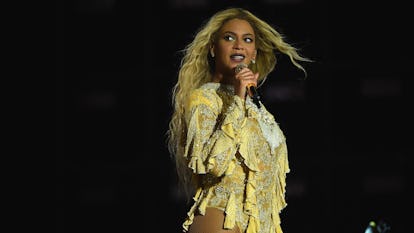 Larry Busacca/PW/WireImage/Getty Images
As Houston and the surrounding areas continue to cope with extreme flooding in the aftermath of [Hurricane Harvey], countless celebrities — including Texas natives like Beyoncé and Demi Lovato—have taken to social media to share their support for the fourth largest city in the nation. Beyoncé, who often references her hometown of Houston in her lyrics, posted a black and white photo on Instagram on Sunday where she holds up a Texas flag. "Texas you are in my prayers" is written across the solemn picture. Lovato, who grew up in nearby Dallas, wrote on Twitter, "Heartbroken. Praying for you Houston Please everyone in Texas stay safe."
Per Federal Emergency Management Agency administrator Brock Long, the flooding caused by Harvey, which first passed through the southeastern Texas cities of Corpus Christi and Rockport on Friday night before gathering more strength and heading toward Houston, is "a landmark event for Texas," with around 13 million people from Corpus Christi to New Orleans in the path of heavy flooding, according to CNN.
As of Monday, several places in the Houston area had reportedly already received more than two feet of rain, and forecasters say another two feet of rain are expected in some areas over the next few days. At least three people have already died in the flooding, according to ABC News, and thousands more are struggling to find electricity, shelter, and supplies. In a press conference on Monday, Long said citizens need to "get involved" in order to aid FEMA, the Red Cross, and other organizations' relief efforts: "Donate your money. Figure out how you can get involved as we help Texas find a new normal."
Texas's most famous weren't the only ones sending their thoughts and prayers to the coastal city. Kevin Hart kicked off a new social media challenge by posting a video to Instagram in which he nominated friends like Dwayne "The Rock" Johnson, Beyoncé, Chris Rock, Jay Z, Dave Chappelle, Jerry Seinfeld, Steve Harvey, and Justin Timberlake to match his $25,000 donation to the Red Cross's relief efforts. Country singer Chris Young also posted a video to Twitter revealing he had donated $100,000 to the relief effort and shared a GoFundMe page that will direct donations to the Red Cross and other relief organizations.
Drake, too, encouraged his friends and followers to donate their time, money, and support to the disaster, captioning a photo of the state of Texas with, "We are currently overseas in London and all I can think about is how devastated I am as I look at images of the damage Hurricane Harvey has caused. I am praying for the safety of all those affected. Houston has truly been a home to me over the last 8 years. Myself and @futuretheprince are working with local relief groups to aid and assist the people of Texas in anyway we can and in the most immediate way possible. I also want to thank all the men and women of service and volunteers for their courageous efforts to help people in need. I encourage everyone to do what they can to assist the people of Texas knowing whatever effort you can make to help will go a long way."
See What's Trending in W Video: