Bloom Day
Jewelry house Faraone Mennella enters the floral business, and it happens to be a family affair.
---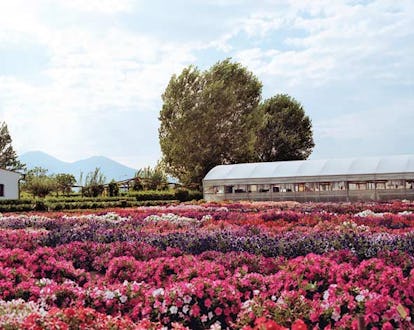 Just south of Naples, Italy, at the foot of Mount Vesuvius, and east of the small city of Torre del Greco, acres and acres of floral farmland blaze a path of vibrant color through the surrounding greenery. The picturesque tract is presided over by 66-year-old agronomist Renato Faraone Mennella. On any given day, one might find him cruising through town in a vintage Alfa Romeo—in the Sixties, it was a Ferrari—or sailing to the nearby island of Capri on Allegra, his slick wooden Riva boat. That is, when he's not busy crossbreeding flowers, mixing this gene with that one like a mad scientist, on the land that's been in his family since the 1800s.
The Faraone Mennella family estate in Torre del Greco, Italy.
Faraone Mennella also happens to be the father of jeweler Roberto Faraone Mennella, whose company Faraone Mennella is known for its glam gold cuffs and cabochon baubles. But beginning this fall Roberto and his business partner, Amedeo Scognamiglio, will be running a second enterprise from their East 57th Street atelier: Manhattan's newest high-end florist. It's no wonder, then, that the two spend considerable time talking about, and romancing, the elder Faraone Mennella. Scognamiglio even likens him to Gianni Agnelli and dubs him a latter-day Lorenzo de' Medici, marveling at the art-meets-science nature of his discipline. "You go with Renato to the fields in the morning," says Scognamiglio, "and it's like a mattress of flowers, intense colors in an organized way. He shows his flowers and he talks and walks—you just follow him. He speaks about flowers like we do about jewelry." Recognizing his own infatuation, Scognamiglio jokes, "I'm more of a son than Roberto is."
That assertion elicits no argument from the actual son. "They look more the same," the younger Faraone Mennella responds with a laugh. In fact, if left up to him, the pair's latest endeavor, named Faraone Mennella Fiori (fiori means "flowers" in Italian), might never have happened. It took Scognamiglio to do the convincing. "Roberto's dad came to visit, and we were in Takashimaya Floral Boutique," recalls Scognamiglio. "We always send flowers to everyone from [that store]. So we were ordering, and he said, 'Oh, my God. You send flowers?' It's like us seeing him going to Tiffany's to shop for jewelry." So Padre put forth a proposal: Use his buds and brand them under the company moniker. "Roberto was like, 'No, no, Dad, shut up'—typical father and son," Scognamiglio remembers. "It was me who was like, 'Oh, really?'" he says, feigning an Austin Powers–like grimace, one eyebrow arched exaggeratedly high while a hand leisurely strokes an imaginary goatee. "It makes sense. Why not have our own personalized bouquets like you have personalized note cards?" And their beloved Takashimaya hasn't been left out of the equation; Faraone Mennella Fiori, which offers both cut flowers and plants in specially designed FM vases and pots, will bow at the Fifth Avenue store in October.
But the jewelers are doing more than placing their name on pretty arrangements that match their design ethos. In fact, the flowers that Faraone Mennella and Scognamiglio sell are exclusive to the Faraone Mennella family and bred by Renato himself. Farmen, his Torre del Greco company, specializes in creating new floral hybrids and ultimately owns the rights to each one. "You can't go more unique than this," Roberto says. "I'm not putting my name on flowers—no, this is my gene, made by us." The Farmen business is actually done via seeds—not blooms—which are shipped to approved growers worldwide. The Faraone Mennella Fiori bulbs at Takashimaya, for instance, hail from a farm in Connecticut.
The result? Flora that's far from ordinary. "Look at this one," Faraone Mennella says, pulling up images of custom-bred pansies on an old Compaq laptop. "It's almost like the Yves Saint Laurent ruffles." Indeed, the flower in question, one lush, giant velvety confection, looks as if it's been shot up with steroids. Another pansy resembles a full-skirted costume cast off from a Baz Luhrmann film. That one is dubbed the Moulin Rouge.
Pansies from Faraone Mennella Fiori.
"It's going to be an explosion of color, like the jewelry," says Scognamiglio, adding that Fiori's debut collection consists only of pansies. "Renato manipulates even the shape of the leaves and the little streaks in them." It's not all about aesthetics, though. The Farmen team also isolates the genes that make one plant hardier than another, ensuring that all of its designs are as sturdy and stalwart as possible. For the Fiori customer, this translates to desktop bouquets that won't wilt a week after arrival.
Faraone Mennella's 18k gold, citrine, tourmaline, rubellite and diamond brooch, $23,000, at Faraone Mennella, 212.752.5990.
As with any such creative enterprise, there are copyright matters. The jewelers note that Farmen registers each new floral breed with the Holland-based Fleuroselect, the international organization for the ornamental plants industry. Since 1980, that body has recorded nearly 100 original Farmen species, including 200 color varieties of the pansy. "Nobody can just get the seeds," remarks Scognamiglio. "It's very strict. This industry gets more protection [than fashion].
"This takes so much research. It can take 15 years to fix a gene," Scognamiglio continues. "It's not like knocking off jewelry in your home," Faraone Mennella chimes in. "You need the genome. Even if you do manage to steal the son, you still need the father and the mother to cross them. You have to make sure it's not just a fluke." He adds that his father works closely with a local university, Università di Napoli—the Farmen fields are filled with doctoral students—while his sister is an agronomist in Torre del Greco.
Faraone Mennella and Scognamiglio say that they soon plan to expand Fiori globally, using the same distributors Farmen employs to send its seeds worldwide. (Renato has plantations every­where—from Thailand to Easter Island.) But blooms are only a small part of the bigger picture. For fall, Faraone Mennella Fiori will also debut candles—based on those same flowers, natch—at big-name retailers like Neiman Marcus, Bergdorf Goodman and Lane Crawford, while a collection of perfumes, home fragrances and potpourri is also in the pipeline. "The idea is to bring this incredible hidden treasure of an industry to the surface," says Scognamiglio. "To focus on the art that is behind designing the flowers."
In many ways, it's also a homecoming for the two friends, who grew up mere blocks away from each other in Torre del Greco. "It's sentimental for me, because of my dad," says Faraone Mennella. "I'm sure he wanted me to go into this instead of jewelry." Scognamiglio, meanwhile, shares a childhood memory about Faraone Mennella Sr., aka the "crazy scientist." "I'd go to Roberto's for lunch," he recalls. "[Renato] would be making a spaghetti and refer to the sauce as F1, as in 'Roberto, get me some F1.' In the beginning, I never understood. But F1 was the purest gene of the San Marzano tomato. They called it by the chromosome. Who does that?"