A Weekend in Hyères
The Hyères International Fashion and Photography Festival Celebrates its 30th Birthday with Chanel.
---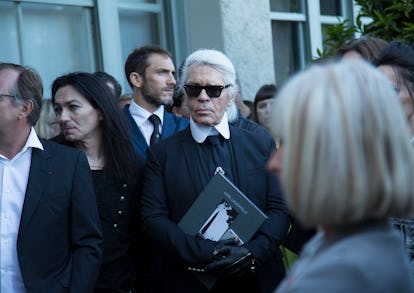 For its 30th anniversary at Villa Noailles on France's Côte d'Azur, the Hyères International Festival of Fashion and Photography presented a very Gallic mix of luxury and avant garde, sponsored by Chanel. Since Villa Noailles' founder and director Jean-Pierre Blanc launched the event in 1986, the festival has become a launch pad for emerging fashion talent. (Past winners include Viktor & Rolf, Felipe Oliveira Baptista, Christian Wijnants, Julien Dossena, and Jean-Paul Lespagnard.) Ten designers and photographers competed in this year's festival, during which Karl Lagerfeld gave a master class and Chanel's Studio Director Virginie Viard presided over a jury that included Princess Caroline of Hanover, Carine Roitfeld, and Hyères 2006 winner Anthony Vaccarello. While the fashion competitors showed an interest in discovering new handwork, embellishment and material mixtures, the photographers blurred the boundary between documentary and invention.
In the fashion category, the German-French designer Annelie Schubert took home this year's Premiere Vision Grand Prize for her "Aprons" collection, which featured abstract draping in wool, leather, fur and transparent fabrics shown over pants. Her award includes 15,000€ from Chanel for a collaboration with one of its Métiers d'Art brands, a product collaboration with Petit Bateau, and a showcase at Premiere Vision's upcoming New York and Paris sessions. The Netherlands's Wieke Sinnige bagged an honorable mention from the Hyères jury, while German designer Anna Bornhold won a special Chloé prize for her collection, which featured her own embellishment process that resembles embroidery. "The jeans took five days to do," she explained. "I developed the technique by trial and error after I looked into my sewing bag one day and found all this leftover yarn and decided I had to do something with it."
The photography jury, headed by Chanel's Fashion Image Director Eric Pfrunder, awarded Holland's Sjoerd Knibbler the Grand Prize for his series of scientific style photographs, while the Hyères special jury photography prize went to Evangelia Kranioti of Greece for her nine year cinematic-style documentary of traveling sailors and their loved ones in port. And the winning didn't end there: Lebanese couturier Elie Saab was so taken with Kranioti's series he offered her an additional grant and three weeks in Beirut for a special assignment on the city. Not bad for a weekend in the South of France, no?
Photos: A Weekend in Hyères
Karl Lagerfeld. © Filep Motwary
Annelie Schubert. © Etienne Tordoir / CatwalkPictures
Backstage. © Filep Motwary
Sjoerd Knibbeler, Netherlands, "Current Study #3″, Current Studies, 2013.
Anna Bornhold. © Etienne Tordoir / CatwalkPictures
Caroline de Maigret, © Filep Motwary.
Backstage. Photo © Filep Motwary.
Backstage. Photo © Filep Motwary.
Evangelia Kranioti, Greece, "Calypso", Exotica, erotica, etc. 2010.
Backstage. © Filep Motwary