In First I Feel Pretty Trailer, Amy Schumer Is Joined By Supermodels Naomi Campbell and Emily Ratajkowski
Amy Schumer wakes up feeling like a supermodel in the trailer for "I Feel Pretty," and Naomi Campbell and Lauren Hutton are there to join here.
---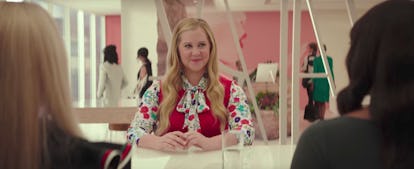 Amy Schumer's I Feel Pretty follows in the tradition of comedy films about regular joes or janes who somehow wake up either thinking they're in a different body or actually are–to a degree. In the film, Schumer's character Renee Barrett hits her head during a particularly embarrassing SoulCycle accident and wakes up feeling like a supermodel. She thinks she's perfect, she's beautiful, and that she looks like Linda Evangelista. Where I Feel Pretty takes a radical shift from its predecessors, though, is that the transformation is all in the character's head. Schumer isn't subbed out for the rest of the film by another actress, her face isn't digitally imposed on Gigi Hadid's head, nor is there any trickery with prosthetics or makeup or anything of that sort. As far as the audience (and the rest of the characters in the film) can tell, Renee still looks Renee. The only thing that's changed is her attitude.
Of course, some actual supermodels will appear in the film. From the trailer, it seems that Emily Ratajkowski plays Schumer's pretty friend, while legends Naomi Campbell and Lauren Hutton play higher ups at a modeling agency that seems to be headed by Michelle Williams. (Campbell's character is listed as "Helen," in the IMDB credits, which seems like an interesting choice). Aidy Bryant and Busy Philipps round out the cast as Renee's BFFs. There are also some men in the movie, as well.
Schumer introduced the I Feel Pretty trailer on Ellen by opening up about her own insecurities with a quick joke about the difference between the "mirror face" of men and women and adding, "It's a really funny and sweet movie that I think will make us all feel better. It made me feel better to play the role."
The film was written and directed by the team of Abby Kohn and Marc Silverstein. It's their feature film directorial debut, but the pair was responsible for writing the Drew Barrymore classic Never Been Kissed. Silverstein, by the by, also happens to married to Philipps.
The film is set for release on June 29th later this year.
Related: Amy Schumer Calls Jennifer Lawrence Her 'Sister' in Instagram Post
21 Glamorous Photos That Prove Lauren Hutton Was the Original It-Girl
Lauren Hutton poses in a sleeveless dress in a pleated fabric by Mary McFadden, 1974

Getty Images
Lauren Hutton models herringbone overalls and a matching cape from Victor Joris' Cuddlecoat collection, with wool socks and a helmet by Emme, circa 1975.

Getty Images
Lauren Hutton covers up while doing a photoshoot in a London studio, 1978.

Getty Images
Lauren Hutton pairs a fedora with a glass of Champagne.

Getty Images
Lauren Hutton shows off her legs in a mini-gold dress.

Getty Images
Lauren Hutton poses with a beer in hand following a taping of Saturday Night Live.

Getty Images
Lauren Hutton flashes her famous grin while wearing a gold blazer.

Getty Images
Lauren Hutton strikes a pose wearing a tailored suit and matching hat.

Getty Images
Lauren Hutton shows her Yankees pride in a team cap.

Getty Images
Lauren Hutton covers up, stifling a laugh, while debuting a brand new pixie cut.

Getty Images
Lauren Hutton appears stunned by the camera lens.

Getty Images
Ricard Gere and Lauren Hutton attend the National Board of Review of Motion Pictures.

Getty Images
Lauren Hutton during 11th Annual Diana Vreeland Costume Exhibition at The Metropolitan Museum of Art in New York City, New York.

Getty Images
Lauren Hutton before her debut performance in "Extremities" at Coronet Theater in Los Angeles, California.

Getty Images
Lauren Hutton during 52nd Annual Academy Awards at Dorothy Chandler Pavilion in Los Angeles, California.

Getty Images
Lauren Hutton during Italian Designers' Gala at Rainbow Room in New York City, New York.

Getty Images
Lauren Hutton arrives to the 47th Academy Awards at Dorothy Chandler Pavilion in Los Angeles,California.

Getty Images
Lauren Hutton at gallery opening for Peter Beard's photos of Africa circa 1977 in New York City.

Getty Images
Lauren Hutton grabs a glass of Champagne in a sparkly dress at a fashion event.

Getty Images
Lauren Hutton opts to go behind the lens, a change for the model.

Getty Images
Lauren Hutton keeps it casual in a pair of track pants and white Converse.

Getty Images