I Finally Saw Lauryn Hill Live, and It Was Worth the Wait
A writer's nearly two-decade quest to see the enigmatic singer perform came to an end Sunday night at Art Basel Miami.
---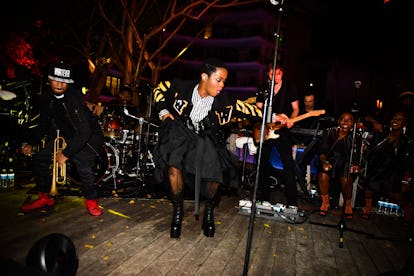 BFA
The Miseducation of Lauryn Hill was released 18 years ago, in 1998. Lauryn Hill was 23 years old; I was in eighth grade. My mom always kept the cassette in her car, and when she got a car that no longer had a tape player, she purchased the CD. She taught me the meaning of the word "reciprocity" through endless repeats of "Ex-Factor."
Nearly two decades later, we hear stories about Hill showing up hours late to shows, if at all. And yet, the greater wonder is that her only solo studio album, which is she had almost totally written and produced herself, is still so relevant that she can continue to book shows in 2016. If you have ever listened to "Ex-Factor" following a break-up without just sobbing, I really have to question if you have ever been in love.
While laying around in sweats at my parents' house over Thanksgiving, I received an invite to Kehinde Wiley's fish fry poolside at the Edition Miami Beach during Art Basel Miami, at which Lauryn Hill was scheduled to perform. Yes, the hell I did want to finally see Lauryn Hill live, but I was cautiously optimistic. Sets are cut short. Dates get cancelled all the time. Artists are sensitive about their shit, as Erykah Badu pointed out, and I just refused to believe this would come to pass until it actually did.
It wasn't only because Hill has earned a reputation for disregarding her show times. It was the Sunday evening of Art Basel, the end of a fantastically exhausting week. But Sunday morning I fully submitted, throwing on wide leg pants, Vans, and a tucked-in white tee before heading out for the final afternoon of the fair. While at the Miami convention center, I heard that Yasiin Bey, FKA Mos Def, might be playing a Boiler Room set in a backyard in Little Haiti, his first performance in the U.S. in five years. File this under the list of things I could not miss. I decided to kill time at the Fish Fry before heading across the Julia Tuttle Bridge to Little Haiti.
There, things were more relaxed than at Wednesday night's Paper party at the hotel's Tropicale bar. People sat in the grass enjoying the music and drinks. The line for the fish fry was minimal and it was easy to grab a drink at the bar. The vibe was an ideal mix of Sunday cookout and South Beach soiree. A friend and I grabbed some food, a couple drinks, and were passed wedges of pumpkin pie. We encountered a pair of security guards, and we asked whether Hill had made soundcheck and what time she was supposed to go on. They seemed just as skeptical, but they confirmed she had indeed made soundcheck. She was supposed to go on at 8:00 PM. I weighed my options, and decided that if she wasn't on by 8:30, I would head out to witness the live return of Yasiin Bey.
Following EL, Hill's opener and one of the top artists out of Ghana, I was anticipating my exit. But within a few minutes her band came out, and at 8:10 PM, the 41-year old Lauryn Hill snuck in alongside the pool and took the stage in an Off White letterman bomber. I nearly died.
Kicking off the performance with, yes, "Ex-Factor," an energetic Hill apologized for her (perfectly) raspy "House of Blues" voice and continued to perform "That Thing," "Forgive Them Father," "Lost Ones," and "If I Ruled The World," the Nas track she's featured on. Plus she gave us the Fugees' "Ready or Not" and "Killing Me Softly" in totality, performing not only her verses but Pras and Wyclef Jean's as well.
I'm quite sure that the assembled hotel employees, guests, and observers standing outside looking were a rapt audience. But honestly, I can neither confirm nor deny this. I was just focused on her; I don't even remember looking around the crowd while she sang and danced. Lauryn Hill was beautiful. Her performance was unforgettable. I'd have waited on her for hours.