Taylor Swift Is Selling The I Heart T.S. Crop Tops, Like the One Tom Hiddleston Wore, From the "Look What You Made Me Do" Video
The Reputation merch keeps coming.
---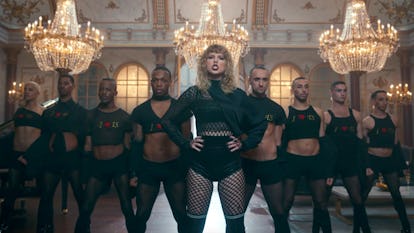 Taylor Swift has finally released the music video for her newest single Look What You Made Me Do during the 2017 MTV VMAs and fans promptly lost their minds. But now, you can own a piece of this shady history.
While we're still watching the video on repeat and dissecting every last scene, Swift is giving the people what they want: instantly iconic merch from the video. Though the pop star was conspicuously absent from this year's MTV VMA awards, she clearly planned an elaborate roll out of the world premiere. One of the shadiest moments was the I <3 T.S. crop tops background dancers wore in one scene—obviously calling out that time Tom Hiddleston wore a similar tank top at Taylor's 2016 Fourth of July weekend party. Now stans can show their love too because Taylor is selling similar crop tops on her website.
The official embroidered tee will set you back $50 and won't ship until September 12. But that's not all you can take away from the Look What You Made Me Do video. UPS posted on Twitter that pieces of the floor signed by Swift (and other prizes) will be given out to random fans who pre-order Reputation through their site between now and the November 10 release date. Other products Swift is selling on her website include shirts with the Reputation album cover art, a "rep" sweater and various snake motifs.
Ok, back to dissecting every single easter egg queen Taylor planted for us.
MTV VMAs 2017: Katy Perry, Lorde, Paris Jackson, and All the Rest of the Red Carpet Fashion
Katy Perry attends the 2017 MTV Video Music Awards at The Forum on August 27, 2017 in Inglewood, California. (Photo by John Shearer/Getty Images for MTV)

John Shearer
Lorde attends the 2017 MTV Video Music Awards at The Forum on August 27, 2017 in Inglewood, California.

Getty
Millie Bobby Brown attends the 2017 MTV Video Music Awards at The Forum on August 27, 2017 in Inglewood, California. (Photo by John Shearer/Getty Images for MTV)

John Shearer
Nicki Minaj attends the 2017 MTV Video Music Awards at The Forum on August 27, 2017 in Inglewood, California. (Photo by Kevin Mazur/WireImage)

Kevin Mazur
Paris Jackson attends the 2017 MTV Video Music Awards at The Forum on August 27, 2017 in Inglewood, California.

Getty
Nicole Tuck, DJ Khaled and Asahd Tuck Khaled attend the 2017 MTV Video Music Awards at The Forum on August 27, 2017 in Inglewood, California. (Photo by Steve Granitz/WireImage)

Steve Granitz
Jared Leto attends the 2017 MTV Video Music Awards at The Forum on August 27, 2017 in Inglewood, California. (Photo by Christopher Polk/Getty Images)

Christopher Polk
Lil Yachty attends the 2017 MTV Video Music Awards at The Forum on August 27, 2017 in Inglewood, California.

Getty
Carey Hart, Willow Sage Hart, and Pink attend the 2017 MTV Video Music Awards at The Forum on August 27, 2017 in Inglewood, California. (Photo by Rich Fury/Getty Images)

Rich Fury
Demi Lovato attends the 2017 MTV Video Music Awards at The Forum on August 27, 2017 in Inglewood, California.

Getty
Cardi B attends the 2017 MTV Video Music Awards at The Forum on August 27, 2017 in Inglewood, California.

Getty
Shawn Mendes attends the 2017 MTV Video Music Awards at The Forum on August 27, 2017 in Inglewood, California.

Getty
Vanessa Hudgens attends the 2017 MTV Video Music Awards at The Forum on August 27, 2017 in Inglewood, California. (Photo by Kevin Mazur/WireImage)

Kevin Mazur
Pete Davidson and Cazzie David attend the 2017 MTV Video Music Awards at The Forum on August 27, 2017 in Inglewood, California. (Photo by Alberto E. Rodriguez/Getty Images)

Alberto E. Rodriguez
Yara Shahidi attends the 2017 MTV Video Music Awards at The Forum on August 27, 2017 in Inglewood, California. (Photo by Christopher Polk/Getty Images)

Christopher Polk
Hailee Steinfeld attends the 2017 MTV Video Music Awards at The Forum on August 27, 2017 in Inglewood, California. (Photo by Kevin Mazur/WireImage)

Kevin Mazur
Hailey Baldwin attends the 2017 MTV Video Music Awards at The Forum on August 27, 2017 in Inglewood, California. (Photo by John Shearer/Getty Images for MTV)

John Shearer
Olivia Munn attends the 2017 MTV Video Music Awards at The Forum on August 27, 2017 in Inglewood, California. (Photo by Christopher Polk/Getty Images)

Christopher Polk
Noah Cyrus attends the 2017 MTV Video Music Awards at The Forum on August 27, 2017 in Inglewood, California. (Photo by Alberto E. Rodriguez/Getty Images)

Alberto E. Rodriguez
Dinah Jane, Ally Brooke, Normani Kordei, and Lauren Jauregui of Fifth Harmony attend the 2017 MTV Video Music Awards at The Forum on August 27, 2017 in Inglewood, California. (Photo by John Shearer/Getty Images for MTV)

John Shearer
Jasmine Sanders attends the 2017 MTV Video Music Awards at The Forum on August 27, 2017 in Inglewood, California.

Getty
Tomo Milicevic, Shannon Leto and Jared Leto attend the 2017 MTV Video Music Awards at The Forum on August 27, 2017 in Inglewood, California. (Photo by Jon Kopaloff/FilmMagic)

Jon Kopaloff
Julia Michaels attends the 2017 MTV Video Music Awards at The Forum on August 27, 2017 in Inglewood, California.

Getty
Jack Lawless, Joe Jonas, JinJoo Lee and Cole Whittle of musical group DNCE attends the 2017 MTV Video Music Awards at The Forum on August 27, 2017 in Inglewood, California.

Getty
Jack Antonoff attends the 2017 MTV Video Music Awards at The Forum on August 27, 2017 in Inglewood, California.

Getty
Mel B and Heidi Klum attend the 2017 MTV Video Music Awards at The Forum on August 27, 2017 in Inglewood, California. (Photo by John Shearer/Getty Images for MTV)

John Shearer
Lil Mama attends the 2017 MTV Video Music Awards at The Forum on August 27, 2017 in Inglewood, California. (Photo by Rich Fury/Getty Images)

Rich Fury
Lizzo attends the 2017 MTV Video Music Awards at The Forum on August 27, 2017 in Inglewood, California. (Photo by Jeff Kravitz/FilmMagic)

Jeff Kravitz
Echosmith attends the 2017 MTV Video Music Awards at The Forum on August 27, 2017 in Inglewood, California.

Getty
Eudoxie Mbouguiengue and Ludacris attend the 2017 MTV Video Music Awards at The Forum on August 27, 2017 in Inglewood, California. (Photo by Frazer Harrison/Getty Images)

Frazer Harrison
Watch: Gigi Hadid Talks About Her Squad