I Was a Gossip Girl Extra
Our former intern, Sasha Filimonov, was recently cast as an extra on, yes, Gossip Girl. Of course, we insisted that she blog all about it.In early December, I stumbled upon the Craigslist posting of my...
---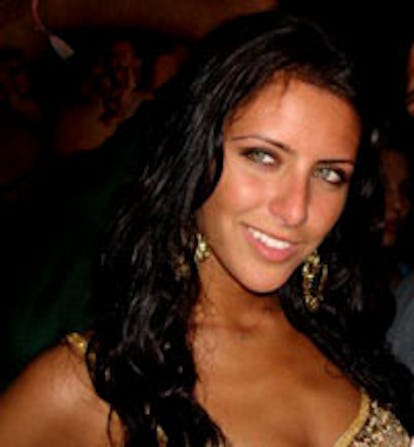 Our former intern, Sasha Filimonov, was recently cast as an extra on, yes, [Gossip Girl[(http://www.wmagazine.com/topic/gossip-girl). Of course, we insisted that she blog all about it.
Gossip Girl was looking for extras for Season 3! As an unrepentant fan of the show (especially that oh-so delectable Chuck), I immediately sent in photographs of myself and affirmed that I possessed the "high-end formal wear" the ad listed as a prerequisite. Sure enough, I soon received a call informing me that I was one of the chosen ones. A few days later, I packed up a purple strapless Oscar de la Renta dress, an empire-waisted Gucci gown, four pairs of heels and an armload of accessories and jumped on the ferry to Staten Island where the show was filming at the St. George Theatre, a grand old vaudeville venue which dates back to 1929.
I arrived at the Gossip Girl set anticipating a flurry of fashionable glamazons. Twas not so. Many of the extras were dressed in what appeared to be five-year-old ABS and Bebe frocks and were there to further their thespian careers, not to catch a glimpse of my ever-beloved "Gossip Boys." My first scene was on the theater's balcony, where I feigned watching an opera (the cover of my Playbill read Tristan and Isolde; inside, however, it was Wicked). We rehearsed a few times and then the fateful words were spoken: "Bring Chace and Jessica in." I went momentarily deaf after hearing "Chace." As we watched the actors take a rickety lift up to their private box, my heart began to flutter. In true Southern gentleman form, Chace (heretofore referred to as Nate) always followed the "ladies first" rule, taking Vanessa's hand to assist her on and off the lift. The pair joked around comfortably between takes but then shared a somewhat awkward kiss after "Action!" was called. The scene lacked the usual sparkle of GG glamour, perhaps because we could not hear a word of their dialogue, just the slurping kissing noises echoing throughout the theater. Delightful. Vanessa was wearing a deep red velvet brocade dress, which I found a tad frumpy. Why must the stylists punish her wardrobe to further punctuate the point that she is from Brooklyn?
See photos from Day 2 of our Gossip Girl diary [HERE]
At lunchtime, I found myself lost and hungry inside the theater, unable to spot any fellow extras. Then I heard someone ask, "Where's the food?" It was Vanessa, dressed in an ankle-length black puffer coat (the usual attire for the female stars between takes). A crew member directed her downstairs so I followed suit. Holding my gown up in one hand, my iPod in the other and sporting my favorite gaudy gold headphones, I was inspecting the buffet options when I noticed someone wave at me. I quickly realized the guy summoning me was sitting next to none other than Nate and Chuck! Immediately all the blood in my body rushed to my face and my hands started trembling uncontrollably. The man introduced himself and said they had just been discussing how "rad" my headphones were. To be honest, Nate and Chuck didn't seem particularly impressed, not even making eye contact with me. Nonetheless, it took me an hour to recover from just standing that close to them.
Later that day, I was chosen to be in a scene with Dan, Serena, Lily, Rufus and Chuck. This gave me the happy opportunity to do an overwhelming amount of ogling. For this scene, the extras handler paired me with a man older than my grandfather to act as his date. (I guess I was typecast as a gold-digger because this was one of many times I was matched with a man thrice my age.) My favorite bad boy, Chuck, was dressed in a red plaid peacoat and a pair of terrifyingly pointy shoes. I noticed that though he spoke in his native British accent between takes, he always retained his character's signature manly purr. The effervescent Serena wore a beautiful yellow satin-faced organza gown with a crystal beaded bust and a train. Her much-exposed chest motivated a fellow extra to whisper, "Are those real? They can't be." Indeed, her breasts, which have of late become a recurring character on the show, looked as impressive in real life as they do on screen.
As a stalwart supporter of Team Blair, I had anticipated I would despise the girl who brought Serena to life. Au contraire, Blake (Serena) was amicable with her castmates as well as to those who had to tediously primp her. During the scene she asked if she could wear flats, concerned that she was towering over the others. And between takes she put her arms around Dan as they shared laughs and fed each other soup. I usually find this sort of PDA cringe-worthy, but for God knows what reason they were incredibly endearing.
Whenever I stepped outside the theater, a dozen or so middle schoolers who had gotten wind of the filming glared at me with disappointed faces, annoyed that I was not one of the principal actors. These fans often waited in the cold and rain for hours at a time. Still, they would always inspect me carefully, hoping to recognize me as one of the show's minor players. (Sorry!)
Around 11:30 p.m. on the first night, Dan and Serena left the theater and attempted to get past the fans quickly, but in a millisecond they caved in and obliged for photos. Dan even threw out some GG-worthy witty quips. Next to leave were Nate and Vanessa, who were also kind enough to pose for pictures. Then my handsome devil Chuck strutted out and melted my heart by appeasing his admirers with photos.
Just after midnight, I took the Staten Island Ferry home and steeled myself for my next day on set…
Log on to W magazine's Editors' Blog tomorrow for more from our Gossip Girl spy.