Ikram Goldman's Chicago
The city's first lady of fashion on where to shop, eat, and even, meet singles.
---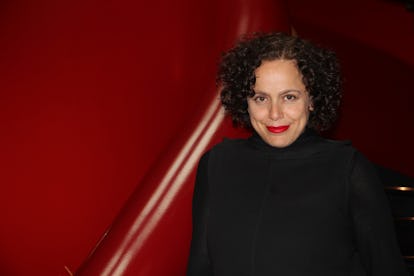 First lady Michelle Obama may be Chicago's most famous fashionplate, but that's in part due to the influence of Chicago's own first lady of fashion, Ikram Goldman. The founder of her namesake boutique, located in the city's River North neighborhood, Goldman shaped Obama's style sensibility in her first years in the White House, going as far as playing an integral role in what the first lady wore to the first presidential inauguration. Goldman, though, is an authority in her own right, a directional retailer whose influence extends across the fashion firmament. An Israel native who's lived in Chicago since her teens, she might be one of its savviest ambassadors.
Tell me about your neighborhood: I live in River North, a gorgeous very urban neighborhood. I am 5 minutes away from any place I need to get. Our neighborhood started out incredibly industrial with very little there and now it's booming with super cool urban families.
Describe in three words the style of your home: Organized colorful chaos.
Your regular neighborhood spots: Every day I eat lunch at Ikram café [located in the boutique's second floor]. Chef Christopher Sullivan makes the most delicious farm to table food. I go to Salon Anthony Cristiano for an exquisite hair cut and to Salon Ashley Crowe, who is a celeb nail technician.
Local delicacy you can't live without: Fish tacos at Big Star
Where do you shop? Of course, I love our boutique Ikram, where the ambience and level of service is beyond! And I am most in love with the new Whole Foods on Kingsbury Street! For all the single people who want to meet and mingle, go there on a Friday at 6 p.m.
Neighborhood with the best style: Like most cities, ours is very much the same: if you want to see Chanel, Alaïa and Rick Owens, hang out on Michigan Avenue's Magnificent Mile. You want to see Y3 and Adidas and Nike, hang out in Bucktown.
Date night restaurant: No question: Avec! I love the date dish for date night!
Where you go when you don't want to hear any more talk about Rahm Emanuel or politics and just want to chillax? I love my city and I can go any place to hear anything about what's going on here at any time! However, when I want a great, quiet place to unwind, I go to the Baha'i temple in Evanston where it is insanely peaceful!
When in the mood for a late, late night, you go to… There is one place and one place only: Weiner Circle. Oh, yes! The insults alone are worth the wait and calories: divine! Get the milkshake!
The Art Institute or the Museum of Contemporary Art? Both for different reasons. But I also love the new Theaster Gates Foundation. It is a must see.
Favorite spot at Millennium Park in the summer: I love Cindy's at the Chicago Athletic Association, where I have a sublime view of the entire Millennium Park. I can eat and drink and even listen to live music from the park there – when it's not too outrageously noisy at the restaurant, which is never…
What do you watch on Netflix when Chicago is too damn cold? I love documentaries like Amy, Twenty Feet from Stardom. Or, I watch all the food and global climate documentaries and stress about what's to become of us.
Local philosophy you live by: Your phone can wait! Look up and enjoy the gift of a city you live in. And, don't live your life like an Instagram! Actually breathe it in.