Green Dreamer
With her new line of bags, fashion scion Ilaria Venturini Fendi is spinning cast-off materials into chic carryalls— and changing lives in Africa in the process. Marion Hume meets the Fendi family's first eco-warrior.
---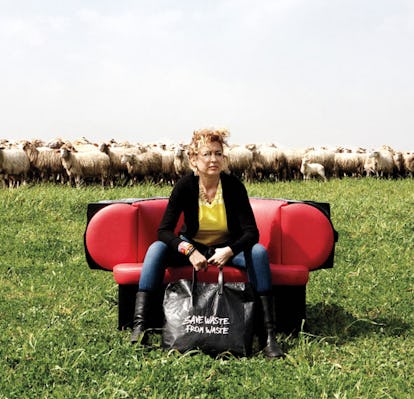 "I never understood why recycling had to be cheap or amateur," says Ilaria Venturini Fendi. "But then, I'm a Fendi!" Indeed, the bubbly blonde Italian is the youngest daughter of Anna, one of the five Fendi sisters who reimagined the possibilities of fur and leather, transforming the family atelier into a worldwide brand. Her sister Silvia Venturini Fendi is the head accessories designer at the label, which is now under the LVMH luxury umbrella. And her niece Delfina Delettrez Fendi has made a name for herself with a goth-meets-glam jewelry line. Yet it is Ilaria, right now powering her jeep down a dirt track on her organic farm outside of Rome, who is proving to be the true style revolutionary of the famous fashion clan.
Her Carmina Campus line—which includes totes, purses, computer bags, and iPad covers—is grabbing attention for using old stuff in new ways. The bags, made by communities of disadvantaged people, are about as green as it gets. Many of them are created out of reclaimed and recycled materials including leftover fabrics, old blankets, and even discarded soda-bottle caps. But let's nip in the bud any thoughts of "eco-ugly" fashion—this is Made in Africa–meets–Made in Italy, which translates into exuberant style fused with flawless finishing. On offer at such rarefied global stores as Milan's 10 Corso Como and London's ­Dover Street Market, these are not your average do-gooder totes. The bag slung at Venturini Fendi's feet as she drives, for example, blends pieces of khaki canvas reclaimed from a safari tent (the ones used for five-star tourism become unusable after several seasons) with artisanal patchwork made from offcuts of the kanga cloths that comprise the traditional East African garment.
The Carmina Campus showroom for the fall 2011 collection
Growing up in the Fendi atelier, Venturini Fendi made dresses for her dolls out of scraps. "I hate waste," she says as she brakes to avoid a flock of sheep. "Always surrounded with precious materials, we were taught to be careful." Farming is also in the bloodline, from her father, Giulio Venturini, who died when she was 10. While his day job was in the construction industry, his passion was nature. He taught his daughter how to ride, and she still remembers their country outings together. As for her farm, Venturini Fendi bought I Casali del Pino nearly a decade ago, with the aim of turning her back on the fashion business for being "so passive about what really mattered, like the environment." Today milk from the aforementioned sheep is used to produce four kinds of cheese, including a tangy pecorino. There are also ducks, pigs, and hens as well as two donkeys so ludicrously tame they keep trying to nuzzle up and say hello.
From top: the Cameroon hat crocheted bag and the Sportmess Dragon bag, which uses cutoffs from Massai fabrics.
It was her bees, however, that lured Venturini Fendi into producing high-end accessories in Africa. In 2007 the University of Rome asked her to share her apiarist insights with some visiting beekeepers from Cameroon. They, in turn, thanked her by presenting her with a traditional Cameroonian hat, which looks somewhat like a crazy crocheted hedgehog. Once a Fendi, always a Fendi: Rather than put the gift on her head, she immediately reimagined it upside down and trimmed in leather, transformed into a funky little bag.
Just before meeting the beekeepers, Venturini Fendi had begun to miss the world she thought she'd left for good. She had reconfigured her greenhouse into a design studio, where she had been joined by a clutch of former colleagues from the days when she'd worked at Fendissime, in the Nineties, a youthful secondary line that was shuttered after LVMH purchased Fendi. The team's goal: to figure out how discarded materials could be refashioned at the highest possible level. The results, plus those created by other eco-minded designers, would soon be sold at Re(f)use, a green emporium that Venturini Fendi set up in a family-owned building in the heart of Rome.
Putting the hat-turned-bag into production involved a group trip to Dschang, the Cameroonian town from which the bobbly berets originate. ("Both men and women wear them," she says. "They look incredible.") After forging a collaboration with local artisans, however, she was left with questions: How was she to know if she was paying workers too little or—just as damaging in a fragile economy—too much? For answers, Venturini Fendi turned to Simone Cipriani, an officer at the Ethical Fashion Programme of the International Trade Centre, which is the joint body of the United Nations and the World Trade Organization. (Full disclosure: The author consults for the program.) The mission of the Ethical Fashion Programme is to harness fashion as a vehicle out of poverty, connecting the world's most marginalized people to plugged-in designers in Paris, New York, Milan, and elsewhere.
Production of the hat-bags continues at a small scale in Cameroon, while artisans in Kenya produce a wider range of styles. Carmina Campus employs 69 Kenyans full time, many from the notorious Nairobi slums of Korogocho and Kibera. "It is about real people with faces and names and stories, who live in a different way now," says Cipriani, who can't help but be impressed by Venturini Fendi. "I was astonished to see her in the dump sites of the slums, talking with the people for a long time. It is not an easy place."
Venturini Fendi's latest project is a three-way collaboration between Carmina Campus, the ITC, and 10 Corso Como owner Carla Sozzani. This time the bags, which just made their debut at Sozzani's Milan boutique, are lined and trimmed with leftovers from 10 Corso Como's signature collections—but they are finished in Africa. "What I didn't like when I was in fashion before was that what you created was gone in a season," Venturini Fendi says. "Now I want to make lovely things that last. When I hear that other designers want to do the same, I am happy." Indeed, Vivienne Westwood, who is also passionate about the environment, is collaborating with the ITC in Kenya—both women believe fashion's aspirational aura allows the industry to punch above its weight when it comes to getting noticed. In this lies a route to real change, and while moving fashion away from a trend-driven model is quite a lofty aim, forging a new path has, after all, been in the Fendi DNA for several generations.
"I want fashion to be the promoter of change," says Venturini Fendi as she exits her jeep for a walk along the river that flows through her farm, "to the point that there will no longer be any need to make a distinction between fashion and ethical fashion."
Venturini Fendi on chair: Pietro Masturzo. Interior: Aldo Castoldi; Re(f)use: Roberto Fiorina; Bags: Hannah Whitaker.