Illustrator Langley Fox Is Upping Her Artist Game
The 27-year-old model is getting her first gallery show in Los Angeles.
---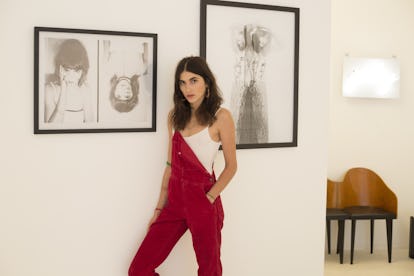 Courtesy of Next
"I don't think of myself as a model, but I guess I am," said Langley Fox this week from her home in Los Angeles, pronouncing the profession in a singsong voice.
For much longer than the 27-year-old has been signed to Next, or popping up on the catwalk for shows like Marc Jacobs, Fox has dedicated much of her days to intensely photorealistic pencil drawings, which can take multiple weeks of six-hour sessions to complete. "I've never been quiet about it, really," she said about her artistic aspirations. "I was just going down the path of art when modeling came into play."
That was just five years ago. When Fox met the photographer Andrew Kuykendall at age 22, it was on the set of one of her first-ever shoots. And while posing may have felt awkward then — "I was really bad and really scared," Fox recalled — the two hit it off. Admirers of each other's art, they became determined to collaborate.
The result is a series of portraits of Fox, taken over a number of "low key" hang-outs and overlaid with her illustrations, that will be exhibited at Chainlink Gallery in L.A. The show, "Let's Get Lost," opens on Saturday, alongside plenty of each of the artists' solo works. It's a bit of a departure for Fox, who moved away from her more typically technical work to complement with Kuykendall's vibe, which she described as "this female California energy. So instead of doing my usual, very detailed photorealistic rendering, this was more about a loose freedom."
Inside "Let's Get Lost," Langley Fox's First Art Exhibit with Andrew Kuykendall
The show marks the first time that Fox, who's been drawing since she was a kid stuck on film sets with her mom, the actress Mariel Hemingway, and her dad, the documentary filmmaker Stephen Crisman, has ever had more than a work or two of hers exhibited in a gallery setting.
Her art has typically been relegated to the fashion realm, showing up in Louis Vuitton stores in Venice, Italy, for example, or on designs for brands like Tumi. And while Fox's works are still tied to the industry — many of her drawings in "Let's Get Lost" feature fellow models like Grace Hartzel and Meg Collison — the illustrator is also eager to break into a different sphere. "As I get older, I want to be a fine artist and whatnot, so this is just beginning to build that," she said.
Plus, she just converted her garage in Mount Washington into a studio so that she'd have somewhere to get into oil painting, her next step. If modeling still ends up being a part of her future, she's open to that, too. "In my mind, I'm an artist who gets her picture taken," she said. "I'm lucky enough to be able to do both."